What is 3D modeling?
3D modeling is the creation of a computer-generated representation of an object or character in 3D space.
A 3D Modeler has to build models before they can be animated or VFX can be applied. Depending on the end goal, they may be working from scratch, concept art, other 3D designs or even optimizing scan data to create models. A Modeler might also work on the topology, or the way vertices and edges are arranged, to ensure the model is ready for the next steps in the pipeline.
Successful modelers have creative ways of getting the job done in the time allotted while ensuring the accuracy of the final product.
Models are used in almost every type of TV show, movie, game and VR app. In movies like The Incredible Hulk, modelers were required to re-create the legendary character. In cases like this, the precision is crucial in keeping the integrity of the original Hulk character, while creating it with today's amazing technology standards.
In Blizzard's hit game Overwatch, many of the characters are wearing armor. The character modelers working on games like this have to be well versed in both hard-surface and organic modeling.
Hard surface refers to things like spaceships, buildings, weapons, and vehicles. Whereas organic includes characters, plants, animals, and outdoor environments etc.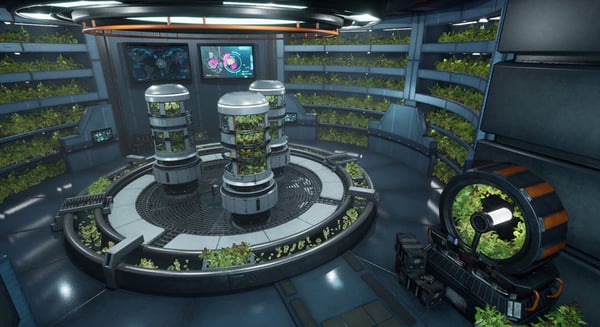 3D Model of Hydroponics Lab by Advanced 3D Modeling Course Graduate Paul Griffin
What does a 3D Modeler do?
3D Modelers play a very important role in the Visual Effects Pipeline. Their daily responsibilities often depend on whether or not the artist specializes in a specific type of modeling.
While all Modelers should have some knowledge in each discipline, you will often hear that someone specializes in hard surface or organic.
The size of the company may also dictate what an artist's day looks like. At smaller companies, you may be asked to start models by concepting them yourself. At a larger company, you're often provided with concept art direction.
In both cases, a good amount of research should be done in most cases. To be efficient, a professional will break complex models into pieces and think of the quickest but most accurate way to start building each piece. At this point, the artist would also decide if the best tactic would be poly modeling or digital sculpting.
Once all the prep work is done, modeling begins. An artist may have to work with the animators receiving the model to ensure it meets their requirements for motion. They may also have to gather needs from the VFX team if, for example, they plan on destroying the object made.
Once the model is finished and approved by the supervisor, it's released to the next step of the pipeline.
3D Model by Victoria Passariello
How to become a 3D modeler
Find your strengths and exploit them. Dive into the many disciplines of modeling and make sure you spend some time with each. If you find you excel at hard surface vs organic, work on portfolio pieces that show this skill off.
Keep in mind that the workflow for films is different from that of games, though this line is blurring as technology improves.
For example, in film you don't have to worry quite as much about poly count, or the total number of polygons in a 3D model, as you do in games. Therefore, with games, you need to know the process of baking, which transfers high poly model details down to low poly to save memory. This skill set is crucial, especially if you want to apply for jobs within the games industry.
To become a better 3D Modeler, start researching and observing:
The human form, animal forms, and forms in nature

Architectural design

Mechanical design

Weapon/vehicle design

How light plays off of different shapes
There are also numerous tools available beyond the default settings in traditional 3D software. Many artists are now sculpting concepts in VR in order to better visualize and take control. There are plugins and pre-made elements for kit-bashing available that help you move faster and complete tedious tasks with ease. Become familiar with these topics to become more productive artist and invaluable asset to employers.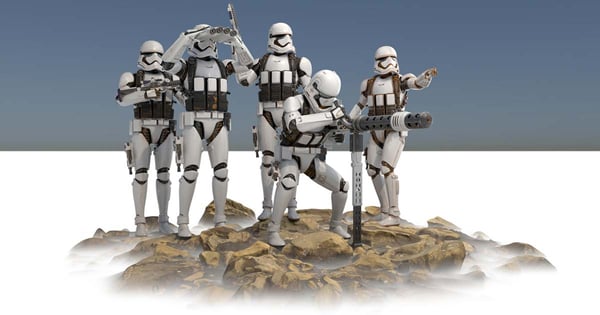 3D Model of Stormtroopers by Advanced 3D Modeling Course Student Massimiliano Moro
Tips to break into the industry
Focus on only your best work, and ensure that your work is truly complete. Even if you only have two complete pieces, that is OK. Keep your portfolio confined to those two pieces, and make sure to show the renders, wireframes, and high to low poly if hoping for a job in games. Potential employers might want to see another piece, so have a backup ready.
Networking can be the difference that gets you a job. Go out to industry meetups and events in person and online. They often include guest speakers from within the industry, and sometimes the software engineers behind 3D programs will do one-of-a-kind demos.
For more advice, read our interview with hard-surface modeler Victoria Passariello.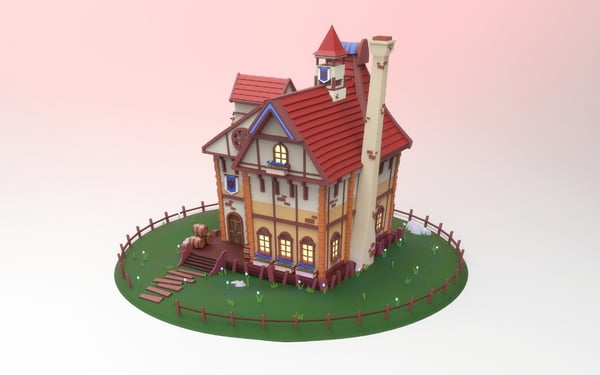 3D Model of a House by Intro to 3D Modeling Graduate Nadiia Plaunova
How much does a 3D modeler earn?
Salaries start at $75,602/yr on average, according to Glassdoor. Other sources state that modelers can make anywhere from $31,000/yr to $90,000/yr depending on experience and location. Senior or technical artists may be able to receive a higher salary.
Another way to earn income on the side is by selling your 3d models on sites like Turbosquid and Gumroad.
There is always a need for 3D modelers in the film and game industries. So if this area is of interest to you, get started today!
---
At CG Spectrum, you can develop your 3D modeling skills while learning tips and tricks from industry-seasoned mentors in our Intro to 3D Modeling and Advanced 3D Modeling classes. In just one year, you'll have a professional portfolio and be ready to apply to for 3D modeling jobs. Enroll today into one of our 3d modeling courses and get your career off to a great start!