A hard-surface modeler may be assigned models like weapons, mechs and other robots, buildings, and other inorganic props. We caught up with Victoria Passariello, a talented hard-surface modeler from Madrid, Spain to learn about her workflow and gather advice for future modelers. She gave insight into what it was like to work on the game "The Mandate" as well as valuable takeaways from working freelance vs. full time.
Hi Victoria! Please share with us how you came to be a hard-surface modeler.
I graduated as an Industrial Designer in 2008. Soon after completing my degree, I realized I didn't want to design elements in this world. I wanted to create futuristic sci-mechs and robots. At that point, I started to study video games on my own for about 3 more years with books and tutorials from universities around the world and from other artists in the industry.
I learned everything I needed to know about the video game pipeline from 2d concept to final in-game model, including all the steps: creating a high-res model, creating a low-poly version, proper topology, UV mapping, projecting and baking, texturing, shading, and rendering.
I built a strong portfolio with some personal projects and soon I found a job in the game industry. I have been working on video games, cinematics, and TV shows ever since.

Art: Victoria Passariello
Your work on the ships and space stations for the game The Mandate is very impressive. What were the challenges working on this project?
The Mandate was a project I worked on for almost 2 years. We all worked remotely from our homes and had audio conferences every day with the Art Team to show progress on our tasks. I really enjoyed that project. The team was composed of amazing people and artists.
It was my first freelance job, so it was really challenging for me to get used to working from home, not waking up late, and to establish my own discipline and schedules for my tasks. I also remember having to learn Substance Designer for this project to create all the materials for the ships. Before this, I used to create all my textures traditionally by hand, so the need to change my pipeline from the one I was used to working with to a totally new one was a real challenge as well.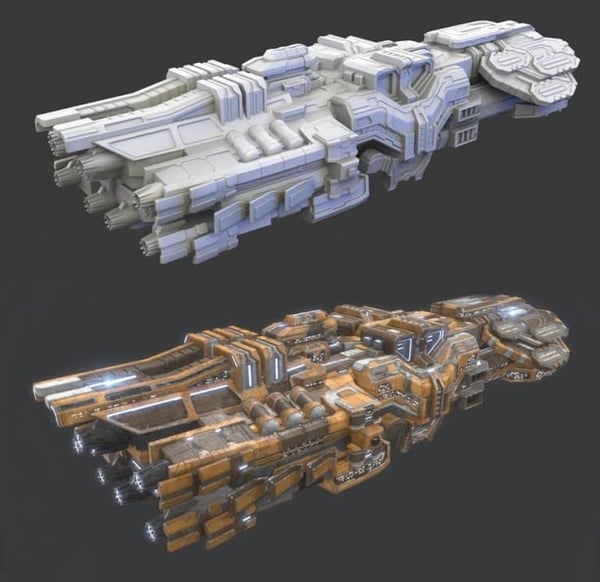 Art: Victoria Passariello
Your personal project, the Dino model, is a great example of aesthetic for someone looking to model mechs. How does your process differ between personal and professional projects?
When I saw the Dino concept on ArtStation I really felt some attraction to it and wanted to make it in 3d. I asked the 2d artist, and he gave me his approval on this. I first wanted to create Dino completely in Zbrush, but soon I realized it was going to be easier for me to create it using poly modeling with good topology, so I ended up modeling it in Max. It took me a long time to complete it because I was working, and I made it in my free time.
The main difference for me when working on a personal project is that I choose a 2d concept that contains something I want to improve on or something new I want to learn. This way, I can dedicate my own time to learn what I want and make it happen in 3d. It is true that you always learn new things and you always improve your skills when working professionally, but having the advantage to choose what to learn, when, how, and how much time you want to spend on it is what I like about making personal projects. Modeling Dino, for example, I wanted to learn how to make a dynamic silhouette, as well as how to make all the links for the tail and column and how to rig them to be able to pose it. I also improved a lot of my general modeling techniques and my rendering setup in Keyshot.
So after completing personal projects, when the time comes for a new job in the industry, you will have more knowledge and experience in solving different kinds of challenges.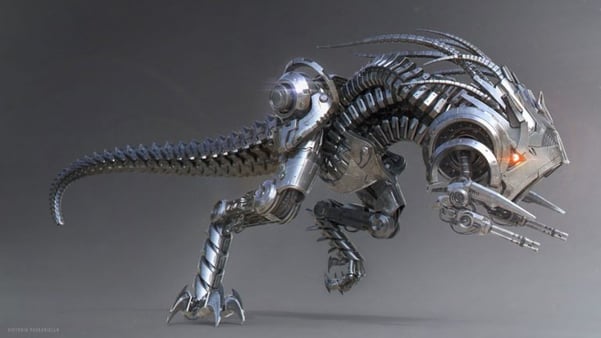 Art: Victoria Passariello
What is your process for breaking it down concept art of complex models?
I break the model down into different areas, and I start to build the main big shapes first. Once I have the base mesh done with the correct proportions and gestures, I proceed to add more complementary elements, like pistons, joints, or secondary pieces inside the main ones. From there, I start to detail all the pieces, and at the end, I add the cables. I always love to add various mechanical pieces to my robots.
There are so many different 3D modeling tools and software packages. How do you decide which to use for specific models or portions of models?
It is important to be competent in one software for each discipline. For example, poly modeling software (Max, Maya, Blender), sculpture software (ZBrush, Modo), 2D software (Photoshop), texturing package (Quixel, Substance, Mari) render engine (Marmoset, Keyshot, Octane, V-ray), just to name some of them.
For my projects, I usually work with Max, ZBrush, Photoshop, Quixel, and Marmoset or Keyshot. There are other important software to know like UVLayout, Topogun, XNormal that I sometimes use as well.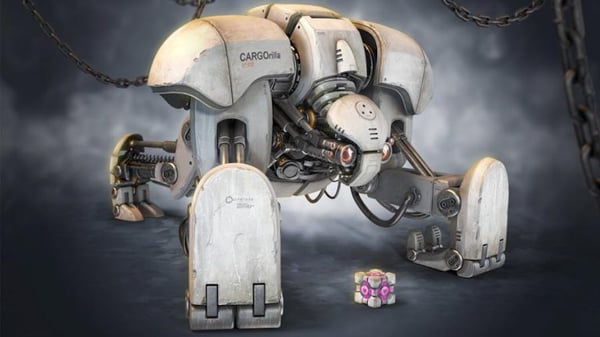 Art: Victoria Passariello
What differences did you find working as a freelance 3D modeler vs working full time at a studio?
I worked full time at Gameloft and other small studios before starting freelancing work. While freelancing, the process, times, deadlines, etc, mostly depend on the client and the project, so it differs from one to another.
In my experience, I have seen two major differences working in a studio vs. freelancing:
First, working in a studio you will always have more involvement in the whole project. For example, you can talk with programmers and see what they are doing. You can see how animators are using your models. You can have access to the complete project, integrate the models yourself in the engine, and see how it's working with the rest of the environment, etc.
While working freelance you usually only need to take care of your task, make your model and deliver it. Your Lead Artist will be in touch for any changes or fixes it may need after they have tested it.
Secondly, by working freelance, you have the opportunity to work with different clients, different people, teams, leads, pipelines, softwares, styles, etc., and you probably will have the chance to work a variety of tasks from one contract to another.
What advice do you have for students that want to freelance after graduation?
Be open to the opportunity to take a full-time position in a studio if you have it. Both situations are very different and they are both worth trying.
You are probably the kind of person who feels more comfortable working quietly at home, but you also may enjoy being surrounded by other talented colleagues while you work.
In general, we are more used to the idea of waking up at a specific time, going to school, university or work, spending our time there, and at a specific time, turning off the PC and heading home. However, being a freelancer requires an extra level of discipline. There will not be anybody to tell you that you're late or if you are running out of time. You may need to be more self-enthusiastic and organized so you don't miss a deadline.
If you were hiring additional modelers, what would you look for in a portfolio?
Extremely good and clean topology, good use of chamfers and smoothing groups, great UV layouts, understanding of PBR, and good development of textures.
A strong portfolio will also show a good eye for proportions, silhouette and gesture, incredible attention to detail in all aspects, and images of the work with good enough lighting to be able to see the best of the model and textures.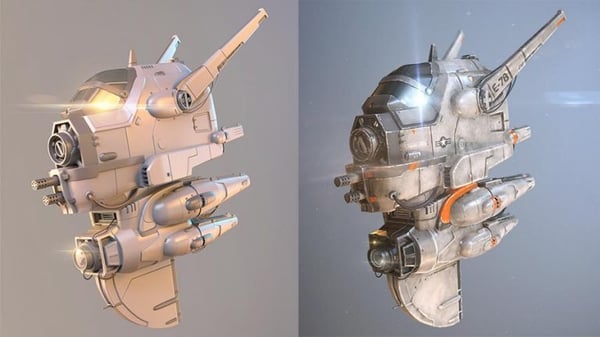 Art: Victoria Passariello
What do you wish someone had told you before you had first started your 3D modeling career?
One thing I do know is that people give us advice all the time, whether we know it or not. We just need to be aware of and take advantage of it. It may not be of our interest at the moment, but will probably be helpful in the future.
Any other thoughts you would like to share with budding 3d modelers?
Welcome aboard guys! This industry is awesome and so much fun!! I hope you love it as much as I do. Everything you do, do it with passion. There is no other way.
See more of Victoria Passariello's incredible 3D models on Instagram or on her website: www.victoriapassariello.com
---
3D Modeling is an exciting field spanning across TV, movies, video games, mobile apps and more! CG Spectrum offers beginners and advanced online courses run by amazing industry experts who have worked on films like Black Panther, Warcraft, and Top Gun: Maverick. Graduate with a professional portfolio and be ready to apply to for 3D modeling jobs. Enroll now!