Advice from a Game Animator and CG Spectrum Alumni
Whether you're dead set on working for a VFX studio or dreaming about a career in game development, the hardest thing to achieve is often finding your first foothold into the industry that you love. For Aaron Skinner, it was trying to make the transition from a fairly junior position in quality assurance for games, to the more creative challenging role he really wanted as a games animator.
Now working for Australian Game Studio of the Year League of Geeks on their award-winning title Armello, we spoke to Aaron and LoG Art Director Ty Carey about how he made the transition into the super-competitive world of game development - and advice for others hoping to do the same.
Find A School With Industry Connections, And Exploit Them.
Many graduates get frustrated with one of the harder truths of the games industry - that who you know can make or break your chances of a job. Unfortunately, this can seem impossibly unfair when you're just starting out and haven't had the opportunity to make meaningful industry connections. Going to networking events as a newbie can also be incredibly intimidating, and worse, feel forced if you don't know anyone else.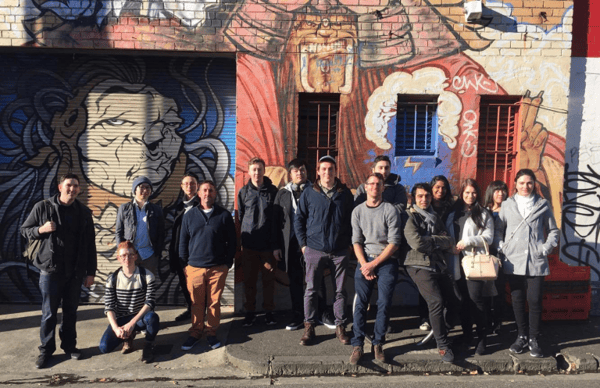 While Aaron had gone through several online courses for animation as well as studying it at university, it was CG Spectrum that had the connections to help him clinch the right opportunity: the online animation school had a paid internship program with major Australian independent studio League of Geeks.
""CG Spectrum's relationships with local studios directly lead to the position I have now"
"Attending events exclusive to CG Spectrum students and going to open days allowed us to meet professionals and get our work critiqued by studio leads and supervisors. Those experiences were really important for figuring out what different studios were looking for in new hires," says Aaron.
Ty Carey, Art Director for League of Geeks and Aaron's supervisor at the studio, agrees that exposure to the industry is key. "Preparation is hard for students as nothing beats practical experience," he says when asked for advice for would-be game developers and artists.
"Getting them to conferences and embedding them for some work experience in order to understand their intended industries during their course will help." - Ty Carey
Tips For Building A Killer Animation Reel.
Of course, the best connections in the world can't help you if your portfolio is garbage. Once he started working on real animation projects in a studio environment, Aaron quickly started to see some things he wished he'd known earlier on.
"One thing I wish I did as a student was to work on a more diverse range of shots that took a shorter time to complete, rather than fewer projects that were longer and took much more time," he says. "The more projects you can work on, the more diversity in rig types and ideas you can play and learn with, which gives you more opportunity to find workflows that work for you."
Setting out to learn 3D animation with a clear goal in mind also helped him make the most out of his time in CG Spectrum's online classes for animation. "One area I wanted to improve on was animating creatures and other odd characters. I challenged myself to include at least one creature in most of my assignments."
His hard work paid off, as each different project taught him something new, and helped drive his growth as an animator. "I ended up animating a horse, panther, dragons, crocodiles and a three-armed character. I'd often include humanoid rigs in my projects too, so I could continue to practice animating biped body mechanics."
"There were definitely a lot of missteps in trying out these new rig types, but learning from those mistakes and pushing through forced me to improve my creature animation skills. It's the only way you'll learn!"
Excelling Under The Pressures Of A Studio Environment.
Most graduates find the transition from school to the studio a daunting one. For Aaron, jumping from an online school for animation to an award-winning game studio meant there was plenty to learn from the very beginning.
"One thing I was keenly aware of is that industry projects move at a much faster rate than student projects, so spending my time efficiently and harnessing everything I've learnt to hit stricter deadlines has definitely been a focus of mine."
But a good attitude has gone a long way in helping him through, and part of that was welcoming criticism as a way to improve fast. "Try and get your animation critiqued as much as possible. It's important to learn how to let go of your ego when receiving feedback, you just have to remember that as disheartening as it can be, listening to that information will always make your work better."
Aaron's laser focuses on being the best animator he could be didn't go unnoticed. "Besides being a talented animator, we were impressed at Aaron's focus and the solid preparation work he undertakes before commencing," says Ty. "His ability to seriously consider his subject and the brief before starting, gathering references, including going to the effort of filming himself to understand the motion he's trying to capture, is the sure mark of a professional."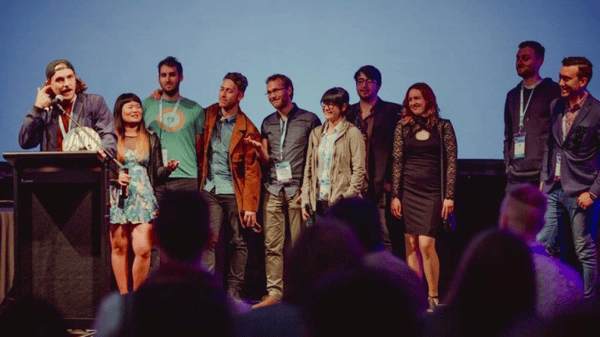 The Team at League of Geeks
But it wasn't always smooth sailing. The stresses of studio work take their toll, and when things got tough, Aaron found himself coming back to some great advice he'd heard early in his journey as an animator.
"Stick with it, like with all things you have your good and bad days. If you're ever having trouble with a particular move or technical problem, don't feel bad about taking a break."
"Sometimes walking away from a problem and coming back to it later mentally refreshed is all you need to solve it within minutes. Try to understand why something moves the way it does, rather than just moving it."
Finding A Mentor Who Makes All The Difference.
Aaron's success in the studio came from nowhere. He was able to build a strong foundation beforehand by scoring a great teacher with the experience to inspire and push him to greater heights.
While Aaron had had many teachers from a different university and online animation courses over the years, it was his CG Spectrum mentor that stood out.
"One thing I've realised is that the quality of the school directly correlates with the quality and talent of the mentors. With Mark Pullyblank as a mentor and Head of Animation at CG Spectrum, I was in very good hands."
"Mark has a lot of experience in animation supervising and pre-vis at some of the world's top studios, which I think allowed him to really help push our existing ideas even further. I wouldn't be anywhere near as happy with how my shots turned out if it wasn't for his suggestions."
For Aaron, finding a great teacher also meant someone who was also able to advise and inspire him about the industry he hoped to be part of. "I'd never had a mentor who was so personally invested in my work and career prospects. All that experience means he has a wealth of funny stories and lessons learned which he happily imparts, and were fairly enlightening! You couldn't help but be more excited about working on your animation."
A small class size can also make a huge difference in how quickly you learn animation, even if it's through animation classes online. "Our teacher had the time to give each of us enough attention to receive the critiques we needed and to ask any questions we had. Class never felt rushed. In most university subjects that teach animation, I found tutors just didn't have the time or resources to give detailed or meaningful critique to their students, which means you can potentially receive an unfavorable grade without really knowing where your missteps were."
How Studios Know You'll Be A Valuable Asset To Their Team.
For League of Geek's Art Director, feeling he could trust Aaron's skill and great work ethic was a sign the young animator was a good fit for the studio.
"I've really enjoyed giving Aaron a space to do what he loves while genuinely contributing value to the studio and game," says Ty. "He's really a lovely person, too, probably the most important quality you'd want in anyone you work day-to-day with. Working with him is super easy."
If you're looking to start your animation career or level up your current skills CG Spectrum has your back. Check out our online animation courses and get in touch today!