We talk to senior and junior artists on why mentorship is so important in the visual effects industry.
Serious about getting into the animation and VFX industry? Of course you are. That's why you've done your research, looked up the studios behind the year's biggest films and games, read every interview about how to get a job in animation, and shortlisted the best 3D animation schools.
But there's probably something you're missing, and for many students and specialists hoping to get into the animation industry, it can easily mean the difference between years of trying to score an interview, and a dream job in visual effects. Because the person who can make the biggest difference to your career isn't always you - it's your mentor.
Why A Mentor Can Make or Break Your Career
Getting a mentor is already accepted as a huge advantage in most competitive industries, where knowing the right person can get you and your resume noticed by the right companies and hiring managers. This is no different in animation and visual effects, where supervisors from major studios look over hundreds of reels from hopeful applicants a month.
A great mentor will offer you a window into an industry they know back to front. Jeremy Chinn, a 3D modeller (Frozen, Life of Pi) and mentor at CG Spectrum, says the individual nature of mentorship allows him to prepare a student for what studio life will be like. "I let the conversation drift towards more personal topics such as what it's like to work in a studio day to day, dealing with the industry as a whole and the current migratory nature."
"I like to really take some time to prepare my students for the realities of life that are a part of this profession so that they are not only prepared to do the work, but also prepared to have the fullest life they can have in it." - Jeremy Chinn, Modeling Mentor
Many junior artists score the gig of a lifetime, then burn out because they're just not prepared for the intense pressure and deadlines that are part and parcel of creating top tier work at major studios. Your mentor will be able to prepare you not just mentally, but by ensuring you know your way around a professional workflow, and understand how your work leads into the work of the other artists at the studio.
For Kristian, a visual effects artist who was hired in 2018 by Iloura VFX (Game of Thrones, Jumanji), his mentor helped him the most in troubleshooting the walls he was hitting in his work.
"I'd send him an email with the problem I was having, and he'd get back to me with a solution. Having that direct line to someone who knew what he was doing, it definitely increased my rate of learning." - Kristian Kebbe, CG Alumni
A decent mentor should be someone who's excelled in a studio environment. If they've gotten hired and spent time with talented artists and supervisors, crunching insane deadlines and producing exceptional work, they'll know exactly what a studio is looking for in a hire. Who better to show you how to get hired than someone who's been there?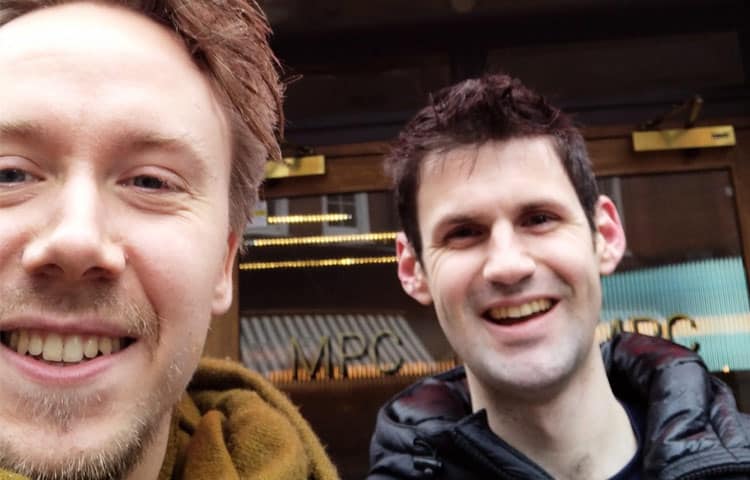 CG Spectrum Mentor Josh Parks taking his student Ben Nicoloff on a studio tour field trip in London
How To Get A Mentor In Visual Effects
Alright, you might say, I get it. A mentor will help me get a job. Where do I get one?
This is where your choice of college or visual effects course is so crucial, whether it's a traditional brick and mortar university, or an online animation school. Your teachers are arguably the biggest influence guiding you from an education into a career in visual effects, and will become your first mentors.
You'll need to make sure the faculty teaching you are of'mentor quality' - do they have recent studio experience? Will they be in the know when it comes to understanding what studios are currently looking for in a portfolio?
If the faculty who'll be spending the most time with you are recent graduates themselves, or were last involved in the industry ten years ago, then look elsewhere. If you find a good visual effects college with epically skilled teachers - congratulations! The next thing to ask yourself is how much individual time you'll actually have with them.
1-on-1 Mentoring: The Best Way to Learn Animation
That's when you'll discover that despite the intense hands on nature of learning visual effects, most schools just don't give you that much personalised time. Rather than going with a name brand school, it's worth taking the time to look for individualised programs that will give you more time with top artists who match your chosen specialty.
"Having a one on one mentorship with an experienced artist online really gave me a laser focused approach to what I was doing," says Kristian. "It was personalised to me. And being able to constantly have that guidance and help on a weekly basis prepared me for the industry in so many ways."
Don't discount online programs either - this is often the easiest way to connect with artists who are still actively working in the industry but teaching on the side. Remember: ultimately studio employers don't care where you went to school, but how skilled you actually are. If you decide to learn animation online through a one on one mentoring program, you'll also be saving a pile of money, because you're only paying for the teacher you want, rather than an entire syllabus and faculty who may not be relevant to what you want to learn.
Getting 1-on-1 training also enables you to learn at your own pace, and at your own time. This is even more crucial if you're a career changer, or supporting yourself while you learn animation at home. You'll be able to schedule a time that works for you and give yourself more time ironing out your weak points or powering up your strengths. Your education won't be generalised and applicable to an entire class, it'll be tailored just to you.
Making The Most of A Mentor In Visual Effects
Once you've found someone you'd like to be your mentor, making them your mentor can be as simple as telling them you admire their work and asking for advice. It's also important to set out goals for yourself, so they can see that you know what you're talking about and are serious about achieving it.
And of course, make sure you spend a good chunk of time working on your golden ticket - your portfolio or reel. "We don't watch more than 30 seconds of a reel," a hiring manager at Luma Pictures (Dr Strange, The Avengers) once told us: "and we usually make a decision within the first five."
With such a small window to make an impression, your reel needs to be a finely tuned beast. Kristian says his mentor was a huge help when it came to refining his reel. "He gave me some advice on what I should cut, what I should include, the order of it and how to present it."
Kristian Kebbe FX Student Reel 2017
You should also devote time to discovering your specialty, a niche area of strength within your chosen field. Specialties matter in VFX, where teams are large and you're often assigned to polishing up a single asset or detail in a scene. Whether it's facial animation for creatures, or modelling realistic fabric textures, your specialty will make your reel shine and set you apart from hundreds of other artists.
"With the broad number of topics and specializations available within FX and Animation, it's nearly impossible to create effective courses for each track a student could go down," says Jeremy Chinn.
"What the 1-on-1 mentoring provides is a way to teach the fundamentals of the discipline, but then to have time to really hone in one what the student wants to achieve in their career."
And beyond the hard skills, a mentor can simply teach you to believe in yourself.
"Just talking to someone in the industry definitely made me feel like I could achieve what I wanted," says Kristian. "It's easy to self doubt when you're learning visual effects and be afraid that you're not going to be able to follow through. Talking to my mentor grounded me and made me feel like I could get there, and he'd help me do it."
---
Enroll in the VFX school that's invested in your success
Your education is the key to unlocking doors to the industry, so it's important to find the most up-to-date curriculum and a mentor who cares about your progress. CG Spectrum courses are built by the industry, for the industry, so you can feel confident you're learning the latest skills studios are hiring for. Check out our courses, meet your mentors, and start building your competitive edge!