Want to get a job in game design? Here are the top 5 tips from industry veteran Simon Warwick who's been working in the games industry for more than a decade.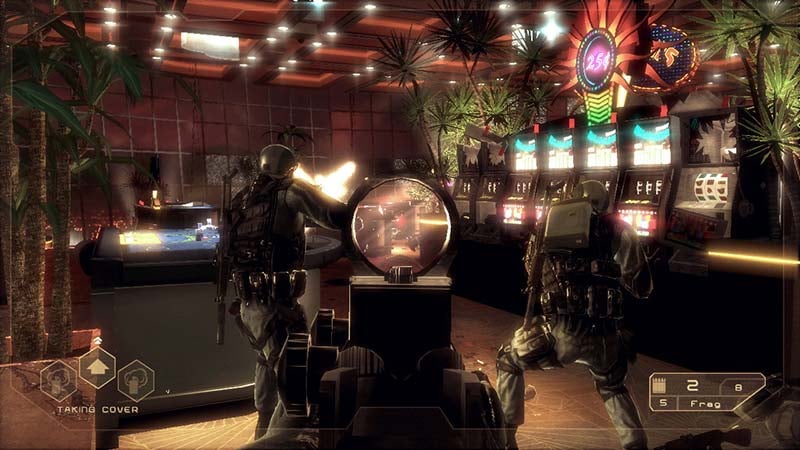 (Image: Tom Clancy's Rainbow Six Vegas)
1. Get the latest skills
Learning never stops, and there are always new tools and techniques to pick up. Fast track your way into becoming valuable employee who is always in demand by staying up to date with game industry news, playing games (woohoo!), taking courses, and growing your skills. Find a game design school where the mentors are active in the industry themselves. That will ensure you're learning the most up-to-date techniques used by actual studios.
Action Points:
2. Make things and finish them
There's nothing holding you back from creating whatever content you want if you're given enough time. Keep in mind a finished, polished product is considered valuable and rare, so start small and be realistic about the scope of the idea you're trying to achieve. Use your time wisely by exploring and creating using all the tools available out there.
Action Points:
3. Hunger for personal growth and learning
Get used to always being just outside your comfort zone, where you aren't quite sure how you'll be able to accomplish your goal. Practice getting your work critiqued so you can listen and learn from people's reactions and interpretations. Make an effort to critique other people's work too, not only will it help them but it also sharpens your skills to identify and describe useful feedback. Also try to keep your ear to the ground for the next new software or industry shifts and don't be afraid to abandon old ways of thinking.
Action Points:
4. Only show your best work
Retiring work from your showreel should be a common practice. It's better to keep things as concentrated as possible with "Wow" factor and let the rest be explained during the interview. Don't be afraid to add your own personality and interpretation into your showreel. All rules are made to be broken and if there's something you want to say that's unique then say it.
Action Points:
5. Don't be a jerk
Being able to work well with others is one of the most underrated skills within the games industry yet it takes a lifetime to master. One bad apple in a team can destroy a department's morale and bring a project to its knees. Take every opportunity you can to meet and greet people at conventions or social situations, even if the conversation goes terribly, it brings perspective, knowledge and experience. Make sure to listen and ask questions when socializing and remember to stay humble and polite. Being the person people enjoy spending time with can get you the recommendation you need without asking for it.
Action Points:
Additional Game Development Resources:
---
Want to get a job in Game Design? Learn game development from the pros.
CG Spectrum's Game Design Diploma equips you with the job skills game studios are looking for. You'll be personally taught by amazing industry mentors who have worked for top studios all over the world. Study online at your convenience and build the confidence to turn your passion into a career.