Do you enjoy drawing and visual storytelling? Consider becoming a storyboard artist for film, TV, and video games! It's an in-demand job where you play a vital role in the pre-production process as a script is visualized and developed.
So, how do you become a storyboard artist? In this article, we'll tell you more about this creative career path and how you can improve your chances of getting hired in the industry.
What do storyboard artists do?
A storyboard artist translates a script into visual 2D sketches in a frame-by-frame style similar to a comic strip, selecting key narrative moments to depict sequentially. These frames are sometimes left as static images or turned into a simple animation sequence called an animatic. A storyboard acts as a visual guide for how a live-action or animated scene will be shot and includes the look, timings, camera angles, and points of view.
As a storyboard artist, you will often be asked to:
Read, break down, and interpret scripts
Visualize other people's ideas and transform them into perspicuous drawings
Identify lighting requirements, visual effects, and other stage directions
Brief animators or filmmakers on a scene
Consider the composition, cut, acting, and staging of a scene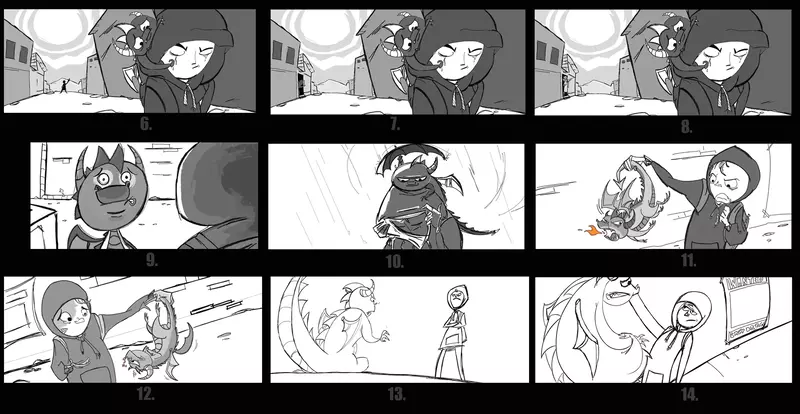 Storyboard art by CGS grad Jack Sergeant
Storyboard artist skills
A storyboard artist must have strong skills in drawing, storytelling, and filmmaking. When game and film studios hire you for storyboard roles, they're looking for someone with the following:
Knowledge of various drawing styles and genres (hand-drawn and via a computer)
A good understanding of the 12 principles of animation
Experience with storytelling and storytelling techniques
Solid comprehension of the fundamentals of art (form, perspective, composition, etc.)
Strong layout, design, and 2D animation skills
Excellent communication skills
Understanding of camera angles and cinematography principles
A short video on how Patrick Harpin (Sony Pictures Animation) became a storyboard artist and the skills he needed to be successful in the animation industry.
3 steps to becoming a storyboard artist
If you already have a passion for animation and drawing, you're on your way to launching your storyboard artist career. Below, we detail three steps to take to become a storyboard artist and improve your chances of getting hired in film and games
[featured]
Step 1: Study Animation
Taking a 2D animation course is a great place to start if you want to become a storyboard artist. There are many reasons to learn 2D animation—it will help you master your drawing, teach you about film techniques, and show you how to capture movement and motion in a still image using the 12 principles of animation - all valuable skills for a storyboard artist to have. What's more, you will gain the perspective of one of the very people who use storyboards—an animator—building effective communication skills so you can best translate a script into visuals for animators and filmmakers to interpret with ease.
Look for animation schools that are Toon Boom Authorized Training Centres (like CG Spectrum) which means you'll get trained in the latest techniques and practices for Toon Boom software, an award-winning software program for 2D animation and storyboarding. Learning the software that is used in the industry is a step towards being job-ready.


Step 2: Develop your skills
Continue developing your skills and experience in other related areas. Consider studying 3D animation to broaden your understanding of the craft of animation or taking a digital painting course to refine your existing illustration skills.
It's also important to build up your knowledge of film and game production, storytelling, and the filmmaking process. See how the experts do it and ask yourself why it works and if there is anything that could be improved. You could even do your own storyboard for a scene from your favorite film as practice. Talk to professionals or mentors in the animation and storyboarding industry to learn more about what you need to succeed in this career.
See how one of Frozen 2's sequences evolved from storyboard to final frame.
Step 3: Create a portfolio
An impressive portfolio that showcases your animation and storyboarding skills will play a huge role in what storyboarding jobs or gigs you get. When possible, show side-by-side comparisons of your storyboard with the finished clip, as these are very compelling to recruiters in the industry. Learning animation will help you with your showreel, as you'll be able to put your storyboard into practice!
Launching your storyboard artist career
If you've ever dreamed of working in film, television, or games, and enjoy drawing and storytelling, consider becoming a storyboard artist. You'll turn written scripts into visual representations to help inform the creative choices of animators and filmmakers.
---
Are you ready to take the next steps to become a storyboard artist?
Start (or continue) your career path with CG Spectrum's 2D animation courses and gain some of the vital skills you need to become a storyboard artist including building a stand-out portfolio and career preparation—led by industry veterans—to ensure you're ready to hit the ground running in the unique industry of film and games.
As a Toon Boon Harmony Authorized Training Centre you'll also be building your practical animation skills to help you become a more well-rounded storyboard artist, expanding your expertise and improving your chances of getting hired!