From film and games to ads and educational resources, animation is used pretty much everywhere! 2D animation specifically, has been with us throughout the century, though these days it's getting increasingly more sophisticated with Animators inventing new styles and blurring the lines between 2D and 3D. It's an exciting time to be an Animator!
If you're keen to get into animation, here's a look at 7 of the best 2D animation software programs, both free and paid. And for a more comprehensive overview of 2D and next steps to become a 2D Animator, read What is 2D Animation?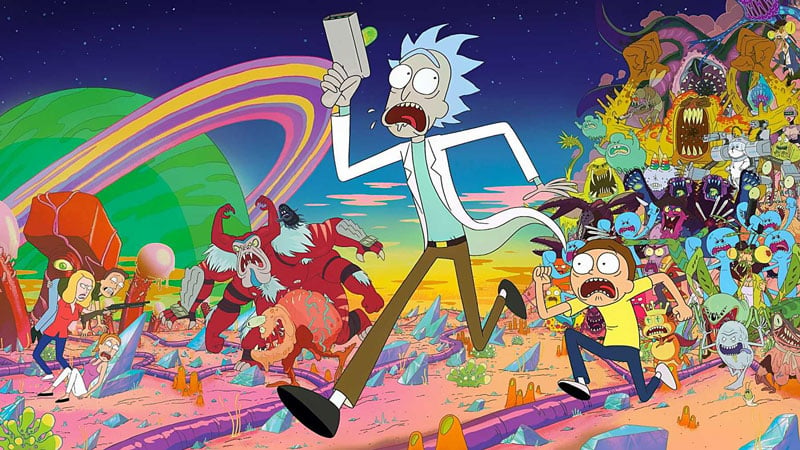 Rick and Morty was animated using the popular Toon Boom 2D animation software
1. Toon Boom Harmony
If you want to create narrated animations for films, web or TV, then Toon Boom Harmony is a must-have animation tool. Toon Boom is paid professional software used for shows like The Simpsons, Rick and Morty, Futurama, Bob's Burgers, and Klaus to name just a few.
The software itself takes time to master, but once you learn to use the interface, you can take advantage of advanced features to create really neat animations. As it's the tool of choice of many studios, it's the one we choose to teach in our 2D animation course.
Features of Toon Boom Harmony include:
Bitmap drawing, vector drawing and painting tools.
Tools for scanning and cleaning up traditional paper drawings.
Advanced rigging and deformer tools to animate puppets.
Powerful compositing tools so you don't have to export your work somewhere else to add visual effects.
3D stage for setting up multi-plane environments.
The learning curve is steep so it can take a little more time to learn the ropes. However, if you're planning on getting into animation professionally, Toon Boom is definitely worth pursuing!
A classic character walk exercise by CG Spectrum student Tasmiyah Saloojee
2. Synfig Studio
Synfig Studio is cross-platform software that is free to use. It is both a back-end and front-end application meaning that you can create your animation and render it in the back-end later.
There are two versions of Synfig Studio software. One is a development version and the other a stable version. The stable version comes with fine-tuned features making it safe for use by amateur animators. Advanced users can switch to the development version for a taste of newly added features.
Synfig Studio is ideal for use by a solo artist or a small team of artists. It speeds up animation creation by use of digital tweening and sprites in place of traditional tweening.
Other features of Synfig Studio include:
Various types of layers (geometric, fractals, gradients etc) so you can create both simple and complex animations.
Bone system for creating cut out animations.
Several drawing tools, plus the ability to do your artwork elsewhere and import it into Synfig.
Animation is easily done by simply pressing record and manipulating your object.
An integrated soundtrack.
The downside is that for beginners, there aren't so many online tutorials teaching how to use the software.
3. Pencil 2D
The multifaceted Pencil 2D animation software is a cross-platform open source program that allows the use of sketch ink and paint.
The first version of Pencil 2D came out over a decade ago, and the software has grown a lot since then. The interface is more modern and there are more features including coloring options that help you create some interesting projects.
Pencil 2D is still based on traditional animation and doesn't allow for tweening (the process of creating the intermediate frames in between the key frames to create smoother, more seamless movement). That said, it is quite flexible and once you have mastered the keyboard shortcuts you will be creating cartoons in no time.
Features of Pencil 2D:
Minimalistic user interface so you can concentrate on animating and not which tab to click next.
Raster and vector workflows so you can sketch ink and paint simultaneously.
Tagged Image File Format (TIFF) is supported, and you can add new layers on frames by importing images on them.
4. OpenToonz
OpenToonz is another open-source software option. It is the free version of Toonz, which has been used in big projects like Studio Ghibli's Princess Mononoke.
Just like the paid version, OpenToonz is great to use. It combines both traditional drawing and 2D animation and has many features (dynamic palette, tweening coloring, bitmap tools etc).
OpenToonz is good animation software for beginners. To animate a drawing, you just have to scan it. You can also plug-in SDK effects and change picture styles using artificial intelligence.
Features of OpenToonz:
Open-source and free for use in commercial and non-commercial projects.
Compatible with TWAIN standards.
Works with both vector and raster images.
Allows for 4 types of scanning, and you can save scan settings for future use.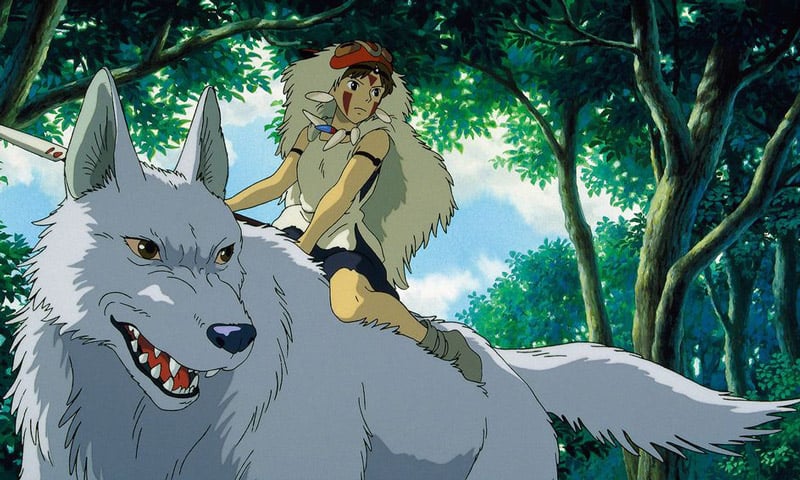 Studio Ghibli's Princess Mononoke (1997) was animated in Toonz, which has a free version called OpenToonz
5. Moho Pro
Vector-based 2D animation software Moho Pro is known for its great bitmap capabilities. It also comes with features that allow for freehand drawing. However, it is not very beginner-friendly, and can take some time to get the hang of.
Moho Pro is supported by both Windows and OSX. It's paid software, but the advantage is that you get an all-in-one animation studio for both your 2D and 3D projects. Moho Pro is not beginner-friendly, and it can take some time to get the hang of.
Since its launch back in 1999, the software has evolved to include features such as:
Tweening of vector shapes and bone animations.
Smart bone technology to clean distortions in your animations.
Soundtracks you can add to your animation.
Inbuilt bitmap brush for freehand drawing. You can control the velocity; pressure and direction of brush output to achieve natural-looking strokes.
New action window where a combination of keywords, sub-words and boolean operations can be used to filter and search actions.
6. TupiTube
Maefloresta's TupiTube is free animation software that is compatible with android and iPhone. You can install the app on your Android smartphone or iOS to start creating fun 2D videos to share with your friends. It's pretty basic, but it's easy to get started.
Features of TupiTube include:
A beginner-friendly intuitive interface.
A free downloadable app for android and iOS devices.
Plenty of free tutorials on how to use the software
7. Adobe Animate
Adobe Animate is paid software from the classic Adobe suite. It has features that support both audio and video embedding, raster graphics, rich text, as well as ActionScript scripting.
Adobe Animate improves on the legacy of the original Adobe Flash. It is easy to use, you don't need as much guidance to pick up the basics and create your fun 2D videos, though it won't hurt watching a few tutorials first.
Animate has been lauded for its features which allow the creation of interactive animations. If you want to animate website elements, animate is the tool of choice. You can use it to create animations for HTML5 Canvas, SVG animation, WebGL etc.
Features include:
Vector brushes to create natural brush strokes.
Export format to publish creation to any platform.
Virtual camera for realistic views.
Audio syncing.
Typekit tool so you can use various web fonts.
Modern timeline where you can edit frames, highlight letters and more.
So, to you budding 2D Animators, there's our list of animation software. While there are many other options on the market, the best 2D animation software really depends on what you want to use it for. If you're just starting out, have a go at some of the free tools first to see if you enjoy animating. But if you're looking at becoming a professional Animator, it helps to learn industry-standard software that the animation studios you want to work for are using.
---
Learn 2D Animation from an industry professional!
CG Spectrum's online Introduction to 2D Animation is the perfect place for beginners to learn the essentials! Overcome the learning hurdles faster and get confident using industry software Toon Boom Harmony. We also have a range of other animation courses.
You'll be personally taught by industry mentors who worked for Disney, DreamWorks and Netflix in this creative hands-on course. Enroll today!
Learn 2D Animation