What does a 2D animator do?
Following a script and/or storyboard, 2D animators draw frame-by-frame sequential images that simulate the actions of a character, prop, or machine in a two-dimensional space. 2D animations can vary in length from a 5-second brand logo to a feature film, TV series, or 2D video game.
Most 2D animators at some stage during the course of their careers will work in all of these roles, and sometimes a combination of all on individual projects. Over time 2D animators tend to specialize in a particular style or genre that reflects their personal aesthetic.
On longer projects, animators will work in teams working with various roles such as storyboard artists, clean-up artists, and character artists.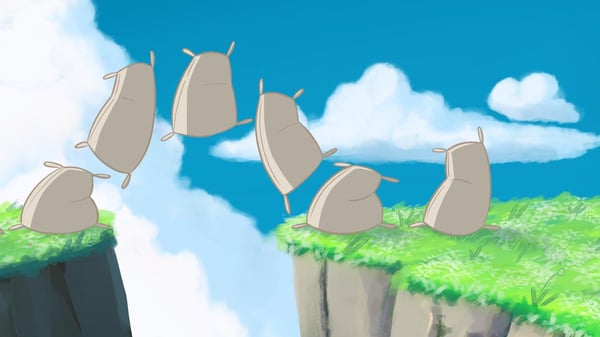 2D animator job description
A 2D animator works through a three-stage process (pre-production, production, and post-production) to create a sequence.
During the pre-production stage, they write the story, design characters, create a storyboard, choose a design style, and prepare the backgrounds on which the action will occur. The voice-overs are then recorded by actors based on the dialogue in the script.
In the production stage, the animators pull together all the elements to start animating the scenes. This includes initially animating rough sketches, then refining them to line drawings; layering the scenes against the backgrounds; matching the character visuals to the recorded dialogue, and compositing to final render.
At the post-production stage, animators will do a final visual clean-up, mix sound effects and music, integrate visual effects, and render all the elements together to create the finished work.
Role & responsibilities of a 2D animator in film and games:
Liaising with writers, directors, and clients regarding the style, method, and execution of the animation to be produced
Developing storyboards based on the script
Preparing presentations of rough sketches for clients
Creating models, drawings, and illustrations
Designing frames and characters
Choosing color palettes, style, and general look of the animation
Establishing artwork for the backgrounds and layouts
Setting up exposure sheets, divided into actions and timing, dialogues and music, animation layers, backgrounds, view perspective
Drawing rough sketches and animate
Illustrating keyframes and producing inbetweening
Inking, coloring, and clean ups
Integrating images, characters, etc into background graphics
Syncing visuals with audio and voiceover tracks
Preparing all animation elements for compositing, including delivering in set formats
Enhancing animation with special effects at the post-production stage
Skills required to become a 2D animator
There are many forms of animation — claymation, stop motion, pinscreen, cut-out, etc. — and animators continue to innovate with new materials, however, the basics of animation are taught in terms of character expression and movement.
A career in animation will pose lots of creative challenges and training in various techniques, the possibilities are endless and only limited by your imagination.
Film and game companies may look for the following skills in 2D animators:
Training in 2D animation, both cel & computer graphics
Ability to visualize abstract concepts
Experience with storyboarding, clean ups & layout design
Drawing ability, artistic mindset
Visual storytelling
Ability to draw in a variety of styles & genres
Familiarity with a range of animation software & techniques
What software and tools do 2D animators use?
The tools of a 2D animator can be as rudimentary as pen and paper, they can be paint and cels, they can be clay, they can be computer software, and a range of other props including puppets, models, flipbooks, etc. Regardless of the materials used to create 2D animation, it will invariably end up being edited and post-produced on a computer.
2D animators may need knowledge of a combination of the following software:
Toon Boom Harmony
Photoshop
Illustrator
Flash
Freehand
After Effects
How much does a 2D animator make?
The average salary for a 2D animator is from USD $31,139 for entry-level animator jobs to USD $82,286 for a senior animation position. (Source: Payscale)