If you want to know how to make a great video game, Troy Dunniway is the guy to ask. Troy's been making video games for over 25 years, and between working with art legends like Syd Mead and Roger Dean, hanging with rock stars in the name of research, and living all over the world overseeing projects in exotic lands, he's had a lot of fun doing it.
But Troy didn't always know he'd be making games for a living.
In fact, Troy was set to become an Astrophysicist at NASA, until he got a chance to work in movie visual effects.
His career twist led to him becoming an award-winning Game Designer who has shipped 100+ titles on almost every platform and genre while working with major studios like Microsoft, EA, Ubisoft, Insomniac, Disney, and Samsung.
Troy's written the book on game design (actually, three of them), and as CG Spectrum's Game Department Head, he has created (and teaches) the most comprehensive game design course out there.
Troy shares how he got into the industry, and two of the essential ingredients he uses to build a great game.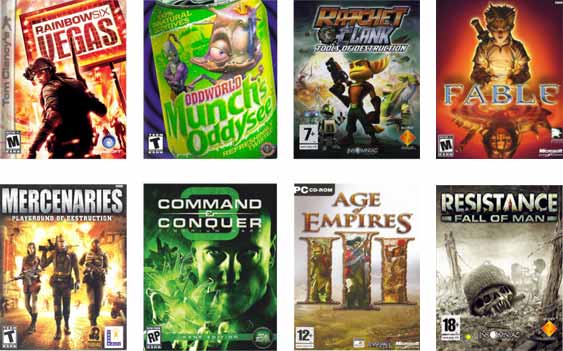 Just a few of the 100+ titles Troy Dunniway has worked on.
Growing Up On Video Games
Troy grew up playing every game you could imagine and owned every computer system that's ever existed - even before the Commodore 64.
Easily bored with games lacking innovation or originality, Troy preferred the ones that pushed the limits, allowing players to find their own paths.
"I'm drawn to games that have a story and offer the opportunity to think through the game rather than just fight or jump your way through. I've always been more into role-playing and strategy than anything else, but I still enjoy playing action games on PC and consoles."
In High School, Troy was a computer nerd who was programming games for fun on a wide variety of early computer platforms.
At the University of California, Troy studied Astrophysics and Mechanical Engineering, and on graduation, he decided to take an offer to work in visual effects, and not pursue what had been his childhood dream of designing spaceships and going to Space. After working on some big movies like True Lies, Troy decided to move into a more creative space where he'd have a chance to bring his own ideas to life. So he moved into making art for video games at Ronin Entertainment in 1994.
He's since powered through the ranks as a Game Designer, Creative Director and Executive at some of the world's greatest studios. He designed or supervised many successful titles like: Rainbow Six Vegas, Munch's Oddysee, Mercenaries, Age of Empires 3, Command and Conquer 3, Roller Coaster Tycoon Mobile and many others.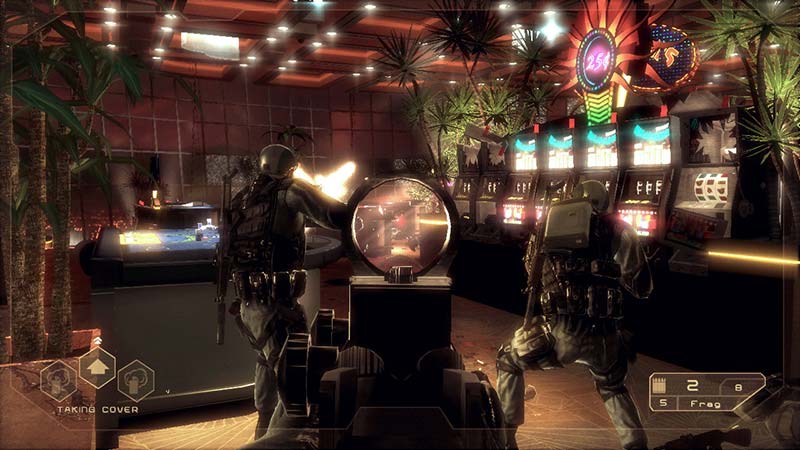 While working on Tom Clancy's Rainbow Six Vegas (Ubisoft, Gameloft), Troy Dunniway collaborated with military advisers, studied special forces tactics, weapons, military uniform designs, special forces dialog and hand signals to add more realism.
Now as CG Spectrum's Game Design Department Head, Troy has funnelled years of insider knowledge into the online Game Design Diploma which teaches students the skills to get started as a Systems Designer or Level Designer.
Systems Designers are the people who understand and create all of the minute-to-minute gameplay systems. This might be things related to the player, combat, non-player characters, the weapons, objects and items in a game and how they all interact together to make it fun.
Level Designers then utilize these systems (and more) to make the worlds, levels and areas come to life which the player experiences. (For more info on Game Design jobs and salaries, check out What is Game Design? and How Video Games Are Made.)
How to Make a Great Video Game
After three decades of working in the game industry, Troy's an extremely qualified person to ask how to make a great video game. The answer, as you might have guessed, is not so straightforward. Here's what he has to say:
"This is a very hard question that all Designers seek the answer to. While it may seem easy to answer, the complexities are massive. Sometimes it's luck, and sometimes skill, user testing, great marketing, hard work or many other factors. As a Game Designer your job is to find the elusive fun and make an engaging and compelling user experience."
"It's also important to note that how you make a commercially successful game vs how you make a 'good' game is not always the same thing. We're in the business of trying to understand people and their user experience, whatever that might be. Whether you're making the most exciting game in the world, or the easiest one to play (e.g. Candy Crush), it all fits a niche. The average retention for mobile games is only 5-10 minutes, whereas World of Warcraft has 10 million users playing over 10 years. Your players may want to play 5 minutes a week or 5 hours a day."
In the CG Spectrum Game Design course, Troy covers many critical tools used to make a great video game, but two of the areas he talks about a lot are: Psychology and Storytelling.
Psychology of Video Games
"Games are all psychology," says Dunniway, who studied the science. "Most Designers don't know they're using science and psychology when making a game. But they're often using it indirectly or unknowingly. Why is it that something just "feels right"? Games are not guesswork. There's often deep psychology and science behind everything, whether we realize it as Designers or not."
Troy uses psychological memory theory as a basic example of psychology in games:
"If you throw too much at someone at once they're not going to remember what to do. You can only remember a few things at a time. So we do what's called 'chunking'. Typically our memory remembers things better in smaller chunks... like how phones are segmented into three or four chunks of three to five numbers instead of just one long number. If we try to teach a player to run, jump, shoot, duck, learn a new story and recite the national anthem all at the same time, we overwhelm them. It's a lot to process!"
"As Game Designers, we have to be very careful not to lose or frustrate people. We often try to make things we want to play. And because we have a certain skill level we assume everyone else has our skills, experiences and interests as well."
Troy warns: "It is very easy for Designers to get wrapped up in ideas and high concept academic design theories. While concepts, ideas, psychology, theories and other deep thinking metaphors are important in successful game design, it is also VERY important to bring your ideas to life, and prove that they are indeed fun, compelling and the right approach to follow."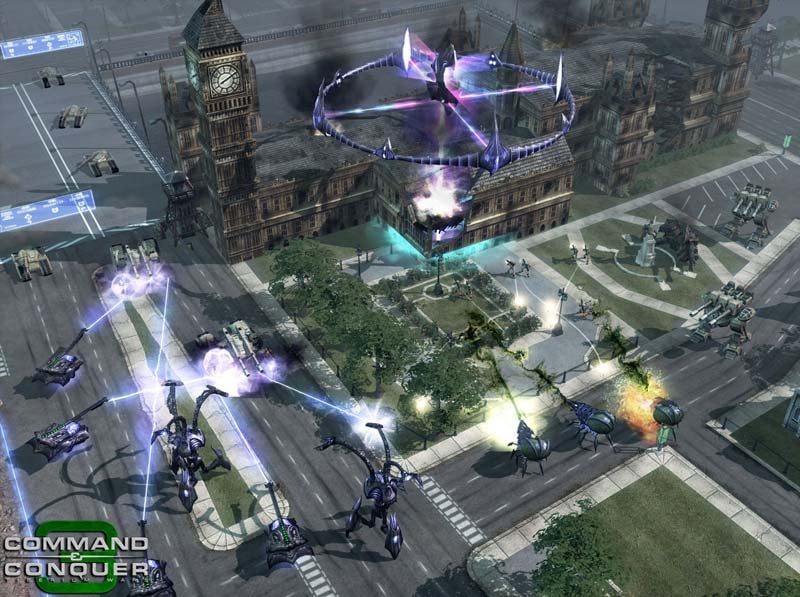 Command and Conquer 3: Tiberium Wars (Electronic Arts)
"You can only design most things so far on paper. Most ideas need to be touched, felt, played and tested sooner than later. You might think something is easy, but to someone who has never played your style of game before, it's often not that easy for them, or obvious! Get your friends, your kids, even your mum in to test your games, just to get their feedback if they are your target audience. Know who you are selling to and make the game THEY want and not the one you dream of necessarily."
Many games don't even make it past the prototype phase. It's better to find out your product doesn't work early on in the development process than spend thousands or millions of dollars creating something no-one really wants.
"These days we have a wide variety of focus and usability tests to help us see what people like and what they think of our ideas. We're getting better at understanding the science behind games and realizing there is real science mixed with art required to make them fun."
Video Game Storytelling
Storytelling is also a huge part of making great games. "You often want to hook the player in right away with a good story," says Troy, who while studying astrophysics also took a number of creative writing courses.
"At the heart of most games and player experiences are the characters, worlds, maps and levels which players interact with and in. These are the magical places which capture our imagination, the places we love to explore, sometimes battle through, take on challenging quests as we adventure and eventually slay the evil villain in our hopes of saving the universe from some terrible fate."
Troy's a big fan of the father of mythological storytelling, Joseph Campbell, who was one of George Lucas' mentors and influenced Star Wars. Campbell coined The Hero's Journey:
"A hero ventures forth from the world of common day into a region of supernatural wonder: fabulous forces are there encountered and a decisive victory is won: the hero comes back from this mysterious adventure with the power to bestow boons on his fellow man." – Joseph Campbell, 1949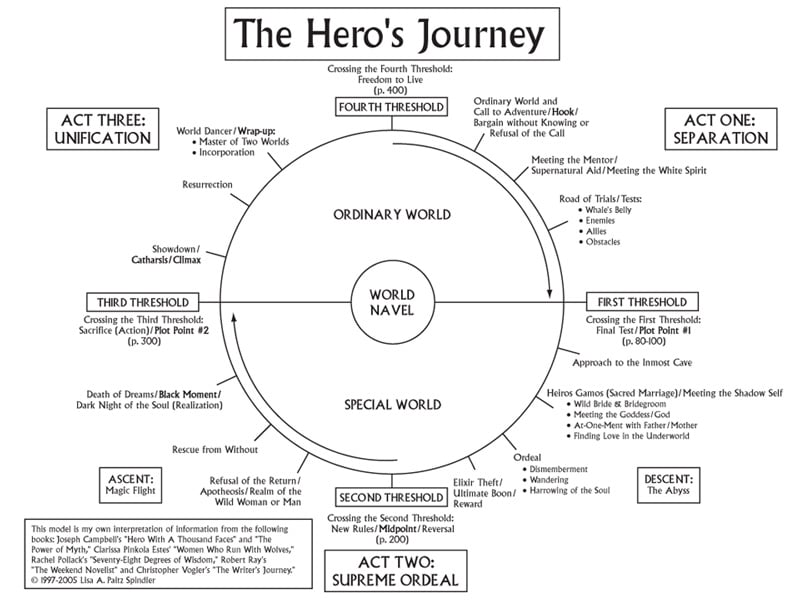 An interpretation of Joseph Campbell's The Hero's Journey, by Lisa A. Paltz Spindler
"The different acts in a story are designed to draw a person in and keep them interested. Like any good action movie or book, a game needs to captivate the player immediately, keep them interested and finish with a bang."
"The best reason to use a story structure is to develop good pacing in the game. It allows the story to progress from its beginning, through the body of the story, then to a reversal and finally a climactic ending." (Read Troy's in-depth Gamasutra article on The Hero's Journey)
"A lot of Designers don't know where to start. In games, we have levels, and they follow a structure, a story arc. So build the arc, fill in the blanks, and chunk it into steps."
Troy teaches all of this in the online Game Design course. "I give students practical hands-on skills to incorporate gameplay and storytelling into their games. They learn the theory and how to apply it in a real-world scenario, how to write a GDD, or game design document (like Ubisoft or EA would use), and develop a pitch deck so they know how to sell their product."
Making Your Story Authentic
"To bring authenticity to a game it's important to do research," says Troy. "The fans will pick up on it, and it makes them feel like they are in the experience."
"It may be surprising, but working in the industry isn't just about sitting inside playing games. Besides traveling for trade shows and pitches, there are lots of other reasons to get out and interact in the world."
When Troy worked on Rainbow Six, he collaborated with military advisers, studied special forces tactics, modern weapons, military uniform designs, and even special forces dialog and hand signals. On other projects he flew all over the world to learn about important subjects, collaborate with famous experts in the area or learn about new things from the source.
Later, on a wrestling game, Troy hung out at a wrestling show's TV taping every month, talking to wrestlers and getting their stories. For a music game, he attended tons of concerts and filmed around 50 hours of interviews with rock stars to capture their stories. For other titles, he got to use motion capture to recreate actors' performances and real-life movements.
Troy's even worked with a few of his personal heroes, including Screenwriter and Director John Milius (Conan, Apocalypse Now), and legendary artist Syd Mead (Blade Runner, Tron, Aliens) who did the concept art for one of Troy's early projects.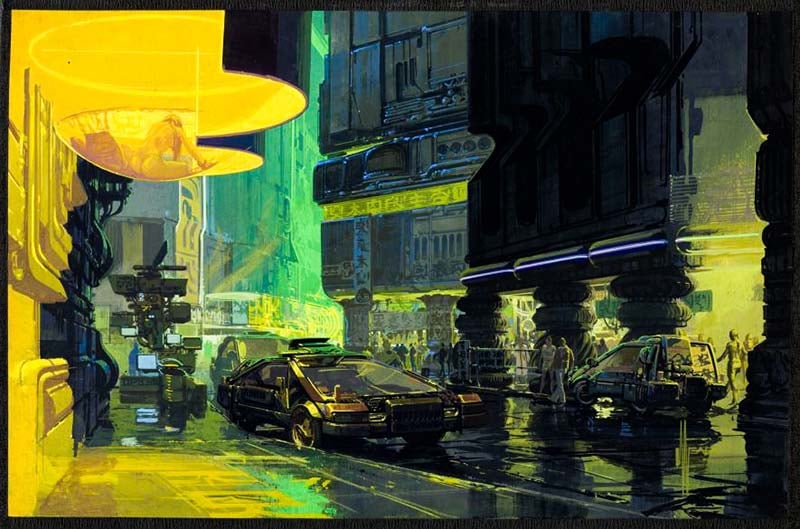 Downtown Cityscape / Blade Runner (1981) by Syd Mead who created concept art for film and games
"It's an incredible experience working with your heroes. You learn so much spending days, weeks and months with these guys. You see why they're so amazing and hopefully learn a thing or three from them."
The Future of Video Games
Dunniway says that even though working in the industry has become more nuanced over the years, he's still having fun making video games for a living, even after almost 3 decades.
Looking to the future, he says there's no huge indication which sector is going to blow up and be the next big hit. "The multiplayer online experience becoming bigger, and esports (which originated from some of the games Troy designed originally) is huge. I'm very interested in esports; getting a deeper understanding not only of the design, but the intricacies of the players and teams, as well as the business side of esports."
These days Troy's playing the latest God of War and other PC and console games. In part for work and in part for pleasure, Troy makes sure to play all of the top titles to see what they're all about. "The games shift just enough that you have to reacquaint yourself with new rules."
Additional Game Development Resources:
---
Learn Game Design From Troy Dunniway!
If you love games and you're passionate about storytelling, then join Troy as he takes you through the most comprehensive Game Design course, the Game Design Diploma. With Troy's mentorship, you'll learn how to create compelling, addictive and monetizable games that captivate players with a great story!