Just starting your journey as a 3D Animator? Great! For film and game enthusiasts with a visual creative flair, this can be the logical career choice. It's a highly competitive industry, so here are some strategies to get your first 3D animation projects and launch your career.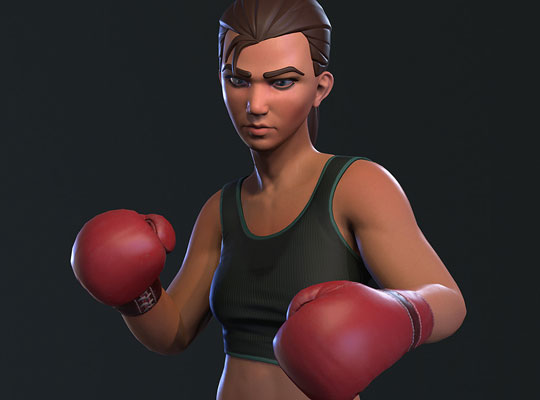 Build up those 3D animation skills and knock 'em dead!
1. Learn the Software
This is obvious, but there's no way around it! If you want to animate, you have to learn the software and stay on top of trends and updates as the technology advances and evolves. Some of the main software programs used in 3D animation are Maya, After Effects and Light Wave. Most programs have free trials to get you started, and there are numerous ways to learn the tools of the trade.
If you're not progressing quickly enough with free online 3D animation tutorials, get yourself a professional mentor. A reputable online course such as CG Spectrum's Advanced 3D Animation Diploma offers a high-quality education as well as the added advantage of an industry mentor who can provide valuable one-on-one guidance. The course is designed to get you job-ready, so you'll learn professional techniques used in major film and games studios, and get your demo reel looking sharp to impress clients and employers. CG Spectrum students have gone on to work at studios like Sony, Method Studios, Ubisoft etc.
2. Start Animating
While the ultimate goal is to get paid for your work, if you're just starting out, consider doing a few free projects to help build your portfolio. Start small by offering your services to friends, family or acquaintances to provide visuals for their business and community websites. This will help propel your work out into the world and provide original content for your portfolio.
Replicate the professional process from the start. Treat these jobs as is if they were paid, work out a brief with your client. Then work hard and smart to deliver beyond expectation. Establish a work ethic of excellence from the very beginning, as this is the way you will be expected to perform in the workplace.
Unpaid work can often lead to paid work as you build your skills and get your name out there.
3. Build an Online Community
Getting to know other 3D Animators of a similar skill-set can help immeasurably. It connects you with others, dispelling the sense of isolation that self-learning and starting a new career can entail. It assists in your evolution as a 3D Artist, giving you scope to talk shop and share tips, work on projects together and start building the network that may see you throughout your entire career. This is also a way of getting your work out into the world, and assists in building your profile.
Explore Facebook and LinkedIn for animation groups. CG Spectrum animation students enjoy a private community where they can ask questions, share resources, troubleshoot any issues, and give and receive feedback on each others' work.
Online communities are tight-knit and you could make some valuable connections that lead to jobs. Get out there and mingle!
4. Launch Your Professional Portfolio
Your own website is the best place to show off your work. Remember to put your best work up front as first impressions count. Keep your site up-to-date with your latest work and remember that the look and feel of your site is also a way of showcasing your visual skills and style. If you don't yet have the resources to build your own website, set up an Artstation or Rookies profile and post your work on there.
This is your place to shine and to send potential employers when applying for jobs. It's all about self-expression and demonstrating your unique visual style.
5. Keep Learning
As you will be aware, technology is ever-changing, so your skills and software knowledge will always need upgrading. Make sure you keep up with the latest versions and editions of the major platforms so that you are job-ready for any future employers.
Demonstrate your knowledge on your website with reviews and/or demos of the latest upgrades to software. Your website is always your best calling card.
6. Know your Industry
If film and games are your passion, you need to know who the key players and big employers in the industry are. Research the studios who worked on your favorite films or games. Do your homework on who your future employers are likely to be, find out if they are exhibiting at trade shows, festivals, events or holding webinars, and meet some of the staff.
Online communities are populated with industry professionals, connect with them, ask them how they got their jobs and what the recruiting process is like. Knowledge is power, your knowledge of the industry will shine through when it comes to interviewing for jobs.
7. Know How to Market Yourself
Your talent and skills are your most sellable products. Presenting yourself in the best possible light will give you the edge over other candidates vying for the same positions as you. Polish your CV so it is industry compatible, update your website regularly and keep it professional.
Network through online communities to help build your profile and keep your output on-brand. Your visual style should reflect the genres you want to work in, employers want to see someone who will fit into their teams to help them achieve the best possible work for their product.
8. Secure an Internship
Internships are not a viable option for everyone (especially as some are unpaid, and there are bills to pay!), but they can be a great starting point to your career.
An internship is a good way to get your foot in the door, prove yourself and show your eagerness, and be in a prime spot for recruitment within the company when a place becomes available.
9. Apply For Jobs
Put yourself out there! The ultimate goal is get 3D animation projects you're paid for.
Scour the careers pages of the studios you want to work for and apply for Junior Animator positions. Even if there's no job posting, contact the studio to let them know why you'd be a great fit at their studio, what you offer, and where they can see your work.
Studio recruiters spend a lot of time on LinkedIn, so make sure your profile looks sharp and says that you're available, and post examples of your work regularly. You never know who is going to see your work and call you in for an interview. While you're applying for jobs, continue refining your portfolio by adding new work and replacing your old work.
If you're looking to become a freelance animator, reach out to your networks to let people know you're available and ready to rock!
Education, networking, work ethic and passion are going to drive your career as a 3D Animator. And these will be the building blocks that will get you your first job in the industry. Hard work and sass will be your stepping stones into the world of animating for film and games.
---
Get Your 3D Animation Skills to the Next Level!
Need to build up your demo reel to impress clients or employers? Turbocharge your skills and polish your reel with mentorship from expert Animators from top film and game studios. With credits on Star Wars, Avengers and Deadpool, our mentors know what it takes to become a great Animator, and they're here to help you develop your style and competitive edge!
Learn 3D Animation