Erika Horňáková was destined for a creative career, but it wasn't until she stumbled upon 'concept art' that she found the perfect fit. She threw herself into CG Spectrum's concept art course, worked hard, persevered, took her mentor's advice on board, and today, Erika is a Concept Artist at MADFINGER Games. Here's Erika's story.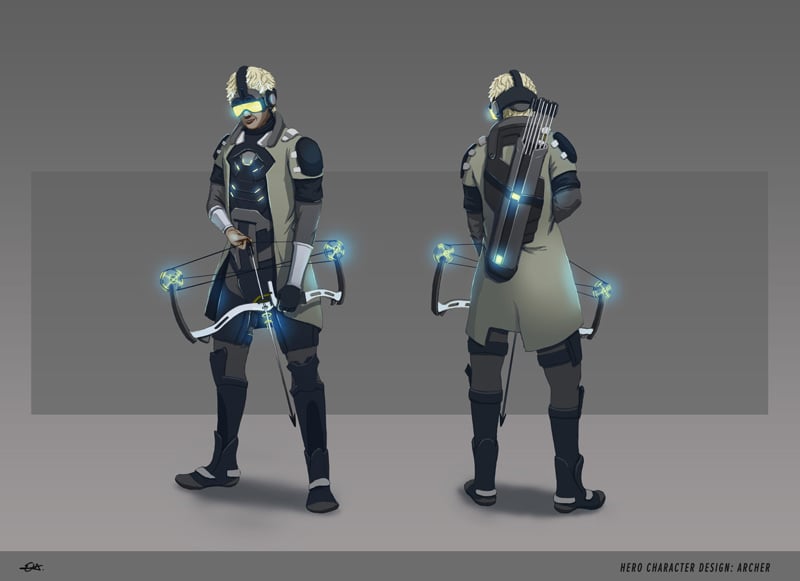 Futuristic Archer Concept Art by Erika Horňáková
Erika, how did you end up in the world of concept art?
I always knew I would like to do something creative professionally but I never knew exactly what. Honestly, there was a thought at the back of my mind that pursuing art as a career was not the best choice based on what I'd been hearing from other people, so I didn't take it seriously back then.
I've been drawing since I was a little kid but I started learning digital painting in high school and completely fell in love with it.
After graduation, I was switching between universities and part time jobs and I wasn't happy. I had to decide what I actually wanted to do. After a bit of research I found out about concept art. I just knew it would be the perfect choice for me.
I can't tell you how many hours I spent playing video games, watching movies or just reading fiction. I love that stuff. I always admired all the beautiful designs and wanted to be able to do the same. My parents were extremely supportive and encouraging, so I dropped out of my former university and decided to join CG Spectrum.
I had a blast at CG Spectrum. I was never a great student, and never liked school too much. This was the first time I was actually enjoying my studies and putting my best effort in (don't tell my professors!).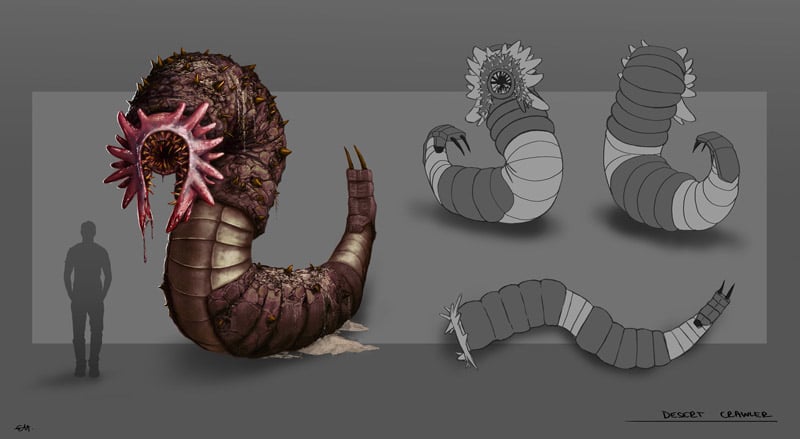 Desert Crawler Creature Concept Art by Erika Horňáková
I chose CG Spectrum because it was the most available option for me to start my studies. We have no schools or courses in the Czech Republic that teach concept art.
Online school was a great option, it didn't require me to move anywhere, I could work at the same time and was still able to manage my time well.
I was very nervous before starting the course because I'd never drawn a concept in my life prior to that. I learned to draw and paint by exactly copying the reference but that was it, when it came time for me to draw something on my own, I was completely lost.
I am extremely thankful for my mentor Brandon Reimchen, he was very patient with me and helped me to spot my weaknesses, such as my love for desaturating absolutely everything in my artwork. Since graduating I've been trying to improve and work on those weaknesses.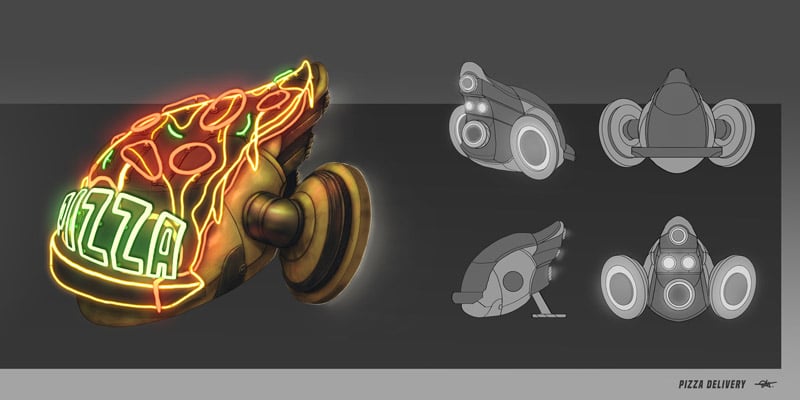 Pizza Delivery Transport Concept, Erika Horňáková
How did you get your job at MADFINGER Games?
I started working at MADFINGER Games two years ago as a Junior Game Tester. It was my first introduction into the video game industry. I started to cooperate with some of the artists during my time at QA (Quality Assurance), got some valuable feedback and eventually designed a few assets for our games. Earlier this year I was lucky enough to join the art team as a Junior Concept Artist.
We're currently creating new content for our new game: Shadowgun War Games. My job is pretty varied, most of the time I work on smaller assets but I also get to work on weapon, character concepts or GUI (Graphical User Interface). I think it's great because I get to explore more disciplines and it keeps me alert.
Can you tell us about some of your work?
This is a set design piece I made during my time at CG Spectrum that I'm probably proud of the most. It was very challenging and I most likely spent the longest time working on this one. It was my first time figuring out how the perspective works. I remade the initial sketch many times before I was happy to move onto the rendering. It was pretty painful at times but it left great memories.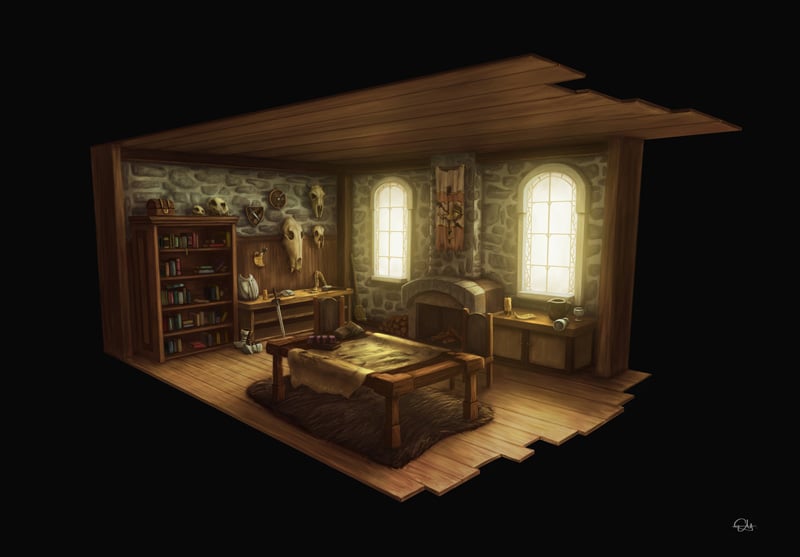 Hunter's Room Set Design by Erika Horňáková
These are some of the first weapon charms I made for the Shadowgun War Games. Since then we made a lot more of these, hopefully I will be able to share those with you soon. I am always trying to come up with something interesting and fun that suits our characters. The pop heads are probably my favorite.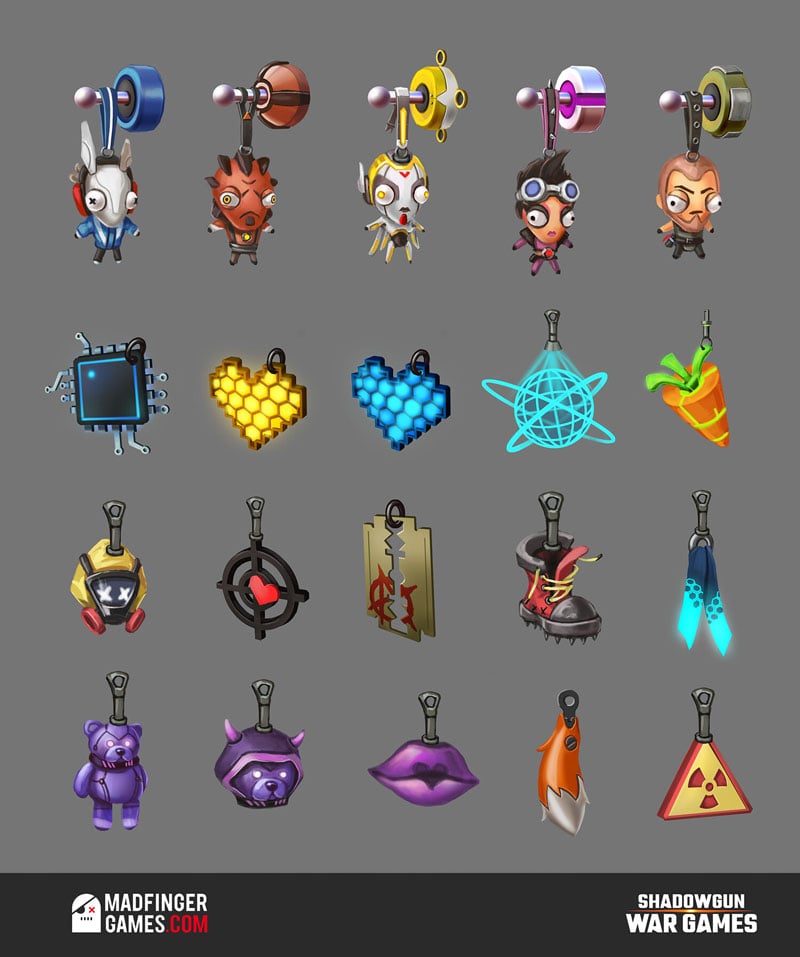 Weapon Charms for Shadowgun War Games by Erika Horňáková
My latest artwork, Traveler, is a character for my Wake Up project. I chose a different art style than I'm used to. I really wanted to make the design simple and readable. Went through a couple of variations with different shapes and colors. I might make some changes in time but for now I've settled on this design.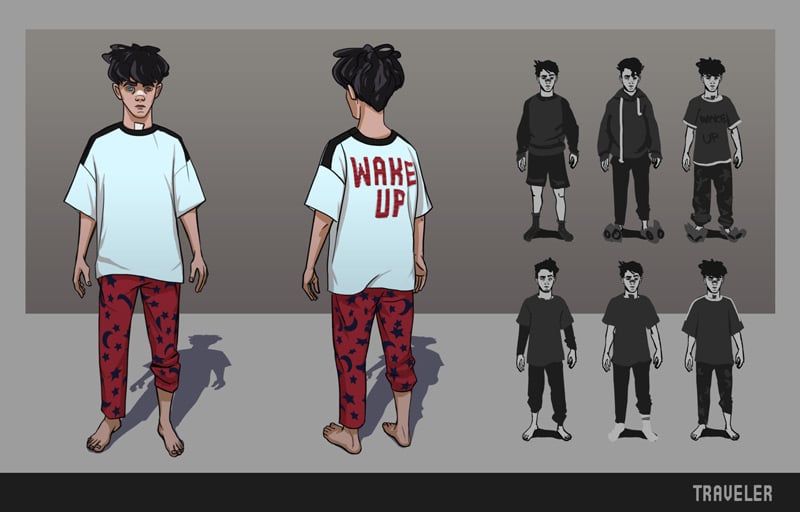 Traveler by Erika Horňáková
How would you describe your style? Where do you get inspiration and how do you overcome a creative block?
I think my style is still developing and will continue to develop for a while. Mainly because I have so many art heroes I look up to who have completely different styles, and also because I love to experiment. I am always trying out which methods and processes I enjoy the most.
At the beginning I really enjoyed photorealistic artwork, and in the last 2 years I have been aiming more towards stylized work. I also want to be able to adapt my style for different projects.
Right now the internet is filled with inspiration, I have so many Pinterest boards full of amazing paintings and interesting ideas. If I feel stuck, want to learn something new or if I just don't know what to work on I spent some time browsing sites like ArtStation or I grab one of my art books.
My ultimate inspiration is the art book of Dragon Age. This game gave me the idea of wanting to do art for games.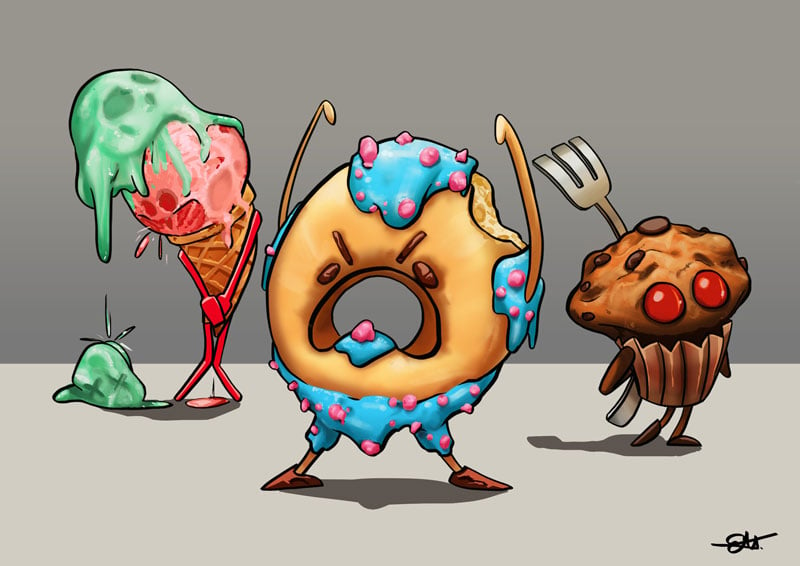 Tasty Desserts, Weekly Drill for The Rookies, by Erika Horňáková
What personal projects are you working on right now? How do you stay motivated to continue learning and creating?
Right now I'm working on my Wake Up project. It is still at a very early stage but my plan is to create and explore a scenario of a character trapped in a dream realm. It is something I've been wanting to do for a while, but I only now got the spark of courage to start working on it.
One of the reasons I am excited for this project is because I know it will be very challenging.
I do get lazy from time to time and so this is a great way to keep myself motivated and wanting to improve.
All I have to do when I feel even a tiny bit like I'm at a comfortable spot is to have a glance at the front page of any art website. I immediately snap out of it.
It can be sometimes a bit demotivating but I know that everyone's journey is different. All I can do is keep going and try my best. We never stop learning, right?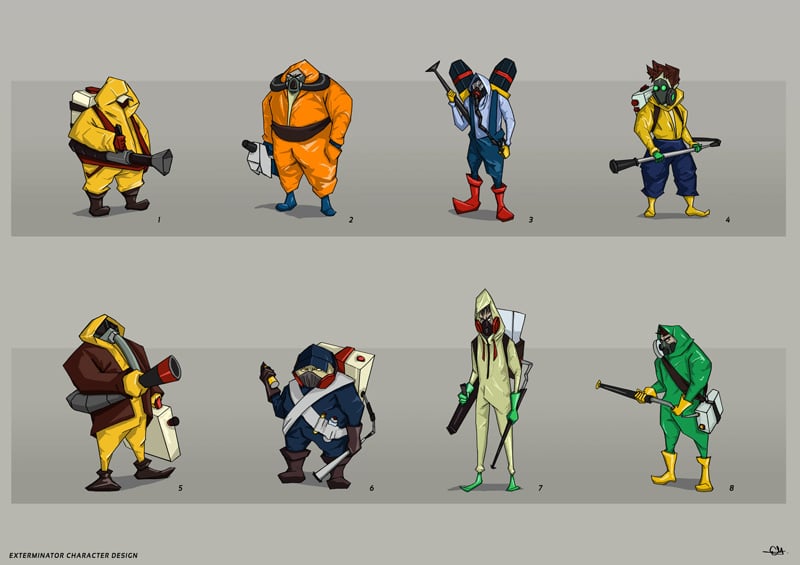 Exterminator Concepts by Erika Horňáková
Any advice you'd have for current concept art students?
Apart from the obvious; working hard and putting the effort in, if you're anything like me you might be struggling with self-doubt.
What's really helped me is to accept the fact that I am never going to be a 100% happy with my work. For me, there is always something I don't like about my work or something I want to change. Realizing and knowing that you are going to have self-doubts anyway is a bit liberating, otherwise the fear is going to stop you from growing and posting.
Don't be afraid of the failure and certainly don't avoid it because it's the thing that helps us grow. Take risks and most importantly enjoy the process!
See more of Erika's work at: www.artstation.com/erikahornakova and @rikihornakova.
---
Learn Concept Art and Illustration From Award-Winning Artists!
If you're considering turning your artistic skills into a career, CG Spectrum's Introduction to Concept Art and Illustration course is the perfect starting point. Learn the fundamentals of both disciplines, and get a taste of what it's like to work in the film and game industry from mentors who have worked with clients such as Blizzard Entertainment, Marvel, and Disney Publishing!
Learn Concept Art & Illustratio