Hamzeh Alkailani has faced extraordinary odds in his lifetime. More than most of us could imagine. But with determination and unyielding hope, sprinkled with a bit of good fortune, he overcame the barriers before him and finally realized his dream of working in the industry as a VFX Compositing Artist. Here's Hamzeh's story.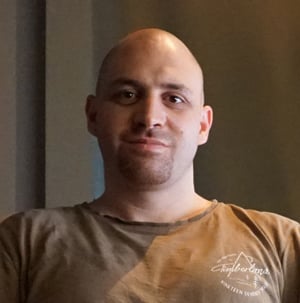 Having moved from Syria to Malaysia, Hamzeh Alkailani was left with few options. Due to visa complexities for Syrians, work options were extremely limited, and without a diploma or degree, it was hard to get a full time job, so Hamzeh accepted the first one he got even though the conditions weren't good.
Without a support system, Hamzeh needed to survive on his own taking whatever work he could.
For 3 years, he was trapped in a job working under unfathomable conditions; laboring for months on end without weekends or holidays, often working 48 hour stretches without sleep or overtime payments, and earning 25% less than average wage. Hamzeh could not leave his job (even though he had better offers) without a qualification and a new work permit.
But his dreams of a more fulfilling career and a better quality of life persisted.
Since childhood, Hamzeh had been fascinated by movies. "As I grew up I was even more attracted to them, especially the design of the imaginary worlds that appeared magnificently on a very small screen. I had no idea how this was implemented or what art or technology was. When I discovered CGI-related programs, I realized that was where I had always belonged and decided to be a part of making such imaginary realms."
In 2014, Hamzeh came across a demo reel for CG Spectrum's online Nuke Compositing course. "I liked it very much. What attracted me the most was the high quality of work and its diversity. I planned that one day I would get myself registered in this course."
As fate would have it, in 2017 Hamzeh applied for a CG Spectrum scholarship and was about to get a huge leap closer to his goals.
"When I obtained the CG Spectrum scholarship, my feelings were indescribable; I could not believe it. I even replied to the email to make sure it was me who got the scholarship and it not just a mistake. I still remember how excited I was. I did not sleep the whole night out of happiness."
"The CG Spectrum scholarship LITERALLY changed my life. CG Spectrum not only gave me the diploma I needed, but also furnished me with new skills to find better opportunities in the VFX industry. Studying full-time seemed quite impossible and tough under such challenging work circumstances. However, with great support and patience from my amazing instructor Josh Parks and the CG Spectrum team, combined with the good curriculum and my determination, I was able to graduate in 2018."
Hamzeh soon got a job as a Compositor at VHQ Media in Malaysia, and his first day was certainly a memorable one.
"It was very exciting. The workplace was clean, spacious and very convenient for creative people. Everybody was welcoming and friendly. Right from the very first day, I could spot the level of professionalism."
"At VHQ work is distributed fairly based on the level of experience. Only when there is a deadline, do people stay overtime or work on the weekend. The good quality tools (hardware and software) help us achieve tasks smoothly. Moreover, the quality of training helps boost and level-up the juniors' skills."
A typical day for Hamzeh now looks something like this: "We usually start our day at VHQ with warm greetings to each other. Then, everybody makes their coffee or tea and heads to their desks to check the tasks of the day and start working on them. If I have questions or need help with an assigned task, I ask my seniors or supervisors, who are very cooperative. Then comes the lunch break hour, or you can say 'the socializing time'. This is how right from the beginning I was able to make friends and get to know people there. What could be more ice-breaking than sharing food together? After lunch, we resume work until the end of the workday."
Compositing reel by Hamzeh Alkailani who graduated from CG Spectrum's online Nuke Compositing course
Had Hamzeh not had the opportunity to study Nuke compositing at CG Spectrum and find a great job in the industry, he says: "I would be risking my mental and physical health. My passion towards CG would dim gradually. Moreover, I would lose any human contact whether with society, friends or even family."
Today, Hamzeh shoots for the stars: "I dream of working on my favorite series/movies 'Star Wars' one day. Hopefully, I would have the chance to work in one of the pioneering companies in this industry such as ILM, Method Studios, MPC or Weta Digital."
Hamzeh continues to work hard, treasuring the opportunities he has, and hopes his story will inspire others. For others facing great barriers, Hamzeh offers his advice:
"Keep trying and never allow anybody or anything in this world set you and your dreams apart. Remember that with each difficulty comes ease. The most important thing is to never think that you are in this alone. Reach out to people in the industry and seek help. Do not feel intimidated or hesitant. This industry has amazing professionals who are looking for talent and would be happy to help."
And when the time comes to get your first job in the industry, Hamzeh says: "Nothing could be more satisfying than new beginnings. Dress nicely, wear a smile, take a very deep breath, show up early, do not be shy, get to know people and colleagues, show positive attitude, observe the environment, and most importantly be yourself."
Want to learn more about becoming a VFX Compositor for film? Read our What is Compositing? career guide, or this interview with Senior Compositor and Mentor Brittany Piacente who has worked on more than 50 movies at studios such as Method and Deluxe!
---
Learn Nuke Compositing online from industry pros who worked on Star Wars and Blade Runner 2049!
CG Spectrum VFX School prepares you for the industry on an accelerated timeline. Learn from top mentors who have worked on blockbuster films and best-selling games. Whether you're just starting out, changing careers, or upgrading your skills, our Compositing course will get you up to speed.
Explore Nuke Compositing Course