Senior Compositor Brittany Piacente has worked on more than 50 movies and TV shows, including Black Panther, Blade Runner 2049, Vikings, and not one, but THREE Star Wars films! Her IMDB is as impressive as it gets, and she's held senior positions at Deluxe, Mr X, and Method Studios. A natural leader and mentor, we're thrilled to have someone of her caliber teaching our Nuke Compositing course. Find out how Brittany became a VFX Artist and Compositor, and get her top 3 tips for creating an amazing compositing demo reel.
Brittany, how did you become a Compositor?
At first, it was just to learn something new, but then I found that I loved that you could blend something in so well that you can't even tell it's composited, and there are so many ways to do the same thing, so I can really never be bored. With other jobs I've had, I would be bored of doing the same thing over and over again. I've been referred to as "a bit squirrely" if I get bored, so compositing keeps me at ease. Haha!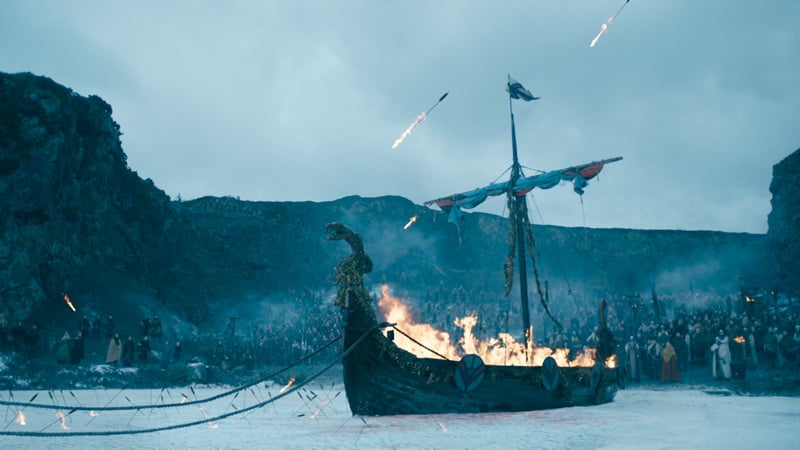 Vikings Season 6: Brittany was responsible for compositing fire and CG people
You started out as a Graphic Designer. How did you get your first job in the VFX industry?
Yes, I started out working in freelance graphic design for a few different casino businesses during my last two years of college. Which is funny, because I graduated from Savannah College of Art and Design with a Bachelor's degree in Animation. After graduating, I was pressured to find an animation job right away, but I didn't have much luck, so until I could find something, I continued doing graphic design.
After a few months of major self-reflection and re-evaluating, it turns out I was not a good animator. I had been taught to appreciate good animation and be able to spot flaws, but when it came to doing the animation myself, I became computer illiterate.
I eventually figured out that it wasn't specifically the animating I wanted to do, but for me, just working on movies was "the dream."
So I reached out to a family friend to see if there were any open opportunities at his company in California. He said he would be able to get me in to take a test. I took the test, and a week or two later, I got my first job in the industry doing stereo conversion. I worked in the depth department for a couple of years before moving into paint/stereo compositing, then into leading teams, and then VFX.
I loved learning so many different aspects of the industry. While working on the VFX team, my Lead told me there was an opportunity to be a Compositor for a TV show, so I jumped at the chance to get on board! That same Lead wound up leading the show up until the last few weeks, where he then turned the reigns over to me to bring the show to its close while he was on vacation.
"I loved every bit of it. After working on that show, I knew compositing and supervising were my callings, so I set on the path to become a Compositing Lead, then Compositing Supervisor, and eventually a VFX Supervisor, and I have never looked back."

As a Senior Compositor, what are your job responsibilities? What are your biggest challenges?
As a Senior, I'm responsible for:
Having an excellent working knowledge of the technical and organizational aspects of the studio pipeline.
Working with production to make sure we're hitting upcoming deadlines.
Working closely with the Compositing Supervisors and Leads to determine the best approach to solving challenges and developing the final look of a shot.
Working with the Compositing team to maintain continuity and consistent performance with tasks such as: seamless assemblies of live action, 2D and 3D elements, tracking, matte extractions, and color corrections.
Providing input regarding tools and assisting in documenting new workflows.
Look development; which is essentially setting up a major shot in a sequence for other artists to match to.
Assisting other artists with technical and creative issues.
Taking on more complex shots (usually in a shorter amount of time).
Sometimes the biggest challenges in my job are, ironically, the ones that look like they're the easiest to do. Each shot brings its own challenges, but I've found most of the time it's something that, at first glance, can be done "real quick," which is not always the case. As Compositors, we're almost always on great time constraints because we're the last stop in the pipeline.
In the industry, there's a constant search for a balance between the time you have for a project, the project's budget, and the quality you can provide without sacrificing too much of the first two.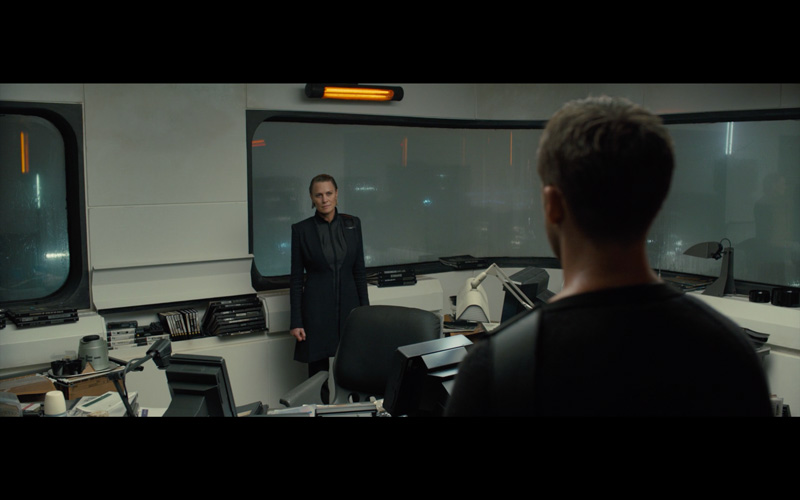 Blade Runner 2049: As VFX Artist, Brittany was responsible for rain on windows
You've worked on more than 50 shows, which is incredible! Tell us about 3 projects that stood out for you.
It really doesn't feel like I've worked on that many projects, but it's been a wonderful ride so far. Three projects that really stood out for me were: Blade Runner: 2049, Vikings: Season 6, and The Witches (currently working on this film).
Blade Runner: 2049 was just a beautiful project to work on. The cinematography was gorgeous, I had an awesome Lead, and it was just a fun project. I was a VFX Artist on the film. The challenges on that show were more technical than anything else; a lot of frustrating days trying to work through why something wouldn't work on one shot that just worked on another, so persistence and trying new things was the name of the game.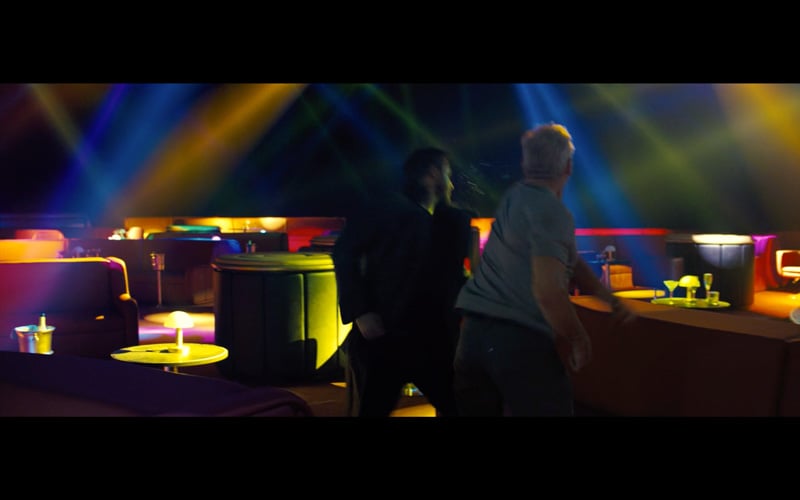 Blade Runner 2049: As VFX Artist, Brittany was responsible for lights and flying spit
For Vikings: Season 6, I was a Senior Compositor. That was probably the all-around most fluid project I've ever worked on. The Supervisor and Lead for the show were always on the same page, they taught me so much and pushed me to do more challenging shots, the production team was the smoothest run ship I've ever seen, and the whole team felt like a big family. It was a lovely combination of things and it made me really appreciate having a great team. At first, I found the multiple rounds of notes we would get for a shot to be challenging, but seeing the before and after, it was very apparent those notes were justified and ultimately made the shots look 1000x better. So I had to learn to be a bit more patient and build up my eye for what the Clients/Supervisors were looking for.
See Brittany's work on Vikings - Season 6
I'm currently a Senior Compositor on The Witches (a Roald Dahl classic set to come out in October this year with Oscar winner Anne Hathaway starring as the Grand High Witch). This has been a fun show to work on so far. I enjoy the camaraderie with the team and their willingness to share tips and tricks. The Leads and Supervisors on the show are very knowledgeable and willing to explain processes, no matter the complexity.
We're the first project on a new pipeline, so it's been a wild ride trying to work through the kinks. I'm learning to practice patience (not as easy as it sounds) and what artists can do to help improve the pipeline. Working together with IT, systems, and the pipe team gives artists a better understanding about what's going on with our computers, network, and pipeline. It's not always easy to understand and can be frustrating at times, but actively working together definitely helps ease the whole process. (Read more about the VFX Pipeline.)
What skills do you need to become a great Compositor? How do you personally keep your skills sharp?
I believe some of the greatest traits/skills required to become a successful Compositor are: problem solving, having a trained eye for what looks real, and willingness to learn different ways of doing the job.
I think it's also important for a Compositor to have an understanding of the other departments they'll receive elements from, especially if something is incorrect, you will be able to help them solve the problem.
Personally, I try to really hone in on all the things around me. When I'm outside, I'm looking around at everything; how shadows are cast, how blacks are lifted in the far distance because of atmospheric perspective, how the weather or time of day is affecting those things, how far street lights actually reach, how cars look as they pass you, etc. A huge part of compositing is what they call "invisible compositing" and in order to successfully be "invisible," you need to know how things look in real life to mimic that in a compositing shot. A great quote I heard and hang onto while I work is:
"Great visual effects serve story and character, and in doing so are, by their very definition, 'invisible.'"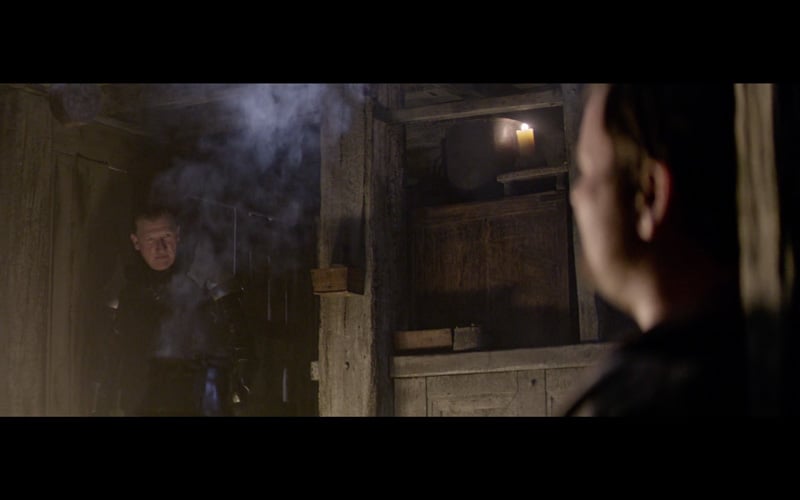 King Arthur: Legend of the Sword: As a VFX Artist Brittany was responsible for smoke
Do you have any compositing software shortcuts or tricks to share?
As far as specifics on compositing software shortcuts and tricks, I could probably bore you to tears or straight up confuse you, if you don't know much about those aspects of compositing, but I think it's more important to share the general importance of hotkeys, scripting, and any program-specific macros.
For Nuke, one of the main things I would touch on is the "toolsets." You can create your own setups, templates, and save new tools all in one place. You don't necessarily need to know scripting right out of the gate, but it's a good thing to learn on your journey as a Compositor. It will help you with your day-to-day workflow, save you a lot of time, and help with problem solving.
I can't emphasize enough the importance of hotkeys. Not only do hotkeys make your workflow immensely faster, but also once you get used to what those hotkeys are, you really don't even need to think about them, your fingers just remember what to do.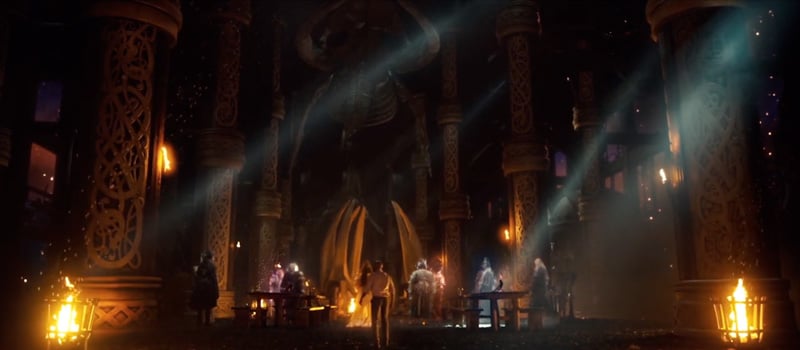 American Gods: Brittany was responsible for Temp CG assembly, FG character roto, match plate god rays over CG
What career advice do you have for someone interested in becoming a Compositor?
Start by observing your surroundings, and then learn how to use the programs, and then dive deeper into the different composting techniques. There will be tough days and it may be a struggle to find a job sometimes, but never give up. There's always a light at the end of the tunnel. Always ask questions, if you have them. It's better to find out the answer than to assume incorrectly. Constantly be on the lookout for how people are doing shots. I suggest people interested in compositing really take the time to watch breakdown reels and read write-ups on how things are being done in the industry. The industry is constantly growing and developing new ways to do things.
Find a good mentor that will answer your questions and share their knowledge with you in a way that you can understand. It's one thing to learn how to do something, but it's another to have it explained in detail so you know why it's done that way.
I've been lucky enough to have at least one great mentor at each studio I've worked at during my career. They've imparted so much knowledge over my time with them; I will never be able to thank them enough.
It's tough to find a mentor of this stature, but it will do wonders for your career and understanding of the industry and compositing.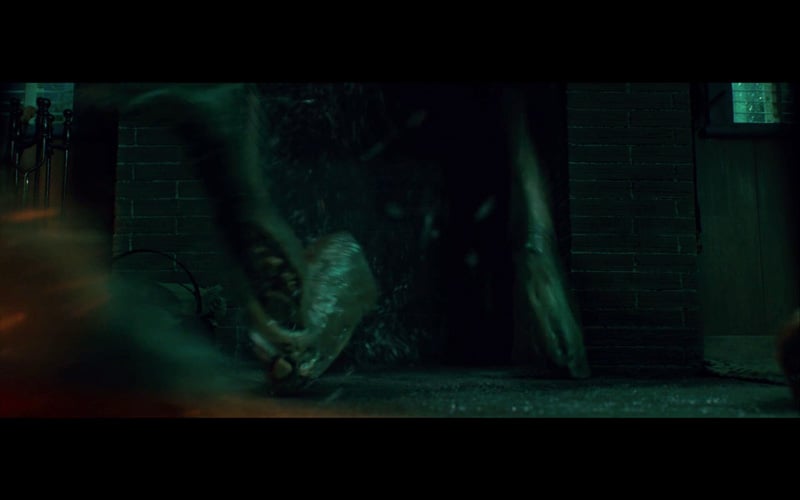 Scary Stories to Tell in the Dark: Brittany was responsible for integrating CG limbs and water FX
If someone wanted to study compositing, what should they look for in a course?
When looking for a compositing course, people should seek: a school/course with a good reputation and passion for training their students, a faculty with current/recent experience in the field, an open forum to communicate with other students and instructors, and assurance that you will receive the tools necessary to create a demo reel and the support to help create it. It's one thing to have a course that will show you how to operate the programs, but it's another to have a course teach you the skill it takes to integrate art with technology simultaneously.
What 3 tips do you have for someone putting together their compositing portfolio?
Check out other people's reels to see what companies are seeking in their artists, get feedback from multiple people (you don't have to use everyone's advice but it will give you a better chance at making a solid, cohesive reel and understanding if the pacing is how you're meaning it to be), and QC your own work (check for spelling, bad edges, rogue roto shapes, etc.)
Compositing Reel by Brittany Piacente
Any final words for aspiring Compositors?
Never stop asking questions; there's always more to learn.
"Push yourself to get out of your comfort zone and just try things out. It may not work. It may be a failure, but failure is delay not defeat. I didn't get to where I am today by being comfortable."
Be passionate about your work and career. And lastly, I'm happy to help anyone seeking advice, critique, or mentorship. Ask me anything. If I don't know the answer, I'll find someone who does and get that answer for you. I'm excited to continue sharing my knowledge with the people who will listen. Thanks for joining me through this Q&A!
Learn more about Brittany on LinkedIn and IMDB, or read our article on What is Compositing?
---
Learn Nuke Compositing With Brittany Piacente As Your Mentor!
There's no better way to learn than from an industry expert who has worked on 50+ movies and TV shows at top VFX studios like Deluxe and Mr. X. With Brittany as your mentor, you'll not only learn the technical side of compositing, you'll also get industry insights that you just won't find in a book. Start your VFX journey today!
Learn Nuke Compositing