The benefits of online courses far outweigh the traditional classroom approach at CG Spectrum. Here's why.
As an online Animation, VFX and Game Design school, the internet makes it possible for us to connect you with top industry mentors, regardless of your geographical region or time zone. We've also found the freedom and flexibility of studying online from the comfort of your home increases engagement and students get a lot more out of their education.
"It doesn't feel like online study," says Patricia Tamayo who took the Foundations for VFX Diploma. "Mentors are always there to help. And the live chats and forum help you get to know your fellow students. Every step of the way you're growing into a wonderful community."
Here are five benefits of online digital art courses for you to consider:
1. Small Class Sizes and One-on-One Mentoring
When deciding if studying online is for you, there are two major factors to consider:
The number of students per class

The course structure
Not all courses built the same or offer the same amount of interaction (if any) with mentors or teachers.
Some online courses are completely self-guided and there's limited interaction (if any) with mentors. Whereas CG Spectrum gives students a more personalised experience with ample one-on-one time with their mentor, individualised video critiques on their homework, regular email check-ins, and support via live chat and forums.
"Having never done an online course, I didn't expect to receive this level of personalised learning and quality teaching," says Richard Shilling, who took our online animation course. "The amount of one-on-one is second to none."
CG Spectrum class sizes are capped at five students maximum. For those who want an even higher level of attention, 1-on-1 mentoring is also available.
2. Flexible Scheduling
Whether studying full time or in the evenings, having flexibility to schedule lessons and study time can make a huge difference. Many students have family or work commitments and online education allows them to study wherever, whenever.
Take Lawrence Zalasky for example. He was in his 30s when he decided to change careers and pursue an Advanced Diploma of 3D Animation. Quitting his full-time job was not an option. So he enrolled in CG Spectrum's one-on-one mentoring program and scheduled classes around his commitments. Though it was challenging at times to juggle both, Lawrence's hard work paid off when he got to work with the Oscar-winning Blade Runner 2049 team.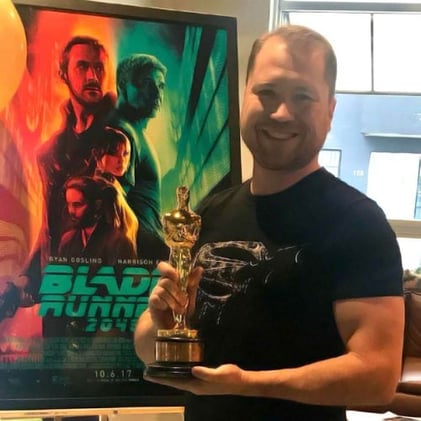 3. Time and Money Savings
One of the biggest benefits of online courses is the money saved on travel and accommodation. Not to mention the other hidden costs that come with traditional university and college courses.
When you factor in moving, transportation, food and rent (particularly in major cities like Melbourne, Vancouver or Los Angeles), costs add up fast. And it's not just the dollar value. Time spent travelling to and from school each day could instead be put towards study (and rest!).
Advantages of studying online are especially evident for those living in remote areas, where education options are limited. Katinka Thorondor experienced this firsthand. "I always wanted to pursue training in concept art but living rurally I never had the opportunity, until I came across CG Spectrum. It allowed me to study from home."
Katinka successfully completed an Advanced Diploma of Concept Art without having to move to a large expensive city, or commute long distances each day for school.
Other unexpected costs to watch for include: software, books, and other required supplies. With traditional college or university courses, students are already paying upwards of $10K for courses, and expected to buy all the extras as well.
For CG Spectrum students everything is included in the upfront course price–videos, reading materials and even software–no nasty surprises.
4. Access to International Industry Experts
Regardless of timezone or location, online education allows CG Spectrum to match students with mentors working in top film and game studios all over in the world.
You can learn from accomplished professionals who have won awards and accolades, and actively work in the industry today.
"CG Spectrum is the closest to giving me actual industry experience since I'm working alongside an industry vet whilst being taught the fundamentals of my trade," says alumni Subhaan Asif.
Mentors offer insider knowledge of how actual studios operate and give feedback on assignments the way they would be approached in a professional studio environment.
"It's not just about finishing the assignment and moving on to the next lesson, it's about fully understanding why and when, not just how," says Chris Ely CG Spectrum student. "Mentors take your lesson file, open it and give a video critique while they work on your file. They're showing you options, different approaches on what needs to be done to improve your workflow, making sure you fully understand the lessons being taught. Each lesson is building you up for the next."
5. Higher Engagement, Fewer Distractions
According to CG Alumni Stephen Clark, "Studying in an online capacity makes for a more dedicated and uninterrupted learning experience."
With such small class sizes, students aren't competing for the mentor's attention. They often feel more comfortable asking questions in this intimate group setting (versus an auditorium with 60 students). Mentors also have more time to provide detailed answers. There's also no need to take notes or chase materials after lectures. All lessons and assignment critiques are recorded, and can be revisited as needed.
Overall students report feeling more engaged in lessons, experiencing increased concentration without traditional classroom distractions.
On top of these benefits, online learning prepares students to be self-starters with excellent time management, critical thinking and problem-solving skills. These transferable skills make graduates an asset in the film and games industry where artists are expected to work independently just as well as in a team.
As with any form of study, you get out what you put in. CG Spectrum alumni Lawrence Zalasky offers his advice: "As a student, if you're willing to put the work in, listen to instruction and be honest with yourself and your work, you will succeed."
New to online learning? See how our animation courses work at CG Spectrum:
---
Want to learn from world-class mentors from your own home? Try any course for free!
CG Spectrum offers specialized beginner and advanced online training courses in Animation, VFX, 3D Modeling, Digital Illustration and Game Design. Discover the benefits of online courses for yourself with a no-strings-attached test run!
Start My Free Trial