At the age of 30, Lawrence Zalasky took an enormous leap of faith...
After establishing himself as an Industrial Designer, Lawrence decided to change careers and go back to school to pursue his real passion: animation. Today he's sharing his story to inspire anyone thinking of becoming an animator.
Spoiler alert: Things turned out pretty darn good for Lawrence.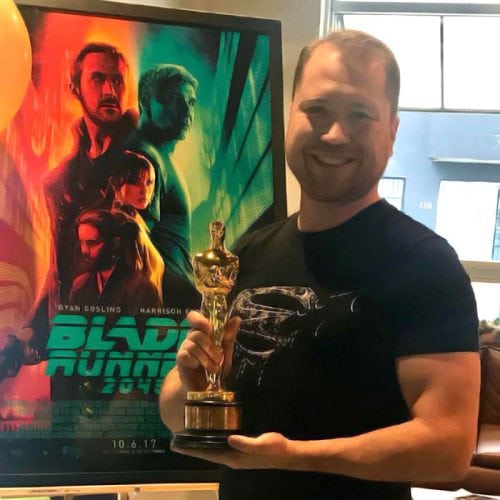 A Note to Self, From the Future
21st December 2018, Lawrence Zalasky on Facebook: "On December 21st, 2012 I wrote myself a time capsule email at FutureMe.org. It was delivered this morning and reminded me of how much work it took to get to where I am now."
Dear FutureMe,
Guess what you're doing? Sitting in front of your computer procrastinating again instead of working on your animation, thinking about hiring Mark Pullyblank [at CG Spectrum] to tutor you.
I hope you hired him and I hope it helped get you out of your job and into what you really wanted to do. Hopefully, you aren't even in Calgary anymore, hopefully you're in Montreal or Vancouver. Or New Zealand. Maybe San Francisco? Don't be picky. You can't be picky when you've been doing the same thing for the last 10 years.
Okay, back to work. You've got a lot of #$@! to do to get to where you want to go.
LZ
"Six years later I've worked for five VFX studios on fourteen feature films and two animated series in Vancouver and Montreal and been part of an Oscar-winning team on Blade Runner 2049. I'm happy 'Past Me' got his #$@! together." – Lawrence Zalasky.
---
In a Small Town, Far, Far Away...
Lawrence's love for movies started at a young age, though making them was not on the cards for a kid from a small town in Northern Alberta with a whopping 1500 residents.
His parents would take him to see every movie, and it was the likes of Star Wars, Terminator and Superman that got him (and almost every other kid in the 80s) swept up in the unreal possibilities movies would conjure.
"I was always a movie person, but I never really considered it a career. Making movies wasn't really an option in my small town."
As he grew older, Lawrence's creativity and eye for design (thanks, Star Wars) led him to degrees in Computer Science and Visual Communications, and he become an Industrial Designer, designing products like cell phones and mobile devices. Lawrence had always fallen into good jobs, but he eventually started to feel stuck.
"My job was creative and used 3D software, but it wasn't exactly what I wanted to do. One day at work, my friend and I were talking about dream jobs, and I told him I'd always wanted to be an Animator and make movies."
Turned out his friend's cousin was the Animation Director at Ubisoft. She offered Lawrence her advice, which led him to online courses.

Never Too Old to Try Something New
Lawrence was in his 30s when he decided to change careers and go back to school. He didn't have the option to quit his full time job, so online education was the only way to get flexibility around work.
My fear of course was that it might not work… That I would spend all of this time and money, and I might not be good enough to be an Animator.
But I told myself: if you do your best, it'll work, and you'll get a job.
He'd already done one animation course at another school, but with his limited availability, Lawrence felt he needed a program with more personalized instruction to get his skills to a higher standard. That's when he then found CG Spectrum's one-on-one mentoring. He was paired with 1:1 CG Spectrum mentor Mark Pullyblank, an industry veteran who animated at top studios like Weta Digital and Sony Pictures Imageworks.
Studying under Mark paid off enormously. Watching him critique assignments in the live video classes taught Lawrence a ton of techniques that he still uses today.
"Getting a solid workflow was one of the key things I got out of the CG Spectrum program," says Lawrence. "When you're a student, you don't know the right and wrong way to do things. You don't even know certain things exist, let alone how to learn them. I would watch Mark work in my scenes and he was so fast! I didn't realize you could animate that fast. Getting feedback from a professional, and watching their workflow was just invaluable to me. Mark put me in the right direction, and eventually, I developed my own workflow."
"I learned more in six months of one-on-one mentoring at CG Spectrum than years spent in group classes at another school."
As the weeks went on, Lawrence Zalasky gained speed and confidence, and was ready to put himself out there to find a job.
From First Animation Job to First Oscar
After graduation, things moved fast for Lawrence when he was offered a job at MPC. "It was a huge life change which involved selling my house and moving to Vancouver."
As a huge comic book fan, his new career in Animation was off to a great start.
"I remember the first shot I did on Batman vs. Superman. I had to pinch myself. I thought: I can't believe I'm doing this, this is my job!"
Since then, Lawrence's work highlights have included Oscar-winner Blade Runner 2049, Star Trek Beyond and Emmy Award-winning TV show, All Hail King Julien on Netflix.
"Blade Runner 2049 was an amazing project to work on. Great team and fantastic experience all round. Everyone working on it knew it was something special. So much care was put into every detail."
"On Oscar night, I bought a bottle of champagne, and when I heard the news, I jumped out of my chair like my sports team had just won!"
Having come so far and taking a gamble on his new career, Lawrence was especially moved when his time capsule note from FutureMe arrived. "To think of all the work I did in the past five years to get to where I am today, it was really neat to hear from myself," he says. "Changing careers and going back to school while working full time is not for everyone. But for me, I had made my decision and I was "all in". It was extremely challenging, but very fulfilling. When you finally achieve your dream after all that work, it's so worth it."
For future Animators and Visual Effects Artists, Lawrence offers his sage advice:
"Be the person that other people want to work with. I always look to hire good people who will make great teammates. People would rather work with an average artist who is a great person, than a great artist who is a bad person. It's a really small industry, everyone knows everyone, and we often work in small spaces. Take the work seriously, but don't forget to laugh, take notes, be helpful, and teach what you can."
Lawrence Zalasky is now the Layout Lead at Method Studios and the techniques he learned at CG Spectrum are ones he still uses today. If you've always dreamed of getting into the film or games industry, explore our courses and get your career off to the best start!
Lawrence Zalasky 2017 Demo Reel
---
Learn Animation For Film and Games!
There's no better way to learn than from award-winning Animators who have worked on blockbuster films at top studios like Disney, DreamWorks, and Industrial Light and Magic. Check out our beginner and advanced animation courses, and kick-start your career!
Learn Animation