Thinking of turning your artistic talents into a career? Digital illustration is an exciting, rewarding and multi-faceted field with diverse job prospects. In this guide, we cover how to become a Digital Illustrator, key job responsibilities and salary expectations.
Read on to see if this is the career path for you!
What is Digital Illustration?
Digital illustration is the creation of a narrative image that tells a story, conveys an emotion or mood, or sells a concept or product.
While traditional illustrations are created using methods such as oil or watercolor on paper or canvas, digital illustrations are made using software such as Adobe Photoshop.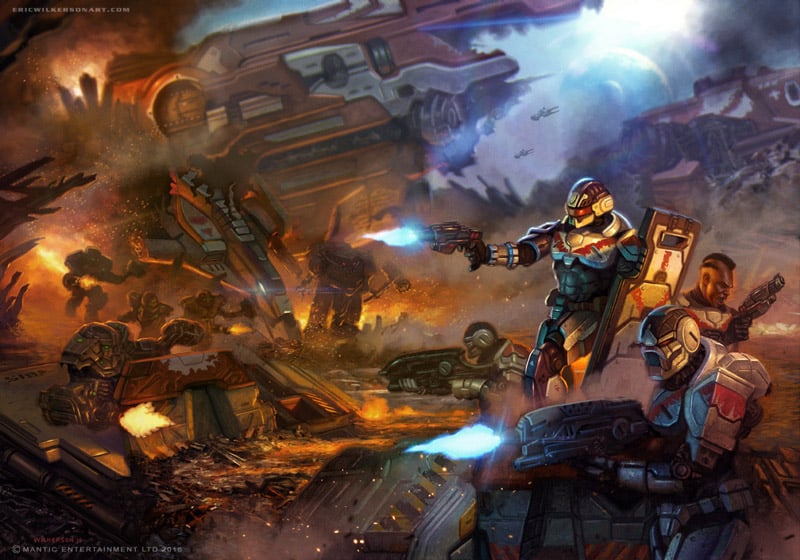 Warpath: Operation Heracles, Cover Art for Mantic Entertainment
Art by Eric Wilkerson (mentor of CG Spectrum's Advanced Illustration Diploma)
What Does an Illustrator Do?
A Digital Illustrator's job is to create an original artwork, usually for a client (e.g. a publisher, film/game studio, ad agency, or an individual), to help sell a product or convey a message.
The process usually involves receiving a creative brief from a client/employer, conducting research and gathering reference material, creating and delivering the first pass, adjusting the image as needed based on client notes (if any), and delivering the finished artwork.
There are so many different career paths for Illustrators to choose from. There's also the option to work freelance, contract, or in-house (e.g. at a video game studio or toy company).
Here are some examples of niches they may work in:
Film: A film studio may ask an artist to depict a battle between a hero and a villain to help set the scene for a director and crew before they go out on set; or images for key scenes to establish the mood and make the audience feel a certain way (sad, happy, frightened etc).
Video Games: An artist may be asked to create a scene to inform the visual direction of a game.
Publishing: A publisher may commission book cover or trading card art to pique a customer's interest and help sell the product.
Advertising: An ad agency may hire an artist to illustrate storyboards for a commercial, or posters to advertise an event or product.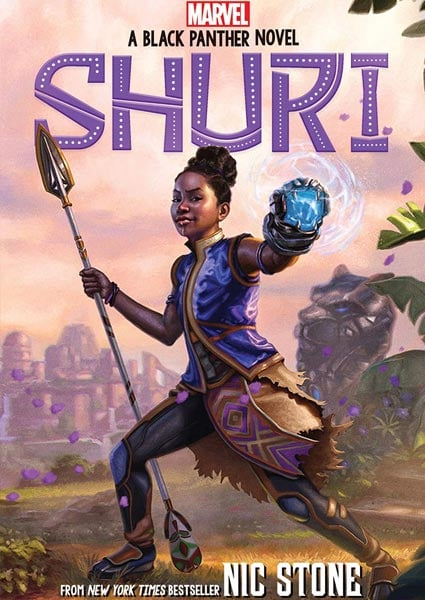 Shuri Book Cover Art by Eric Wilkerson (Marvel, Scholastic)
What is the Difference Between Drawing and Illustration?
Drawing refers to the fundamentals, the basics of art. An artist needs to know how to draw before they can illustrate.
"It's like needing to know how to play an instrument before being able to play in an orchestra," says professional Illustrator Eric Wilkerson who teaches CG Spectrum's Advanced Illustration course. "You need to know the basics first. Once you build a foundation, you can apply it to creating your illustration."
How is Illustration Different to Concept Art?
Concept art is the idea of what the character, environment, or prop might look like. Illustration is when you put all of those elements into one image to tell a story.
There is a lot of overlap, but they two are quite different. For example, concept art could be the front and back of a Marvel hero's costume or their weapon. An illustration is the next stage: putting a hero and a villain together in one image to tell a story.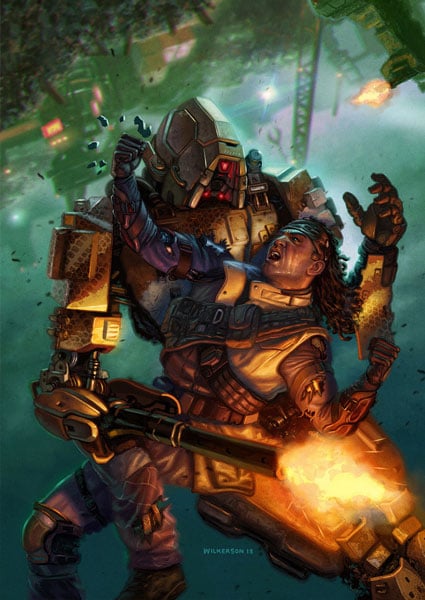 Call of Duty: Black Ops 4 "Prophet" by Eric Wilkerson
What is the Difference Between Illustration and Fine Art?
A Fine Artist takes whatever they're interested in and creates an art piece, hoping that someone will respond to it, whereas illustrations are usually commissioned to promote a product or message. For example, an Illustrator may be commissioned to create packaging to help sell a toy, or create eye-catching book cover art to stand out on bookshelves.
What are the Different Types of Digital Illustration?
Illustration is used in so many aspects of life, more than most people are aware of! An artist may create art for things like:
Films and games
Storyboards (for film, TV shows, and commercials)
Editorials
Books and book covers
Magazines and posters
Toy designs and packaging
Fashion and costume design
Advertising
Commercial products
Is Illustration a Good Career?
Yes - if you have the passion, determination and perseverance to pursue a career as an Illustrator.
The industry can be quite competitive, so if you are considering this career path you must be prepared to put in the hours to continuously improve your skills and promote yourself.
"You can't do the bare minimum," says Eric Wilkerson. "You have to be focused and ensure your work is solid. Jump onto Artstation to see what your competition is producing. If you want to create art for film and games for example, your work needs to be on par with what studios are producing. You have to show them why they should hire you, and not your competition."
Eric Wilkerson has worked in the entertainment industry for more than a decade with top international clients like Weta Workshop, Marvel, Upper Deck, Dark Horse Comics, Scholastic and Disney Publishing. He has built an impressive career illustrating for film, TV, advertising, publishing, animation, comics, video games and even costume design. His work includes art for Call of Duty: Black Ops 4 and the book cover art for Shuri, the latest Black Panther novel.
In the Advanced Illustration Diploma course Eric teaches his students how to work with publishing, film and game industry clients and what it takes to create compelling marketing artwork for films, as well as book cover and game card art. He sets students up for success by ensuring they have a solid understanding of art and illustration, as well as the "business of illustration". For example: how to find your niche and confidently market yourself, grow your online presence, find clients, and future-proof yourself and stay in-demand as an artist.
Cyborg time lapse: A look inside one of Eric's Advanced Illustration classes
What Do You Need to Become an Illustrator?
A solid understanding of art fundamentals

A good grasp of art basics will help you become a much better artist! Learn about color, light, values, shape, composition and perspective, and how working with paper or canvas translates to working on your computer. Read books, check out online tutorials, and if you're really committed, check out Eric's Illustration course. Having a professional Illustrator with decades of experience personally mentoring you and reviewing your work is an extremely effective way to learn!

A powerful imagination

You'll be expected to turn a brief into artwork that could inform the entire direction of a film, game or other project! Sometimes you'll get a lot of direction and reference material, other times you'll be required to take the lead and conjure a whole narrative image from your imagination. Find ways to get your creativity flowing, whether that's going to galleries, getting inspiration on Artstation or Instagram, or taking part in online challenges!


Excellent communication skills

This job requires collaborating with clients and helping them achieve their goal. You'll need to interpret their requirements, take their feedback on board, and foster and maintain a good working relationship with them. (It's in your best interest if you want your clients to keep coming back!)

The Best Digital Illustration Tools
Photoshop is the industry standard software for Digital Illustrators. Other popular tools include Clip Studio, Corel Painter, and Procreate.
"Photoshop is my preferred program because it's the most powerful one out there," says professional Illustrator Eric Wilkerson. "If you're going to illustrate professionally, you need a stable program. You can't afford to be working on something and have it suddenly crash and lose everything."
Eric Wilkerson working on the cover for Shuri, a Black Panther Novel by Nic Stone (Marvel, Scholastic)
If you get an on-site job at an ad agency or game studio, you will most likely be set up at a computer with Photoshop on it. It's assumed you will know Photoshop.
"Using other software is fine," says Eric. "Whichever tool you use, it all comes down to being able to create a narrative image, using the fundamental art principles. But at some point in time, you're going to have to open Photoshop for something - whether it's scaling, or changing colors etc. So it's good to learn."
Other good tools to know include common desktop applications like Adobe Acrobat, MS Word, Google Docs. "You might get your creative brief or instructions for the job in a PDF or Microsoft file, so you need to have the program to view it. You should also know how to make a PDF for things like contracts and invoices. PDFs are less likely to be corrupted when emailed."
Some people ask if they need to learn Adobe Illustrator to become an Illustrator. Eric says this vector-based illustration software is more commonly used by Graphic Designers who deal with fonts and images that need to scale without losing resolution.
"Illustrations done in Adobe Illustrator are typically done for packaging design - things that need to be scaled up and down, and put on different types of packaging. For example, stores like Walmart or Toys r Us have banners, balloons, signage etc. that need to be scaled. Vector art has a very unique look and requires a different mindset. If that's the kind of work you want to do, you could get a job in-house for a toy company or ad agency."
Tips on How to Become an Illustrator


Learn the fundamentals of art

To become a great Illustrator, you need to have mastered the basics. Start at the beginning and build a solid art foundation by watching online digital illustration tutorials, reading art books, or taking a course.

In the Advanced Illustration Diploma Eric teaches his students everything they need to know about using color, light, perspective, and values so they understand how to create compelling narrative images that speak to an audience. He shares actual examples from his work with clients like Disney and Marvel, and explains how he approaches assignments from initial brief, to creating the first few sketches, to delivering the final polished piece

Practice

If you're determined to make this your career, you need to put in the hours! Even the best artists are putting in the practice hours to stay at the top of their game. Try new digital illustration techniques, experiment with different tools, and keep perfecting your work!

Eric adds: "It's not just about learning the skills, you have to know how to apply them. While you're catching up on Netflix or playing games, there's someone else out there working until 2am to improve their art."


Build a portfolio

Have a strong portfolio with only your best work. Put it on your own website or on a platform like The Rookies or Artstation, and make sure your portfolio link is on your social media and CV so people know where to find it. Be consistent with the quality of your work, and include more of the kind of work you want to be hired for. For example, if you want to illustrate fantasy games, include more of this in your portfolio. Keep adding to your portfolio whenever you create new work.

Research

"Research the companies you want to work for, and apply to the ones who make the kind of stuff you want to make. If you want to create sci-fi art for games, but you apply for and get a job at a race car game studio making textures for cars, you're not going to enjoy it," says Eric.

Self Promote

If you want to be seen, you need to put yourself out there! Share your best pieces online and make sure your social media profiles are kept up-to-date with a link to your portfolio. Let people know that you're available for work and what you're looking for.


Network

You never know where your next assignment will come from. Often it's through word of mouth, so network as much as possible. Talk to your family and friends about what you want to do and if they know someone in the industry whose brain you could pick; network through LinkedIn; join online illustration groups; and find local events or meetups. Some events invite guest speakers from the industry that will take your questions after their talk. Get out there!
How Much Does a Digital Illustrator Earn?
The average annual salary for a Digital Illustrator in the United States is $68,813 according to Zip Recruiter. Digital Illustrator salaries vary greatly depending on experience, location, size of the client, and niche.
Ad agency jobs are by far the highest paying. An Illustrator could earn 5 figures in one week, paid on an hourly basis.
In the publishing industry, an Illustrator can earn anywhere from $250 - $10,000 per illustration, depending on the type of publisher and their experience. A big client like Disney might pay $4,000 for one illustration. A small publisher might not have the budget to pay top dollar, but for a children's book the artist might get paid for art, plus royalties (a percentage of book sales) depending on the contract.

A salary for a staff position at a game studio typically starts around $50,000 and up.
For contract work the client typically sets the price for a particular job. Freelance jobs in illustration range based on what type of illustration you want to do, how good you are, and how long you've been doing it.
"There are a number of consistent well paying Illustrator jobs," ends Eric. "And you can earn more if you're versatile enough to jump across industries."
---
Take your skills to the next level and be personally mentored by in-demand artist Eric Wilkerson who has worked with companies like Disney Publishing, Scholastic, Random House and Weta Workshop. Learn the tools (and secrets!) of the trade and kickstart your career as a professional Illustrator. View our range of digital painting courses.
Learn Illustration