So you love gaming and want to make it your career. Launching your future in the highly competitive game development industry can be daunting, but through true grit and a focused strategy, you can increase your chances of getting a job in game development.
We look at eight sure-fire strategies to get your foot in the door and open up a world of opportunities in game dev.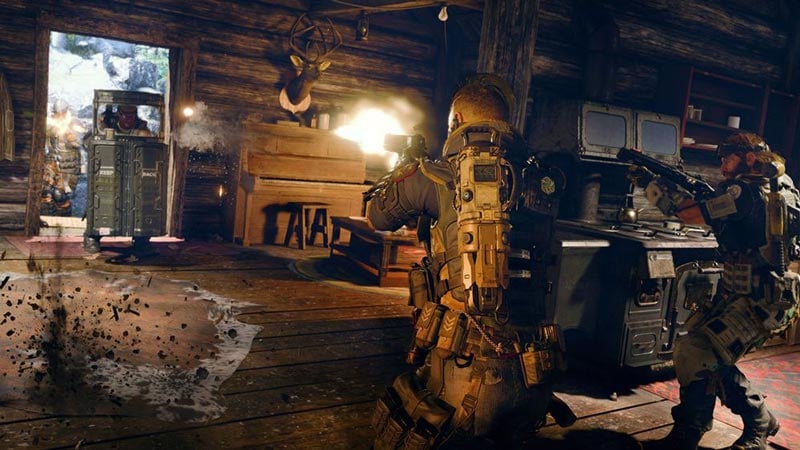 Getting a job in game development requires a multi-pronged approach. Try these strategies to help you get your foot in the door.
(Image: Call of Duty Black Ops 4, Activision)
To develop your game-plan you first have to pick the area that suits you best. The three main jobs in game development are: Game Programmer, basically a software engineer who builds the back end of the game; Game Designer, who creates the aesthetics and mechanics of the game from characters to levels and the overall arc of the game; and Game Artist, a graphic artist who develops the look of characters and worlds from preliminary sketches to final animation.
Once you have identified your niche you can design your own path into game creation. Let's take a look at some of the ways in.
1. Higher Education
There are many game development degree, diploma and certificate programs to choose from. But sifting through them and comparing the pros and cons of each can be exhausting!
So what do you look for in a game development course? Firstly, you want to know who you'll be learning from and how robust the curriculum is. Game trends and technology change rapidly, so you want to be sure you're learning the latest techniques from people who actually work in the industry.
CG Spectrum's game development diploma courses are taught by industry professionals who have worked on AAA games at major studios like Ubisoft, Electronic Arts, Blizzard and Microsoft. The curriculum is regularly reviewed and updated to reflect the latest industry standards, and you learn the same software used by the biggest game studios. The courses are also online, so you can study from anywhere! Just log in each week to complete assignments and have live video classes with your industry mentor.
Another benefit of taking a formal course is the contacts you make with other students and mentors. They will prove to be valuable connections as you move through your career. CG Spectrum students network while they learn with a private community just for students and alumni. It's a great place for them to share work, resources and job postings. The game industry is relatively small, so chances are, students may run into each other in real life!

2. Ongoing Professional Development
There is an endless supply of online tutorials, webinars, conferences, publications, and other game dev-related professional development opportunities out there. These may not be as comprehensive as what a formal course can offer, but they can allow you to stay on top of the latest trends/technological developments, and ensure your skills stay fresh.
Professional development will be an ongoing discipline as part of your career path in gaming.
3. Create Your Own Games



Practice makes perfect. The best way to understand the rigors of game development is to create your own rudimentary games. There are plenty of tools and software programs that will allow you to hone your skills and give you an understanding of game dev.
Your own games are a great way of showcasing your talent and basic grasp of the complexities of game production. Potential recruiters will test your games if you present them as part of your portfolio, so get out there and start creating to wow those who will employ you!
4. Participate in Game Jamming



Game jams are hackathons for video games. These are challenges set up to produce a game within a time frame of between 24 to 72 hours with participants taking on various roles to produce a game.
These are a great way to gain experience, not only in active game development, but also in replicating the discipline of working as part of a team to a deadline. The contacts you make will be valuable ways of meeting other aspiring developers, enhancing and growing your network.
You can use the final product as a showcase of the work you've done, make sure to share these on industry blogs to show off your skills.
5. Engage With Online Communities



Building connections and relationships via online communities is vital to getting your name and skills recognized. Communities on Reddit, Discord, Slack, Gamasutra, and regional user groups are great ways to interact with industry professionals who can offer advice or even jobs.

Publishing reviews, mini articles, and opinion pieces on games are ways to express your love of gaming and to get yourself noticed. They can also provide content for your own personal site.
6. Create Your Own Gaming Site

Your own gaming site is your best form of self-promotion. It can act as an online portfolio of your work. Remember to put your best work up front - any indie games, game jams and artwork or programming are the best display of your talent and skill.
Post your reviews and online content contribution to allow recruiters to see how active you are in communities and display your passion for gaming.
Showing your thought process from initial concept to execution on a project will allow future recruiters to understand if you will be a good cultural fit with their company.
In many ways your website will be more important than a tradition CV, it will be your personal showreel. Be entrepreneurial by treating your site as an expression of your own personal brand.
7. Secure an Internship with a Gaming Company



Game development is a the kind of job that some enthusiasts would do for free just for the love of it. While your key goal is to get paid for your work, getting an internship with a company you want to work for is one way to get your foot in the door. This option is not viable for everyone, but it can be an excellent way of gaining hands-on experience while networking at the same time.
Being on the sidelines as an intern puts you in prime position for any jobs that may become available (provided you've made a good impression!). Even if you don't nab a placement at the end of your tenure it is another stepping stone to your future career.
8. Get a Job in QA with a Gaming Company 

Entry level jobs in the industry work in Quality Assurance. What better way to kick start your career than to be paid to play games!
You will be expected to break games still in production and push them their limits. Expanding your knowledge of gaming while having fun trying to outsmart the developers. As with internships QA positions make you ripe for the picking if and when new positions become available.
Getting a job in game development requires a multi-pronged approach. There are many gateways into the gaming industry, and your story will be different from the next person's. The best resource you have is your passion for the industry. Focus your love of gaming into your own unique path to your dream career. Get out there, hustle, educate yourself and network the industry. And don't give up!
Header image: Borderlands 3 © 2019 Gearbox
---
Keen to Get a Job in Game Development?
CG Spectrum offers specialized Game Art, Design and Programming courses for those who are serious about getting a job in game development. The job-focused curriculum and mentorship from industry experts who have worked for Ubisoft, Microsoft, EA and other AAA game studios give candidates a competitive edge when applying for jobs. Apply now!
Learn Game Development