Back when Eric Wilkerson was a kid, something was missing from book store shelves...
"When I was growing up there was no representation of any people of color on the covers of sci-fi fantasy novels," says Eric, a professional Illustrator and mentor of CG Spectrum's illustration course.
"Every once in a while you might have spotted a non-white human in the background of an illustration or as a character depicted as the stereotypical tribal villain. For decades the target demographic for sci-fi fantasy illustration used in publishing had been white males. So when I started out (as an Illustrator) my portfolio contained the default look for the hero characters in any illustration."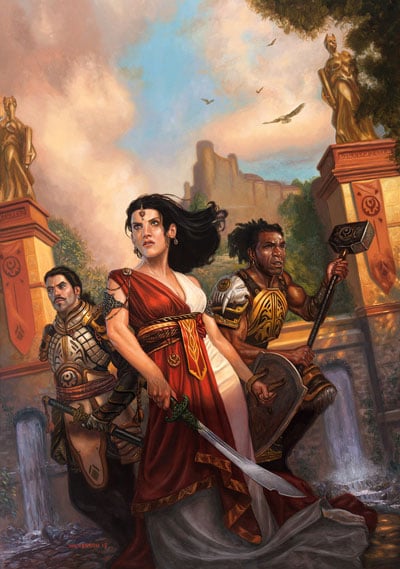 Artwork by Eric Wilkerson
Over the course of his career Eric cemented his reputation as a skilled illustrator working with major companies but a monumental shift was brewing.
"Freelance illustrators must tailor their portfolio to the needs of potential clients in order to get work and become known for a certain type of work," explains Wilkerson. "But after nearly 20 years of working as a staff and freelance Illustrator, I felt as though I'd proven that I can do the work a potential client might need and began setting aside time to develop a new body of work that spoke to my changing interests."
Wilkerson, who listens to motivational speakers and Taoist philosophers, says it was a speech he heard ten years ago by Taoist philosopher Alan Watts that changed the course of his life and career.
"In his speech, Watts asks: "What would you like to do if money were no object? How would you really enjoy spending your life?" That speech had a profound impact on my life at a time when I was trying to tailor my portfolio for work I wasn't interested in. It was art that made me miserable to produce, yet paid handsomely." (Listen to the Alan Watts speech)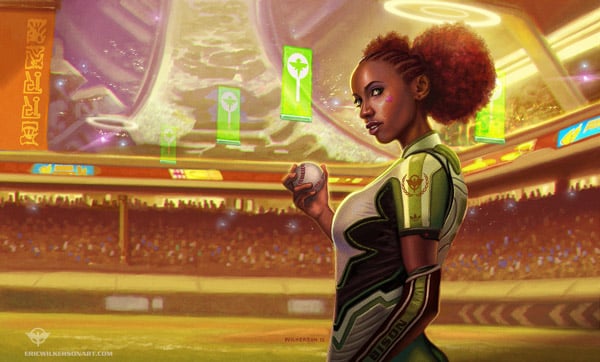 Art: Eric Wilkerson
Consequently, Eric began to slowly switch gears. "I faced some of my fears and began painting more of the kind of art I loved to make instead of trying to be like someone else or follow someone else's path."
He started creating more personal projects that were Afrocentric (Wilkerson is a self-described Afrofuturist), which quickly gained momentum and eventually led to the opportunity to work with Weta Workshop, Marvel, Upper Deck, Dark Horse Comics, Disney and many others.
One of these pivotal pieces was The Oba, an oil painting which spread across the internet like wildfire and picked up a nomination for a prestigious Chesley Award (run by the Association of Science Fiction and Fantasy Artists, or ASFA).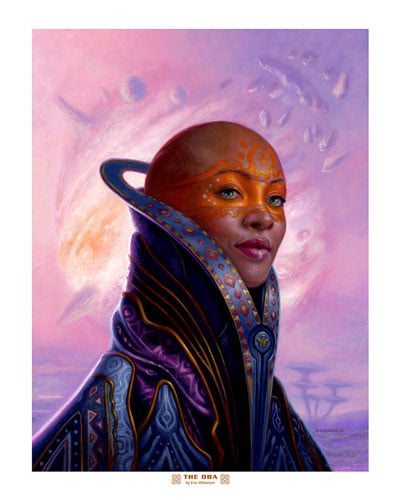 The Oba, Oil Painting by Eric Wilkerson (Chesley Award Finalist)
"The Oba is a part of a long-gestating series of personal paintings," says Eric. "It represents to me something no art director was ever going to ask me to do. It represents a strong woman that isn't in a subservient pose. She's not in the background behind any man, nor is she depicted as a slave or some oppressed historical figure."
Being nominated for a Chesley Award was a thrill for Eric: "To have something I was passionate about creating be recognized by members of the ASFA was such an honor."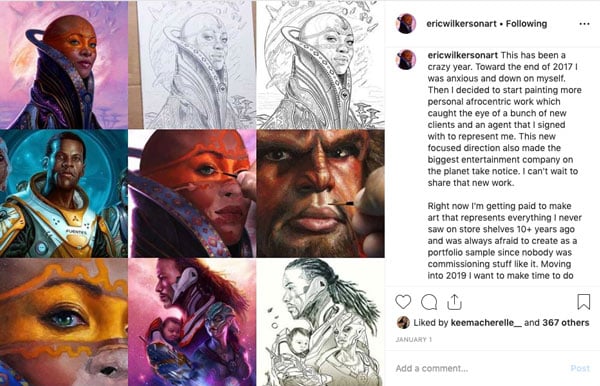 Source: @ericwilkersonart
The Oba's pose and gaze are simply mesmerizing. Eric believes that first and foremost, the key to creating captivating art is to absolutely be passionate about what you're painting. "If you don't care about what you're making then your voice and energy won't show through."
"Realist portraiture has many fine examples throughout antiquity of the subject in the painting gazing back at the viewer," he continues. "The paintings that resonate with us are the ones that have a hint of mystery in the expression or background narrative rather than being a bland painting of a head."
Painting Traditionally vs Digitally
In The Oba's case, Wilkerson chose to paint in oils because "when I work digitally for too long I feel a deep anxiety within that I will forget how to paint traditionally, so I set aside time for myself to make sure I still know how to ride the bike so to speak. It took about two months to paint in between other work. I took my time to get it right since there was no deadline."
"If I'm working for a client that gives me a really cool assignment that I know has a huge fan base I will do my best to paint that project in oils because it gives me the ability to sell the original art after I have finished the job. Effectively paying me twice for the same painting and sometimes more than the job initially paid. Other times I work digitally due to time constraints. My clients honestly can't tell the difference between my two workflows and are just happy to get that high resolution file by the deadline."
After painting "The Oba", Eric believes the illustration must have gone viral because he ended up selling hundreds of prints, sold the original painting, and had an illustration agency that saw it on Twitter offer to represent him and help him get more work along that line. (The funny thing is, Eric doesn't even have a Twitter account.)
With the help of his agent, Eric was able to aim his work at the middle grade sci-fi fantasy book market.
"With the exception of independent publishers, middle grade has far more inclusive offerings representing people of color than what can currently be found in adult sci-fi fantasy publishing. Right out of the gate I picked up work with Disney Publishing and I'm excited to see my first cover for them "Tristan Strong Punches a Hole in the Sky" in stores October 2019!"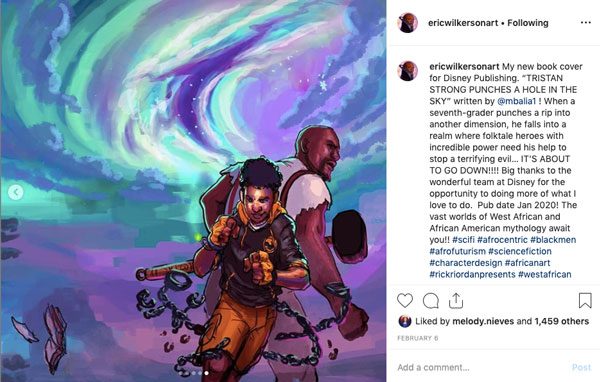 See more Tristan Punches a Hole in the Sky book cover art: @ericwilkersonart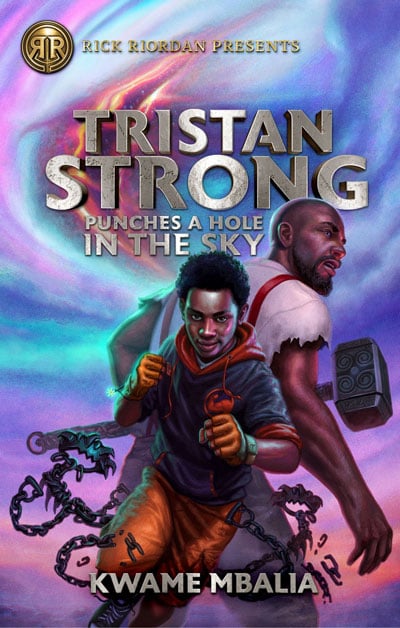 Final Book Cover Art for Tristan Punches a Hole in the Sky by Kwame Mballa. Art by Eric Wilkerson
Creating Shuri's Book Cover Art
Soon after Tristan Strong, Eric's agent asked if he was interested in creating the book art for Shuri, the new Black Panther book by author Nic Stone. Both Marvel and Scholastic specifically chose Eric to do the book cover art for this new two-part series which will be on bookshelves in 2020.
Eric who is the mentor of CG Spectrum's Advanced Illustration Diploma teaches students who want to become professional illustrators how to work with publishing, film and game industry clients and what it takes to create compelling marketing artwork for films, as well as book cover and game card art.
The Shuri book cover art took about 5-6 weeks to complete from rough sketch to delivery.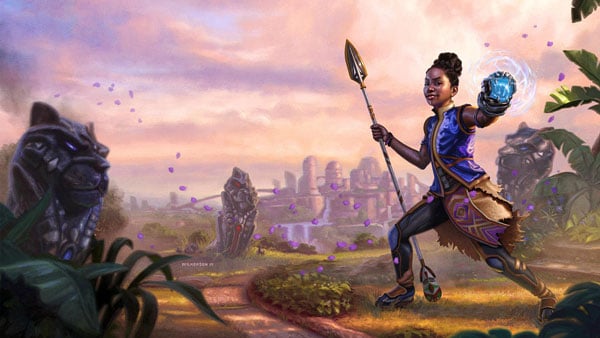 Artwork by Eric Wilkerson for Shuri, a Black Panther Book by Nic Stone
"I speak more in-depth about the process of creating a book cover in my illustration class, but the short of it is: I am given a quick synopsis and a 20 page summary of the book to read. In this case, Scholastic had a clear vision of what chapter they wanted to see and had some other ideas they wanted me to toss in with the Shuri figure specifically. I was also given quite a bit of flexibility to just make it look cool too."
"The setting for this illustration is near a spiritual location where the heart-shaped herb is grown. I wanted the scene to have a Zen garden kind of feel with ceremonial Black Panther totems planted in the ground. It doesn't mention anything about totems in the summary I read and wasn't in my approved sketch. I just did it because I thought it would look cool and give the environment more of a familiar Wakandan feel."
"In the comics, there are large and small Black Panther statues everywhere throughout the cityscape. It made sense to represent that in my cover as well. I spent an evening sculpting a reference maquette of the Black Panther totem to use in the painting. It would've been impossible to paint without that reference. I used Photoshop exclusively to paint the cover. Super sculpey firm and acrylic paint for the maquette."
He submitted 3 sketch options for the cover that had to be approved by committees at Marvel and Scholastic. "They picked the one I hoped and asked that I change her vest from orange to blue so nobody confused her with the bald soldiers from the movie."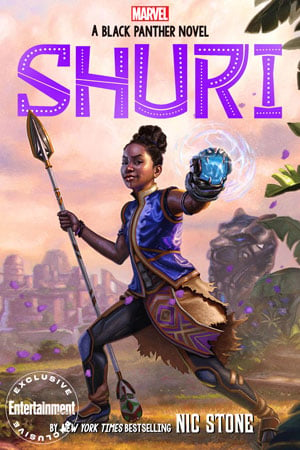 Final Shuri Book Cover Art by Eric Wilkerson (Source: Entertainment Weekly)
When asked what he believes is the 'Eric' touch on the Shuri book cover, Eric says: "I'm still trying to figure that out myself. I just really like playing with glowing light and chromatic color. I know that's not the trend these days with fantasy art going more gray and muted."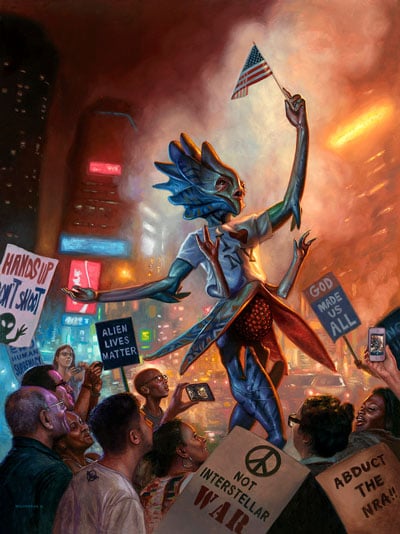 Artwork by Eric Wilkerson
As the publishing and entertainment industry slowly shifts towards inclusivity, it's essential to have more and more talented artists like Eric to help champion the change.
"It's been great to see more publishers embrace diversity and broaden the scope of their offerings. Some companies understand that representation matters to so many all over the world now more so than ever and have made strides to be more inclusive."
"I don't really think about my role as an artist of color. I know there are things I want to say with my work that touch on the socio-political issues people of color deal with every day all over the world. Carving out the time to pour myself into use of allegory to convey the message I want in my art is the challenge."
Eric typically doesn't concern himself with how people will respond to his personal work or illustrations when he creates them. "I make the art for me and create content for a genre of illustration that I absolutely love. When I am able to share the fruits of my labor to the world I can only hope they enjoy it half as much as I did while painting it."
Eric ends with encouragement for other artists to discover their own path:
"Ask your inner self what kind of art you would make if money were no object. Not everyone wants to be a freelancer. Not everyone wants to be a staff artist. Don't just blindly follow the crowds you see online. Figure out who YOU are. Keep making the art YOU like to make as you discover yourself. Once you figure out who you are and what you want, the universe will get out of the way and open doors for you. I believe that because I'm living that."
See more of Eric Wilkerson's work on Instagram @erikwilkersonart or on Eric's website. Or if you're near Boston, MA, Eric will be the Official Artist at Boskone 57 (New England's longest running Science Fiction and Fantasy convention) on February 14-16, 2020.
---
Take your illustration skills to the next level! The Advanced Illustration Diploma is an amazing opportunity to be personally mentored by highly sought after artist Eric Wilkerson. Learn the tools (and secrets!) of the trade and glean priceless insights from Eric who has worked with companies like Disney Publishing, Scholastic, Random House and Weta Workshop. Don't miss out on this industry leading digital painting course.
Become a Professional Illustrator