Since completing his 3D Modeling Diploma at CG Spectrum, Stephen Clark has been unstoppable.
Going from Method in Melbourne to ScanlineVFX in Montreal, Stephen's worked on awesome projects like Jojo Rabbit, Spider-Man: Far from Home, Aquaman, Christopher Robin, Game of Thrones, and the game Call of Duty: Black Ops 4.
Stephen took a moment to share what's like to work as a 3D Modeler and Texture Artist, lessons he's learned, challenges he's faced and advice for graduates.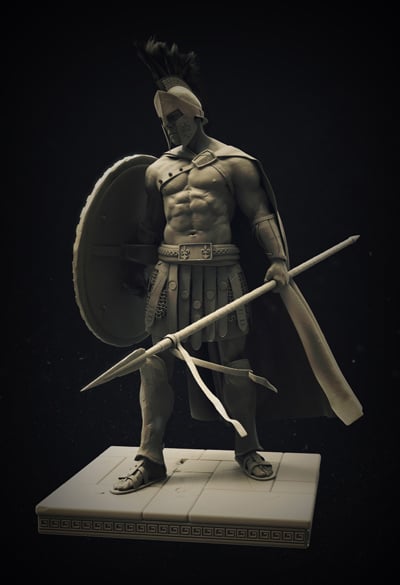 CG Spectrum project: Spartan 3D Model, by Stephen Clark
Right after graduating from CG Spectrum, you got a job at Method Studios. Which movies did you get to work on?
Working at Method (Iloura) was an incredible experience. Working in a studio amongst some seriously hard-working individuals taught me a lot about the industry.
Jumanji
This was my first major motion picture film credit and I feel privileged to have been given the chance to work with such a great bunch of people on a truly incredible first project. I was responsible for modeling and texturing a number of assets throughout the film including the transportation shed (0:08-0:16), Bravestone's branch, set dressing and shot modelling for a number of sequences. Working with a team of incredible artists and well-natured people has made this experience truly unforgettable.
Iloura Breakdown Reel:
Aquaman
I was responsible for model & texture of environment assets [aerials, rooftops, flower pots, chimneys] and complete CG replacement of 'Murks Run' wall (as the camera transitions to outside from hallway).
I also helped out with texturing a number of models sourced by other artists, one of which was a number of water tank variations.
I'm thankful to have been given the opportunity to work with some incredible people on such a wonderful project!
Tomb Raider
This is my contribution to the latest Tomb Raider. I was primarily tasked with creating the model for the spikes, however I also contributed to set dressing (boulders and environment rubble).
In addition, I provided basic match move geometry and textures for some of the digi-doubles which put into perspective the power of scans and how accurate they're becoming.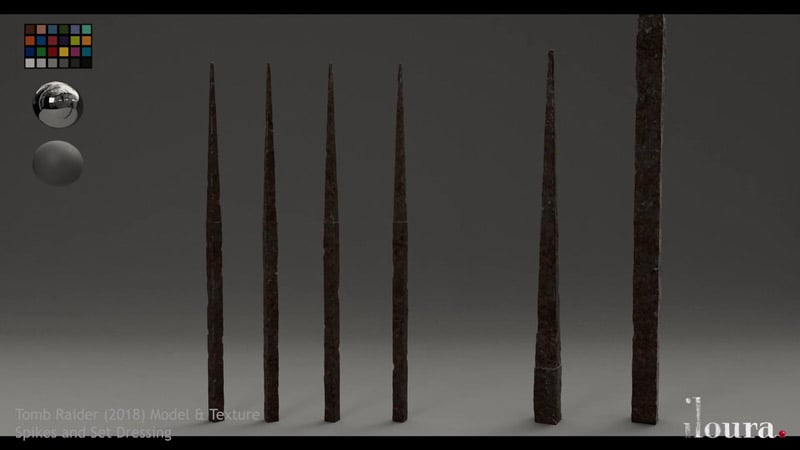 Spikes from Tomb Raider modeled by Stephen Clark (Image: Iloura/Method)
Christopher Robin
During my time with Method Studios, I was fortunate enough to help out with a number of assets in the film, Christopher Robin.
I was responsible for modeling and texturing the honey dipper, and also created a number of assets for set-dressing purposes (such as lamp posts, street signs, tree-door details and created match-move geometry for shadow casting purposes). I feel extremely privileged to have worked on such a beautiful Disney film with a team of extraordinary artists.
You made the move from Melbourne to Montreal. How did you get your current job at ScanlineVFX and what are you working on?
During my studies, I concluded that the main hubs of VFX are in places like Canada and London. This discovery ultimately pushed me to make the move to Canada. I applied for jobs with my demo reel, portfolio and CV once I had started the process to acquiring a suitable visa.
I am currently working on a number of upcoming Marvel films here in Montreal. The work is similar to what is produced at the companies (I've had the pleasure of working for) in Australia, however there's definitely differences in every day living and culture. For the most part, in my experience the goals and workflows are the same between each company (regardless of country). I've found that it's the people and environment that are different, especially in a French speaking province.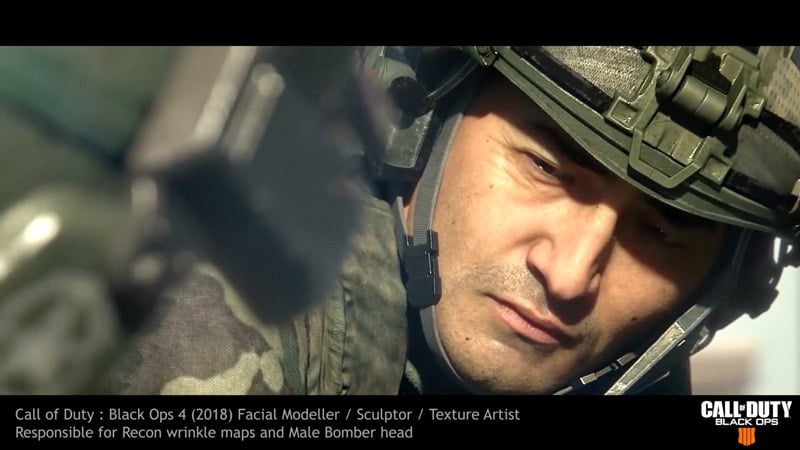 While at Plastic Wax studios in Sydney (which makes cinematic components for video games), Stephen got to work on Call of Duty: Black Ops 4
What's a major challenge you've faced at work, and how did you solve it?
I have faced numerous challenges, however, in my limited experience, communication is key. The better you can effectively convey what problems you're facing, the quicker a solution can be reached and progress can be made.
Is working in the film industry what you expected?
Starting a new job can be quite intimidating. You're suddenly in a new and unfamiliar environment facing the unknown. However, working for Method was fairly close to the expectations that were formed after chatting with mentors from CG Spectrum.
During my time with CG Spectrum, my mentor Jeremy Chinn advised me that working in a studio can be fast-paced wherein deadlines are tight and results are expected fast.
Although studying affords the time to really nail certain aspects of the pipeline, in reality much less time is spent on various stages of asset development and it becomes more about time efficiency. In other words, quality results are dependant on how efficient your workflow is. This is something I have experienced with everything I've touched on.
The job requires an adaptive attitude where your boundaries will be pushed. That's not to say learning in a fast-paced environment is easy and stress-free, however learning from industry veterans is, in my opinion, the best way to progress as a professional.
How can graduates prepare themselves to excel at a job in a studio environment?
From my personal experience, graduates can best prepare themselves by developing efficient workflows that yield great results fast. My advice is to work as hard as possible and always be on the lookout for alternative measures to increase efficiency without sacrificing quality.
Where to next? Any future career goals you'd like to meet?
I feel privileged to be working in such an exciting industry with some truly incredible people. My main goal is to continue to improve and learn more about the VFX industry!
Watch Stephen's Demo Reel:
Stephen Clark Modeling and Texturing Demo Reel
To see more of Stephen's work, visit his Artstation.
Learn more about VFX career paths: What is 3D Texturing? and What is 3D Modeling?
---
Want to become a 3D Modeling and Texture Artist like Stephen?
Whether you're just starting out, changing careers, or upgrading your skills, our VFX courses will have you modeling and texturing from scratch using expert techniques used by major studios. Progress faster with mentorship from top artists who have worked on blockbuster films and AAA games, and graduate with a demo reel to show employers!
Learn 3D Modeling