Stephen Clark is one of our many incredibly talented 3D Modeling students currently studying with us. His work is constantly evolving and it has really been a joy watching his skills grow and evolve over the year.
"I have always dreamed of breaking into the entertainment industry and since I've joined CG Spectrum I've begun to realise that it's not just an unachievable dream. CG Spectrum has a way of mentoring students that I haven't experienced before. My mentor is always pushing me in order to become industry ready. CG Spectrum mentors are always available for feedback and take a proactive approach to teaching their students. Studying in an online capacity makes for a more dedicated and uninterrupted learning experience."
INTRO
Name - Stephen Clark
Where do you live? - Canberra
Favourite film - Braveheart
Favourite video game - Doom
Favourite fictional character - Kratos
WHAT COURSE ARE YOU CURRENTLY STUDYING?
I'm currently studying the 3D Modeling course within the Advanced Diploma of Screen and Media.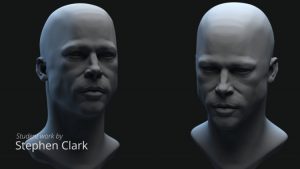 WHY DID YOU CHOOSE CG SPECTRUM IN THE FIRST PLACE?
The high calibre of mentors available, the course structure, learning platform and level of feedback was what initially drew me to CG Spectrum. I was also lucky enough to meet a number of the team at PAX last year which only cemented my ambition to study with CG Spectrum.
WHAT ARE YOU ENJOYING MOST ABOUT STUDYING AT CG SPECTRUM?
The productive learning environment and high level of feedback.
WHY DO YOU FEEL CG SPECTRUM IS DIFFERENT THAN OTHER SCHOOLS?
The biggest difference in my eyes is the way that CG Spectrum mentors guide their students. The level of feedback given not only after an assignment but during doesn't compare to any other institute that I know of.
WHAT DO YOU THINK YOUR MAIN STRENGTH IS?
My main strength is digital sculpting.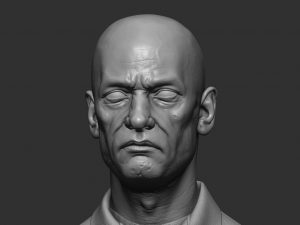 WHAT WAS YOUR WEAKNESS AND HOW DID CG SPECTRUM HELP?
My CG Spectrum mentor has helped me with a multitude of weaknesses including, but not limited to, technical ability (use of a number of industry software packages), texturing and an understanding of anatomy.
WHAT PIECE OF WORK ARE YOU PROUDEST OF?
I'm proudest of my Spartan character sculpt.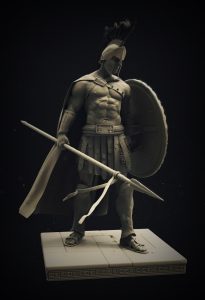 WHAT MADE YOU WANT TO TRY AND GET INTO THE CG INDUSTRY?
Like a lot of people, I've always wanted to be involved in the creative pipeline of games and film since I was a young boy.
WHAT IS YOUR DREAM JOB IN THE INDUSTRY?
My dream job is to be an AAA video game character artist.
WHAT'S YOUR FAVOURITE FILM AND/OR GAME?
Currently, my favourite film is Deadpool and my favourite game is Dark Souls 3.
WITH THE END OF YOUR FIRST YEAR AT CG SPECTRUM QUICKLY APPROACHING, WHAT'S NEXT?
I plan to put everything I've learned to use and produce a portfolio by the end of the year with the vision to start applying for jobs!
If you're interested in starting a career in the Animation and VFX industry check out our full offering of courses in the link below. Learn 3d modeling with our experienced team.
See Full Course List