Concept Artist, Illustrator, and CG Spectrum alumni April Prime admits her entire life is dedicated to D&D, fantasy, and creature art. After getting her Advanced Concept Art Diploma in 2017, April set off for adventure and ended up in LA where she works as a Concept Artist at Skybound Entertainment (founded by The Walking Dead creator Robert Kirkman). She keeps busy with Skybound, freelance clients, and her side project Animal Adventures; an IP she co-created which offers the coolest dog and cat miniatures for role-playing games such as Dungeons & Dragons. Here's how she became a professional Concept Artist and Illustrator.
"My first big break was quite the leap!" says April, who bid farewell to her rural town in Northern Australia to explore opportunities in North America. "I spent 6 months in Vancouver, Canada and met some AMAZING people, specifically my good friend Kim Parker, who introduced me to the incredible artists at Blackbird Interactive (an independent game development studio)."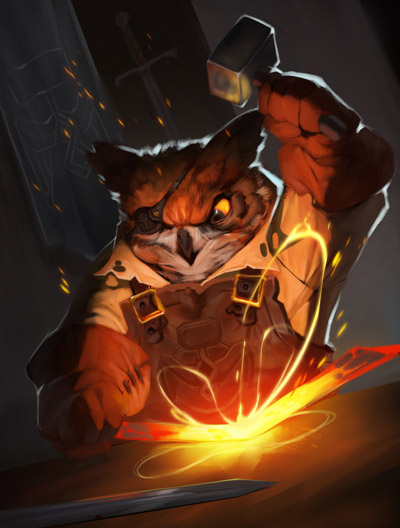 Humblewood Militia, Art by April Prime
April spent a few months making connections and job hunting, but didn't find a permanent opportunity right away so she moved back to Australia. But it wasn't for long. "A month after I got back, I was approached by Skybound North (Skybound's Vancouver branch), and after a couple of months freelancing, I was offered an in-house job on a new animation project and moved back to Vancouver!"
"I'm in charge of character, creature, basic environment designs, and polishing up certain pieces to be key art. The project I'm on is partially self-directed, so I get a lot of freedom. It's for a TTRPG using a well-known IP as a base, so it's pretty cool to be able to redesign famous characters for a fantasy setting."
April eventually moved from Vancouver to LA where she continues to work with Skybound. "I'm the only Concept Artist/Illustrator here, so it does get lonely without other artists to collaborate with! But my coworkers are always happy to lend an eyeball. I work with 3 other people in the Tabletop department, and our boss Shawn, but the artistic side of things is largely left up to me. As for my freelance gigs, I work with several Art Directors at Wizards of the Coast, and they're all incredible people! They're artists as well as Art Directors, so their feedback is incredibly valuable to me."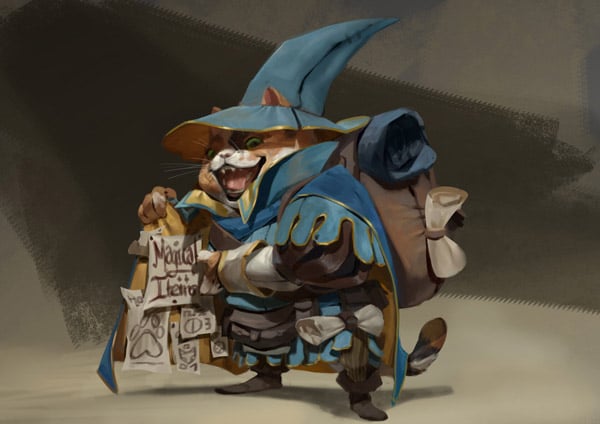 Catfolk Merchant by April Prime
Besides getting to be creative everyday, April's job comes with some cool perks. "Working in a studio means I'm given a lot of great programs and hardware! I LOVE Wacom Cintiqs, and my work machine is one of the latest models. For my 2D work I exclusively use Photoshop, but on occasion I also use Maya for doing basic 3D builds, especially when I have to do something with complex lighting or a lot of architecture. I'm pretty poor at perspective, so using 3D saves me a huge amount of time."
"These days most Concept Artists are fluent in at least one 3D program (Maya, Zbrush, Blender etc.) so it pays off to know your way around one of these programs. I also use these tools for all my freelance work too."
"Being an artist also means no matter which convention I go to, I'll probably know half the art folk there! It's a close community and you quickly get to know your peers really well. It's always fun to travel city to city and meet up with other artists. Sometimes it's drinks, other times we all go to the zoo and draw the animals!"
As an in-demand artist, April also gets A LOT of freelance work largely for Wizards of the Coast, Steamforged Games, and Indie Game Developers on their TTRPG projects (tabletop role-playing games like Dungeons & Dragons, Pathfinder etc.).
"I'm also the co-creator of an IP called Animal Adventures with an amazing sculptor and business fellow named Russ Charles. We met by chance on Twitter, and two years later we've done 3 successful Kickstarters, and are currently releasing an adventure setting book in collaboration with Steamforged Games."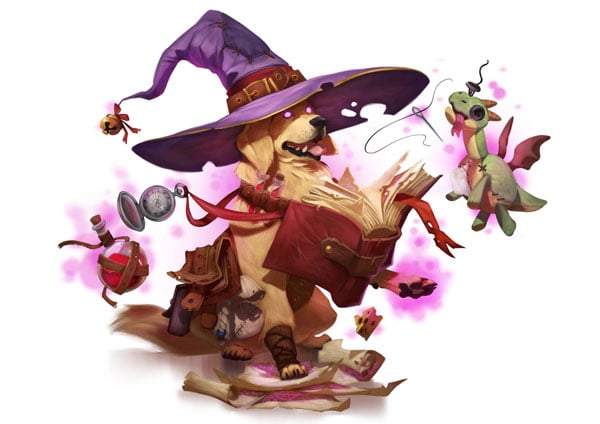 Sir Cornelius (from April's co-creation, Animal Adventures), is an awakened Golden Retriever wizard, student of the School of Divination magic. He 'retrieves' information about people, places, and the past, present, and future! Cornelius is part of an expansion pack for DnD to add a playable dog character (see his miniature model below).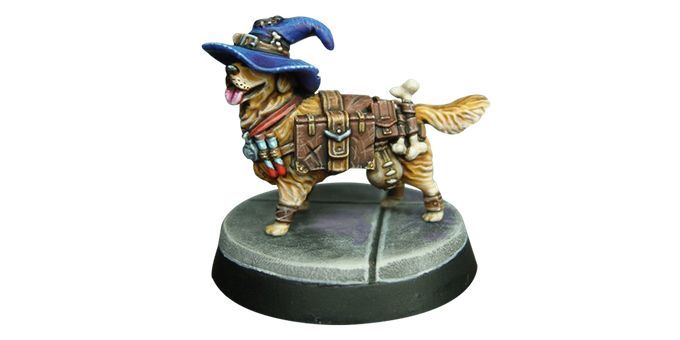 Sir Cornelius, painted and ready for action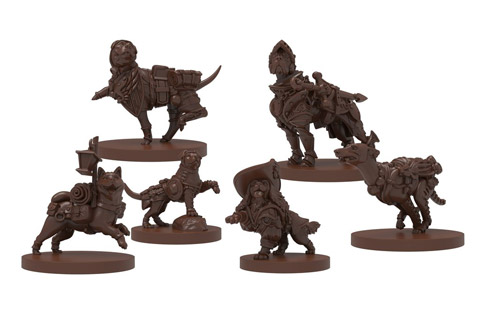 Dungeons & Doggies miniatures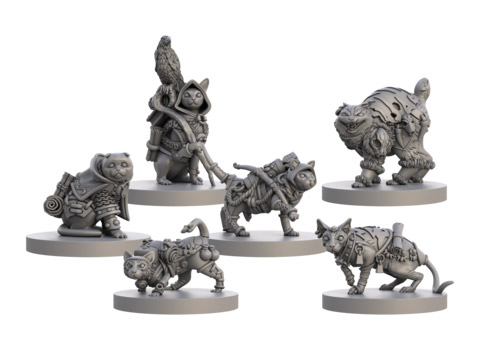 Cats & Catacombs miniatures
A typical day for April looks something like this: "I usually start the day with coffee, then I'm off to the gym, then I get to work, answer any emails, do some studies, then jump into it. When I get home, I work on my freelance! I'm very busy… probably too busy. Though every Sunday I Skype with my friends from Vancouver to play D&D."
Like many artists, April's career path took a few twists and turns. She was definitely drawn to art, but it took a few years to figure out exactly what she was going to do.
"I probably realized I could pursue concept art when I was in my final year of university. I studied Print Media at the Sydney College of the Arts, and up until that final year I was interested in either being a White Cube/Contemporary Artist, or a Tattoo Artist. But the state of the White Cube in Australia is a little stifling, and I couldn't get over the fact that tattooing hurts people (despite me being mostly covered myself!) so I ditched that idea pretty quick."
April, who had always been into video games/film/TTRPGs and loved the "Art of" books that would get released, decided this would be the best career path for her.
"I went to a game art school after I graduated, but it wasn't really what I was looking for. At the same time I had started CG Spectrum's concept art course, which is where I met my mentor Brandon Reimchen. He was an amazing teacher!"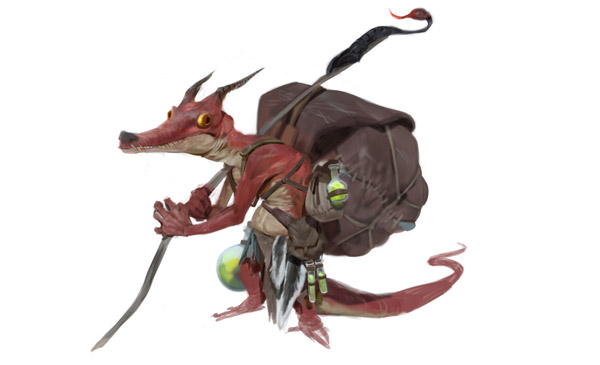 Creature Art by April Prime
April ended up dropping out of the game art school and continued on with CG Spectrum where she successfully completed her Advanced Concept Art Diploma and moved to North America. CG Spectrum's classes offer a more personalized education experience with small class sizes (never more than 5 students - plus a private 1-on-1 mentorship option). Students learn skills to prepare them for a concept art career directly from an industry mentor, which in April's case was Brandon Reimchen, who worked as a Concept Artist with clients like EA, Activision, Capcom, Gree, and Disney Interactive.
"These days it's super easy to pick up new skills thanks to the internet. I spent a year doing CG Spectrum's advanced concept art diploma, which was great for covering basics. While I did attend art university, it was for Print Media (screen printing, etching, lithography etc.), so it doesn't really translate into my current skill set, but I found it to still be a valuable experience."

She's worked incredibly hard to get where she is today, and offers the following advice for anyone wanting to get into Concept Art and Illustration professionally:
"You should be passionate about the work you want to do. While studio jobs in particular will require you to work on less-than-amazing things (sometimes you gotta do toilets and baseball bats!), if you're genuinely interested in the subject matter, it'll show!"
As for what to include in your Concept Art portfolio, April says: "Don't put environments in your portfolio if you don't want to be hired to do environments! If you do characters, make sure you know how to do callouts and basic ¾ front and back views. The flashy 'concept art' you usually see when you Google things is typically key art or marketing art that's got a level of polish to it."
"Concept art is about visual problem solving, and sometimes a messy sketch is all you need to sell an idea, or to help a 3D artist understand how a belt wraps around a waist."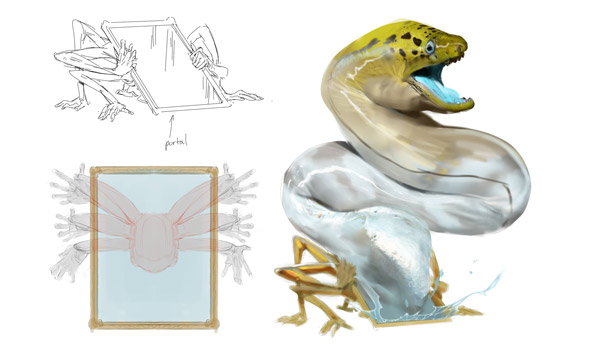 Looking to the future of the industry, April would like to see more women and POC in leading roles, like Directors, Art Directors, and Creative Directors, as well as more support for working artists. "Artists need unions. Animators, Concept Artists, Illustrators, and folks in the VFX industry have it hard when productions shut down suddenly."
Enjoy more of April's work on Instagram, Twitter and Artstation. To learn about Concept Art as a career, read What is Concept Art?
---
Study Concept Art and Learn From the Best!
CG Spectrum offers online digital painting courses that prepare you for a career in the entertainment industry. Fast-track your education by learning from award-winning artists who have worked with Blizzard Entertainment, Marvel, Disney Publishing and more!