"CG Spectrum is unique because we have working professionals who are having to adapt as they teach to the new processes and the changing culture, you get an idea of what it takes to be a concept artist or an effects animator or a modeller from people that are still doing it."
Meet CG Spectrum concept design instructor Brandon Reimchen. Known for his work on Disney Infinity 3: Marvel Battlegrounds and Resident Evil: Operation Raccoon City, Brandon's work is extremely diverse and varied.
Brandon didn't always know he was going to be a concept artist. When he was in school he thought he wanted to be an animator and took a fine arts degree for painting and drawing.
He picked up the idea to become a concept artist having seen it in films first. His first job was as a quality assurance tester for Electronic Arts. On the last day of his contract, the art director spotted Brandon working on some sketches on his lunch break. The art director liked what he saw and offered Brandon a job as a junior concept artist and his career went from there!
Other than working as the head of the Concept Design department here at CG Spectrum, Brandon is also currently working on Disney Infinity 3: Marvel Battlegrounds designing awesome props and environments.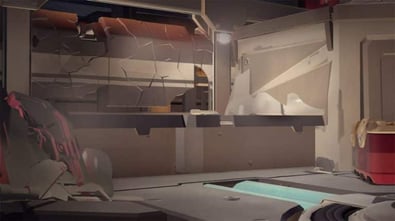 Besides a spectacular imagination and strong drawing skills, Brandon believes that patience and confidence are key to landing a job as a concept artist.
"Have patience, the persistence to keep learning and honing your craft, it takes time so you need to have the patience to see that over years this will slowly come to fruition as something that you can make money at."
Previous studios he worked with include GREE, United Front Games, Slant Six Games, EA, Activision, and Capcom. At these amazing studios, Brandon worked on games like Crash Bandicoot, Prototype, and Resident Evil: Operation Raccoon City.
Although some people may seem to have a natural talent for concept art and design, this isn't something that Brandon necessarily believes in. He told us of the importance of high-quality schooling when it comes to honing your skills as an artist.
"Its key for an up and coming concept and production artists that you are able to learn from professionals that do it and education is obviously invaluable."
And that, Brandon, agrees, is the major difference between the curriculum at many art schools and the curriculum here at CG Spectrum.
"I've been at schools where the instructors used to be professional artists, but they've been in the school system so long they don't really have the most current understanding of what's going on," Brandon admitted. "It's a problem when the standardized curriculum doesn't really match up with the ever-changing realities of the workplace. That the cost of schooling pays off, it is absolutely important to go to school."