Since graduating from CG Spectrum's online VFX Compositing course, Alan has worked on some pretty cool projects such as Catherine the Great, The Irishman, and Cats. He talks about being a Nuke Compositing Artist for film, how he broke into the industry, and what it was like to be honoured with a draft selection for the Rookies VFX Awards.
A mostly self-taught Nuke Compositing Artist, Alan had found some basic compositing / rotoscoping / paint / cleanup freelance work on TVCs, short films and a regional TV series. But for someone who grew up on the action-packed VFX feasts of the late 70s-90s like Star Wars, Aliens, Terminator, Jurassic Park, and The Matrix, working on movies was the dream for Alan.
"I really wanted to get into feature film compositing but found that I'd hit a bit of a brick wall: my reel was more rotoscoping / prep focused than compositing focused and I just couldn't seem to break in."
To help him become a compositing artist in the film industry, Alan enrolled in the Advanced Nuke Compositing Diploma and was matched with industry pro Genevieve Camilleri (now VFX Supervisor at Mill Film) as his mentor.
"Studying with CG Spectrum was hands down the best decision I've made for my career. The learning material and staff were great and having an industry mentor was an invaluable asset that really helped me step up my game and get my break in the VFX industry."
"Ongoing education is incredibly important," he adds. "Not just in the VFX industry but in general. It fuels both personal and professional growth."
Alan feels very fortunate that The Irishman was his first major feature film after CG Spectrum. But it didn't happen without hard work. Alan recommends the following for anyone wanting to become a compositor for film:
"Having a strong reel will help you get noticed by recruiters and the Supervisors or Producers that review it. Networking (primarily on LinkedIn but also in real life) plays a big role, it's important to build genuine relationships with other artists both junior and senior as well as with recruiters, this is how you'll learn about opportunities before they're posted on company sites (and all the cool things that everyone else in the industry is up to!)
It's also down to luck, timing, persistence, patience, where you live in relation to the major production hubs and how willing you are you relocate to work on a project.
One of the many perks of working in the film industry is the opportunity to travel and live in new cities, which in Alan's case includes London, Abu Dhabi, Dublin and Vancouver.
"Haha, yeah I do get around a bit," says Alan. "I tend to prefer contract work (1.5 - 6 months in duration) over day-to-day freelancing. Abu Dhabi serves as my base of operations and I go where the work takes me. It leaves me with more downtime between contracts to unwind, spend time with friends and loved ones, absorb what I've learned on the job and work on personal projects. I couldn't choose a favourite city as each one is unique, but I would love to spend a little more time working in Vancouver!"
On his most recent projects, Alan shared his experience working with the VFX Pipeline and compositing software and other tools at each studio.
Catherine the Great
"As part of the onboarding process at ScreenSceneVFX, myself and other artists spent the first two weeks of our contracts helping out with prep work on Catherine. Tasks like creating holdout mattes with Roto and generating SmartVectors. It was a great way to get used to the pipeline and preferred methodologies."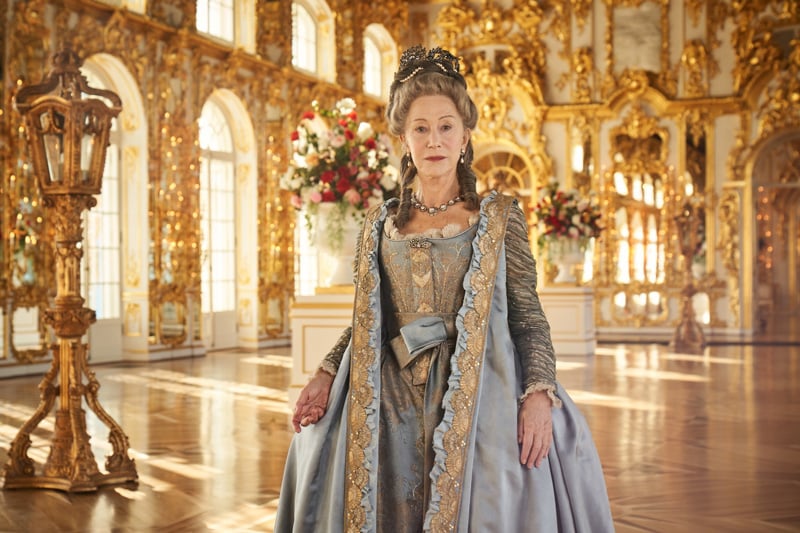 The Irishman
"The Irishman was a great show to work on and was a real mixed bag in terms of what I got to do. It ranged from some makeup related paintwork to keying, compositing CG glass, cleanup, DI Mattes and even some dust-busting. I can't really speak about any of their proprietary tools or specific shots of course, but the most common tools I found myself using were the Keyer node, VectorDistort, PXF_Bandpass and Despill Madness to name a few."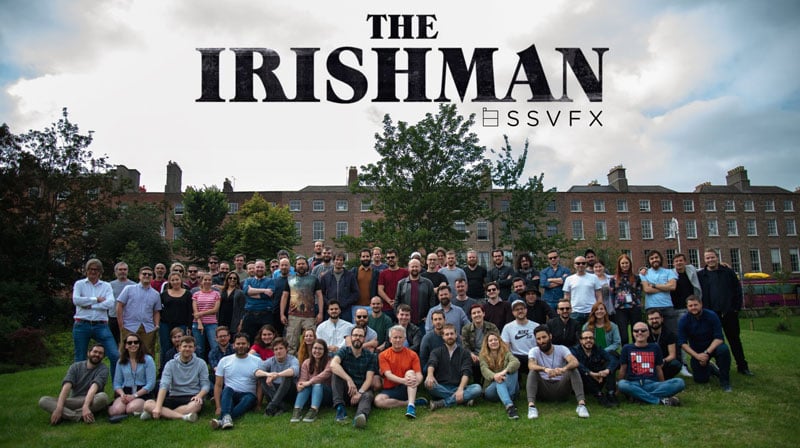 SSVFX Dublin Crew Photo
Cats
"For Cats, I was at MPC. We were using Linux so the VFX pipeline was different from what I'm used to as a Windows user. Pretty much all of it is proprietary so I can't speak about any specifics, but it didn't take too long to get used to and I started work on my first shot after a couple of days of learning the ropes. I was fortunate enough to have a variety of tasks to do on this show that included facial marker removal, clean plating, set extension and even some CG integration. Outside of MPC's proprietary tools, I found myself using the VectorDistort, PXF_Filler, CurveTool and P_Matte nodes regularly.
Cats was a very challenging show with lots of moving parts, the first shot that I was assigned was the only one where I got to do the marker removal and clean-plating on my own. Every shot after that was all about being part of a team effort, it was a very humbling and satisfying experience!"
In 2019, Alan was honoured with a Draft Selection for his entry in the 2019 Rookie Awards (falling in the top 25% of all 3548 entries).
"In addition to specializing in Compositing, I also have a CG generalist skillset. For The Rookies I wanted to challenge myself to produce a VFX shot, handling all aspects from start to finish within a deadline of around 2 weeks. In the end, I produced a shot that I called 'Leaf on the Wind' and ended up incorporating the shot into a fresh edit of my reel." (See Alan's shots below, as well as his step-by-step breakdown and demo reel.)
Leaf on the Wind, by alumni Alan Robinson (2019 Rookie Awards entry)
"Making the draft selection was humbling, to say the least. I got a real kick out of sharing some of my personal work. Working on personal projects can be a solitary endeavour so it was refreshing and a little validating to make the draft selection with so many other talented artists.
It's incredibly important to do personal work, it allows you to continue learning and growing as an artist and gives you an opportunity to absorb what you've learned on the job, experiment with new tools, techniques and ideas outside of work hours."
Leaf On the Wind, Element Turnaround by Alan Robinson
"There are a few go-to tools I like using when creating personal work. Blender, Substance Painter, Houdini and Nuke are where it's at for me. I'd also say it's definitely worth investing the time and effort into mastering the 2D and 3D tracking tools inside of Nuke. They're incredibly powerful and have saved me a lot of time on more than a few occasions."
Alan Robinson's Compositing Reel
As far as career highlights go, Alan says: "I'd say getting to meet and work alongside so many talented artists and production staff. Sure, it's great to work on big projects but it's the people you work with that make or break the experience."
He adds: "VFX is a team sport and strong communication skills are important. It can be a relatively stressful gig sometimes and burnout is a real thing so you need to take care of yourself and support your coworkers!"
Career-wise, Alan has his eyes set on becoming a senior level compositor. "If I had one dream project, in particular, it would have to be the next Matrix film. That'd definitely be a full-circle kind of moment for me. There are so many great studios around these days but it'd be amazing to have the chance to work for ILM, Weta Digital, Animal Logic, Rise, Axis VFX or RSP at some point in my career."
---
Compositing is an exciting and rewarding career path! CG Spectrum offers industry-vetted online VFX courses taught by highly experienced mentors who have worked on Star Wars: The Force Awakens, Assassin's Creed, and The Amazing Spider-Man. Enroll today and get your visual effects career off to a great start!
Your VFX Career Starts Here