It was a trip to Disneyland that changed the course of Mike Wiesmeier's life...
Captivated by the art of animation after a family trip to the happiest place on earth, eight-year-old Mike Wiesmeier found every book he could on the subject and quickly became a walking encyclopedia on Walt Disney. His fascination continued throughout his teens as he enrolled in a small animation school founded by three Disney artists, and finally landed a job at The Walt Disney Studios.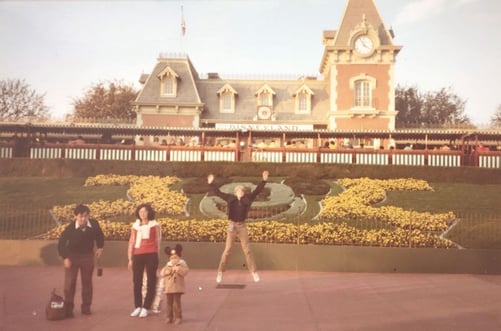 Mike Wiesmeier at Disneyland, 1980
Since then, Mike has worked as an Animator, Animation Supervisor, and Animation Director for interactive games, TV, feature film, and game projects for companies such as Filmax Animation, Netflix, and Eidos Interactive. Some of Mike's work includes: Pocahontas, The Hunchback of Notre Dame, Hercules, Tarzan, Fantasia 2000, Little Mermaid 2, Lady and the Tramp 2, Peter Pan 2, El Cid: The Legend, and F is For Family.
Now as CG Spectrum's 2D Animation Mentor, Mike is offering insider knowledge to budding animators, many of whom grew up with the Disney films Mike worked on.
Mike, we're thrilled to have you on board as a mentor! Tell us, how did you get into 2D Animation?
My first passion was drawing comic strip characters like Garfield and Snoopy as a kid. I practiced drawing every day, up to four hours a day! Just copying and absorbing that certain style of drawing.
But what really got me started in animation, was going to Disneyland with my family for 3 whole days when I was eight years old. I was mesmerised! More so than most kids my age. I was fascinated by how they did everything. When I got home I began researching, and found a book on the art of Walt Disney. This was before animation had become a big thing. The book showed behind the scenes of how the drawings were made. I absorbed that book and practiced drawing from it for hours! I was fascinated with the process.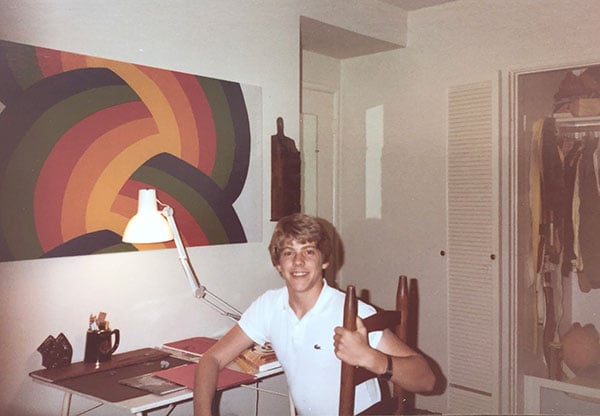 Mike Wiesmeier at drawing desk
I became a walking encyclopedia on Disney. I knew everything about the history. I was very taken with The Jungle Book, but this was back when you couldn't just watch any movie at any time. Fortunately our neighbour worked in the film industry was one of the first people in LA with a Betamax player. I could go over and watch movies before anyone else could.
By the time I'd turned 15, I had enrolled at a small animation school run by 3 Disney artists. It was called Brandes Art Institute in California, and it was only the second ever animation school in LA in 1981. I went there in the evenings and on weekends and I was on my way!
When I started working at The Walt Disney Studios I couldn't believe I was being paid to go to drawing classes and get access to animators and their secrets! I was giddy the whole time I was there. I'm really proud of working at Disney. And now it's humbling when you hear you worked on movies that people grew up on.
What are the must-see 2D films you recommend to your students?
There's so much great animation out there! Start with Snow White and the Seven Dwarfs. Disney just nailed it. And they got better and better during the golden era of animation in the 30s up until the 60s when Disney animators were at their peak. There are different things to look for: studying animation for story, for technical brilliance… If you're studying pure personality animation, that is a great period. Walt understood how to tell stories.
I also recommend Frank and Ollie, a documentary about two of the original Disney animators. When Walt Disney studios was getting bigger, Walt needed supervisors to lead everyone else. This group of core animators became known as Disney's Nine Old Men. Well, two of these "old men", Frank Thomas and Ollie Johnstone were very good friends who wrote a book called The Illusion of Life. One of their sons made a documentary about them and how their friendship influenced their work and the way their characters, for example Mowgli and Baloo, interacted with each other.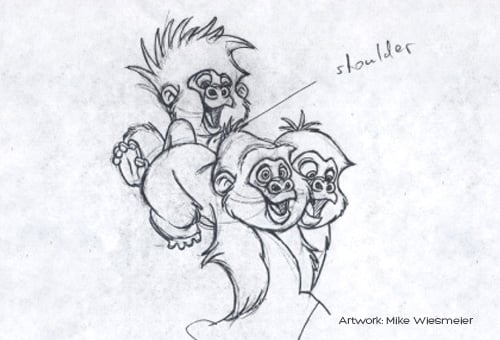 Gorillas from Disney's Tarzan (Artwork: Mike Wiesmeier)
What enticed you to teach animation?
I was inspired by my teachers at Disney and now I have the opportunity to pass on the gems of information I received. 2D animation is such a rich craft, and there aren't that many people around teaching it. I'm excited about teaching drawing. It's what got me into animation, it's the love of making marks on paper, and turning it into something that looks believable.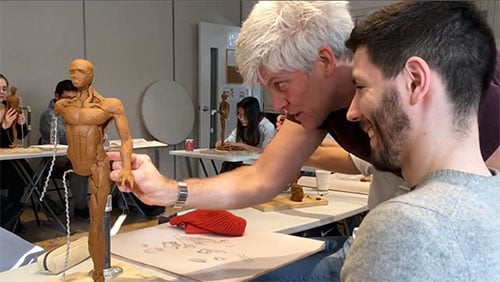 Mike Wiesmeier teaching at Syn Studio, 2018
As for teaching, I got a taste for it while working for Toon Boom. It was online and I liked being able to connect with people of all different backgrounds and cultures all over the world. The world has changed, and I'm happy to participate in something without borders. I can have an even wider reach.
I like that the CG Spectrum classes are small, and recorded video. Being able to see each other is an important part of teaching. I'm able to read my students and be aware of what's going on beneath the surface. People might be shy to ask questions initially, and I can pick up on that, and check in to ask how they're going. And because the classes are recorded, students can rewind and watch their lessons over and over again. They can look back on something in the first week if they need to. In a live class you only have one shot, and can miss things so easily.
I also love the convenience of online education. I'm a dad, so flexibility is important and being able to mentor from home is great.
What is your teaching style? What can students expect from your animation classes?
My style is encouraging, positive and non-judgemental. I try hard to get students to relax and at ease to do their best work.
I've had brutal teachers in the past who give criticism in a hard way, but I don't think that's productive. As a student, you put a lot out there when you submit your work for critique. There's a risk element to that. It's important to me that students feel they're in a safe place and know if they're lost, confused or unsure they can get help from their mentor.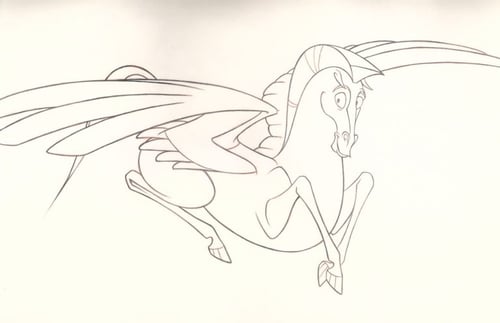 Pegasus from Disney's Hercules (Artwork: Mike Wiesmeier)

Where do you feel the future of 2D is headed?
3D is not going anywhere, but I think we're in the midst of a shift towards more 2D. With recent movies like Mary Poppins Returns winning awards, it shows there is still a place for animation.
What's made this possible is the technology, specifically what Toon Boom has created. Software like Toon Boom Harmony and Storyboard Pro simulates working on paper. You can do all the things you could do on paper, but better. The time you save with today's software is really driving this renaissance. There are job prospects you can't even imagine right now because technology is changing so fast.
In the old days at Disney every drawing was done on paper. To test my animation I had to wait in line to use the one camera in the hallway, to take a picture of every drawing... You'd have a huge stack of drawings, and then you had to scan and colour them.
Back then I couldn't even imagine drawing on a screen. I now draw on a screen and hit the play button to test my animation.
As far as job opportunities go, there are a lot in "cut out" animation, where you create a puppet or rig of a character. Cut out is more cost effective because it's faster. You can get 40-50 seconds of animation done in a week versus a maximum of 12-15 seconds if it were hand-drawn. However, cut out is less malleable. You have to stay with the way it's rigged. Whereas hand-drawn can change from scene to scene.
The art of 2D never really went away in Europe. It's the most dynamic 2D market out there. For example, Klaus, a film from Spain is doing some interesting post-production to make the 2D more dimensional. Europe has a different business model to North America. There are lots of coproductions, which means a lot of collaboration between studios.
Everything comes back eventually. Like fashion. Whether or not the big studios decide to invest more in 2D, there's a good future for it.
What animation software will your students be learning?
Toon Boom Harmony. It's amazing software. You can do everything in it besides editing. Rough animation, colouring, effects… You can animate sparks in the air, and then make them glow. It's a node system, so it's visually clear what you're building. Many productions are using Harmony, it's the industry leader.
All of the special FX we did for F is for Family was through Harmony. We repackaged effects combined with hand-drawn effects to produce a unique look (otherwise it can start to look template-ish).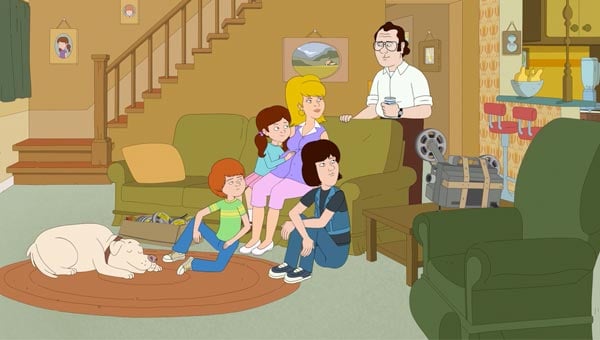 Mike Wiesmeier worked on animated TV series F is For Family
My students will learn the tools for animating traditionally. Some experience is helpful but not necessary. All software has similar layouts/menus, but I'll help my students find all the hidden menus too.
How can I become better animator?
Just draw a lot! Sculptures or simple household objects are great to practice on. You can draw them from different angles. So much of 2D is creating the illusion of 3D. You have to keep that illusion alive, because if you break that, you'll break people out of the story. Read articles, study animation, check out Animator's Survival Kit by Richard Williams, and The Illusion of Life which explains the whole process in depth and has beautiful examples.
Follow Mike Wiesmeier @thesketchexperience.
---
CG Spectrum online animation school is the place to get 1-on-1 mentorship from talented industry mentors like Mike Wiesmeier. Besides mastering the technical skills of 2D, you'll learn invaluable industry lessons from your mentor that can't be found in a book. Enroll now into one of our animation courses and turn your passion into a career!