What does an archviz 3D artist do?
A 3D visualization artist (architecture) works with architects, designers, builders, and engineers to create accurate digital representations of proposed structures—buildings, landscapes, or interior spaces—before it is built. They use specialized software to generate 3D renders of images and videos that visualize what the finished product will look like.
The role of an architectural visualization artist is becoming vital to the early stages of a project when clients need to make decisions about layout and design.
Architectural visualization artist job description
Archviz artists are responsible for creating photo-realistic 3D renderings of architectural structures and landscapes. They must be able to create models that accurately represent the design intent of the architect, designer, or engineer, generating images and videos that showcase the project in the best possible light.
As an architectural visualization artist, you will be required to work closely with architects, engineers, and other stakeholders in order to ensure that the final product is accurate and meets everyone's expectations.
Role & responsibilities of an archviz artist in virtual production for commercial industries:
Conceptualize, plan, and produce

appealing visualizations of products and residential and commercial real estate environments for clients and internal development projects

Achieve photo-realistic magazine quality results with rendering engines.
Additional asset creation (furniture, props, etc.).
Contribute to and manage a library of assets.
Coordinate directly with clients to discuss project details and review renderings for feedback.
Provide insight and design expertise when needed.
Develop new techniques and introduce new tools.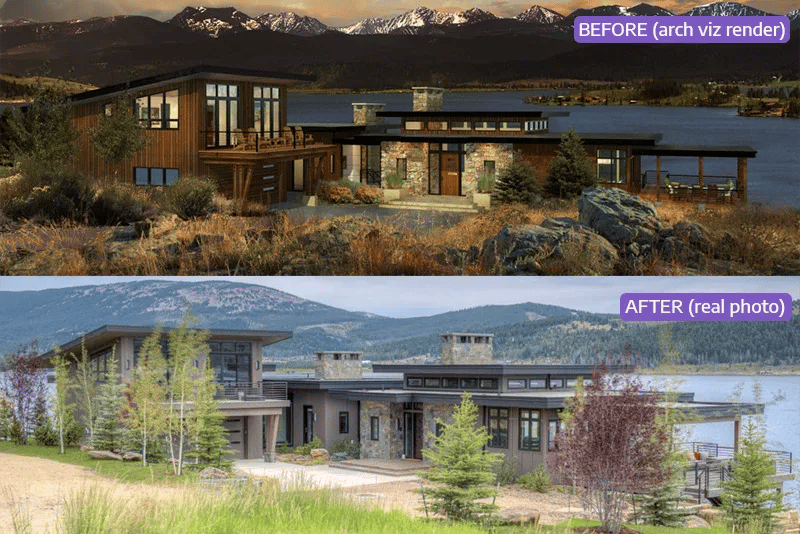 Example of archviz vs. a photo of the finished build [Images: (Top) West Illustration (Bottom) Stillwater Architecture]
Skills required to become an archviz artist
Along with competency in 3D modeling and rendering, an architectural visualization artist must have a strong understanding of perspective, lighting, and composition to create realistic and visually appealing images.
Employers may look for the following skills in a commercial archviz 3D artist:
Experience designing visual content or graphic design layouts.
Familiar with architectural drawings.
Experience working with professional printers and creating files for high-quality printing needs.
Texture/Shader knowledge.
An understanding of animation, animation rigs, and anatomy.
A general understanding of cameras and how changing their values will contribute to how you might block, light, and shoot a scene.
Basic knowledge of industry processes (architecture and/or engineering)
CG Spectrum, a proud Chaos Academic Partner, has expert-led architectural visualization courses that teach students essential industry skills and job training. Hit the purple button to find out more!
What software and tools do architectural visualization artists use?
The tools and software of an archviz artist will depend on the studio but will need to allow them to model, texture, and lay out a scene and then render it.
Architectural visualization artists may need knowledge of a combination of the following software:
Maya
3D Studio Max
AutoCAD
V-Ray, Lumion, or other rendering software

Adobe Creative Suite

SketchUp

Revit

Rhino

Unreal Engine
Unity
Substance Designer
Blender
How much does a commercial archviz artist make?
In the United States, a 3D visualization artist typically makes between $49,000 - $72,999 annually. (Source: ZipRecruiter)