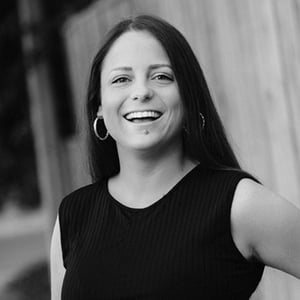 Former VFX Producer at Technicolor and Resources Manager at Mr. X, Maxine Schnepf knows what it takes to make it as an artist in the entertainment industry.
Throughout her career, Maxine's been involved in every stage of the VFX production pipeline, and worked on some of the biggest films of the past decade including: Blade Runner 2049, War for the Planet of the Apes, Spider-Man: Homecoming, Guardians of the Galaxy Vol. 2, Doctor Strange, Star Trek Beyond, Independence Day: Resurgence, and three Star Wars films.
Now as CG Spectrum's Career Development Manager, her job is to help ensure students are the best connected and best prepared for life in the industry by offering an insider's perspective into the hiring process, and valuable resources to help students stand out in a sea of candidates and break into the film and games industry. Here's how she's helping prepare and inspire the next generation of passionate film and game industry experts.
Maxine, you worked your way up from Production Coordinator to VFX Producer. How did you make that climb? Was it a natural progression, or a strategic one?
It was a wild ride! First and foremost, I have to say that without the help of some personal mentors of mine, I'm not sure if I would have gotten to this point.
Most of my best successes were when I worked through a tough situation, or was able to highlight a problem and find a solution. I find myself to be most inspired when things don't go as planned, or I have a really tough project, so I try to look for ways to improve.
I've gone through 2 major pipeline overhauls at two different companies, and dealt with many difficult projects and clients over the years. People take notice when they see you working through big milestones like this, and that's how I've gotten most of my recognition and opportunities.
While there were strategic decisions made along the way, most of my career has been a natural progression where I try to do my best work in each position, learn more about the industry, and stay open minded for the opportunities that come with that experience.

Additional films Maxine worked on during her VFX career
What did your job as a VFX Producer at Technicolor entail?
As a Producer, my main responsibility revolved around maintaining the budget of the show. However, in an industry where there is a cost associated with every aspect of the production, that basically covers everything from reading a script and planning which scenes will need VFX, to the final delivery when the client has finally approved the last shot.
When I worked at Technicolor VFX as a VFX Producer, we had a fairly small local team (approx. 25 people total). But when working on bigger projects, I had a much larger group of people to manage when the London, Bangalore, or LA studios got involved.
Depending on the size and complexity of the show, as a producer I would be part of the pipeline as early as the script stages. However, as VFX is finalized after the edit is completed, we're involved pretty far down the line as well.
The more complex the VFX is, the earlier you have to start planning for it; oftentimes before they even go to camera, because our early concepts and suggestions for VFX will affect how it is filmed. But it will always be there right at the end too!
What attracted you to the Career Development Manager job at CG Spectrum?
As I'm sure many people can relate, the COVID-19 pandemic gave me a more focused perspective on the world, and how I consciously spend my time.
I was navigating the new shift to working from home with my colleagues, and while I was fortunate enough to have a job during this time, a large part of me wanted to spend more of my time helping people.
Film and TV productions had shut down, causing a standstill for the industry, and even though we are recovering, the landscape of the job market has changed significantly.
I heard about the role from my friend Brittany Piacente, a compositing mentor here at CG Spectrum, and when I read the job description it just felt like the perfect way to use my skills and help people during this difficult time!
With my experience in workforce planning and department management, I've worked with people who were directly involved in the hiring process, so I have a good understanding of what people look for in new hires, in addition to the skills that are vital to make a good long-term team member at a studio.
I'd heard of CG Spectrum before, and as I've come across some people who had taken CG Spectrum courses there and were hired in the industry, I knew it was a great training ground for success.
So far, the first impressions have been great - from the onboarding process at CG Spectrum (similar to what the students get!), to meeting the team, it's all been so smooth and clear.
As for the students, the work I've seen so far is phenomenal, and the students and alumni I've spoken to in the past few weeks have really impressed me. There are some really cool projects I'm keeping my eye on already, and everyone is just really eager to learn and improve their skills!

How will you be supporting CG Spectrum students and graduates?
My main goal is to help the students unlock the potential within themselves. It sounds cheesy - believe me, I know! But when I think about the people who were most influential to me, they never gave me anything that I didn't already have within myself.
With lots of practice, everyone has it in them to improve their craft, but it helps to get that push from someone to tell you that you're on the right track, and to keep going!
I'm also developing additional course content about finding your career path, looking for work, what to expect during interviews, and what it's like to work at a studio or as a freelancer in the industry. This will be available for students to access soon!
How did you get your first break in the industry? What factors helped you get jobs after that?
My very, very first break was an internship straight out of school. It all started with a bit of an accident on my part: I was visiting a bunch of studios in Toronto on an overnight class field trip with my peers.
We broke for lunch early one day after a tour finished sooner than expected, so rather than going to McDonalds like the rest of my class, I ran with my friend Ruru to Chinatown so we could get something better with our extra time. Ruru was from China, and I was originally from Toronto, so I was excited to show her around the city and eat some good food that I missed so much while away in college.
We had a fantastic lunch, but time passed quicker than expected, and when we got back to the meeting point our class had already left! Luckily I knew the city and we quickly made our way to the next studio on our own. By the time we got there, the tour had already started, and the only two seats left for the presentation were RIGHT at the front - how embarrassing!
I knew I had to make up for it. The presentation was great, and I made sure to pay attention and ask some questions while most people stayed silent.
When it was all over and everyone was shuffling out and on their way to the next destination, I made a point to stop, apologize, and shake the hand of the woman who was presenting the tour, and talked to her briefly about some of the work that I found particularly inspiring.
Turns out she was the Executive Producer of the company, Jo-Ann Cook, and when it came to finding an internship, she remembered me personally amongst all of the other applicants.
While I don't recommend showing up late to anything ever (I never did it again!), it helped me realize how important personal connections were to get a job. It also helped me understand that even when things are going poorly, it's always good to stay positive and keep going! Those core values helped me get pretty much every job after that!
You've worked on dozens of films and TV shows. Which projects stood out to you the most? What lessons can you pass on to the next generation?
Oh it's always so difficult to pick favorites! One early thing I learned was how important security is for a client. When working on the Star Wars franchise, we had to sign additional Disney-specific NDAs, had very strict rules around the office (no phones out, internet, frosted windows to the outside world), and even had certain artists segregated to private areas while they were working on really key "spoiler" shots! It's pretty important to so many fans as well to keep the information secret so that everyone gets the opportunity to enjoy it together.
But to be honest, it's often the shows which are less "popular" that I remember the most. In The Grizzlies, an independent film about an indigenous Inuit community in Canada, we had less typical problems, like how to not let the VFX distract or take away from the important storyline.
Working on these types of projects come with their own challenges; the budgets are naturally smaller than your typical blockbuster movie, so you have to get creative with the time and artists you have to get the job done and let the story be told.
At the end of the day, my #1 recommendation to any artist or professional is to treat each project with the same amount of effort and respect!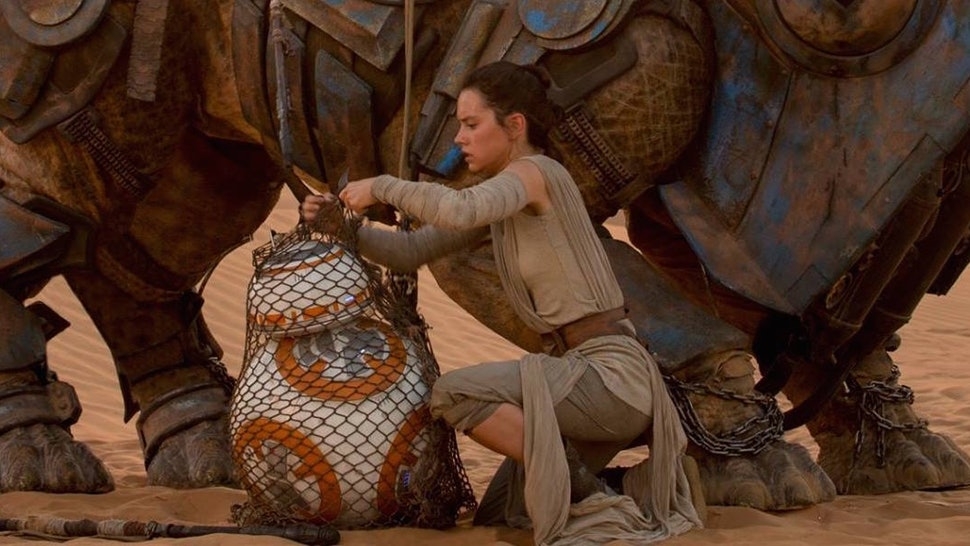 Star Wars: The Force Awakens was one of the first movies Maxine worked on.
What do you love about working in the industry? What would you like to see improve?
Unlike some other more traditional jobs, the career path in our industry is not a straight one. While that can be frustrating to people who just want to go to school and then land that dream job, it's a godsend for those like me who enjoy the process and didn't have as much of a concrete plan.
If you're a team player and work hard at your craft - whatever that is - you will find your own personal success.
I love that I've had the opportunity to collaborate with so many people who are experts in their field, on a bunch of great movies and TV shows. However, I'd still like to see an improvement in the diversity and accessibility at most of the large studios - especially in upper management.
Who were your mentors in the industry?
There are 3 mentors who have been vital in my personal success: My friend and Executive Producer early on in my career, Emily Buller, always looks out for me and has been a huge influence on my attitude and work ethic to this day. She was also one of the first people to give me a chance early on in my career, and I still meet up with her to have a pint and chat about life!
One of my managers Jessica Sharp was another very influential mentor for me - she taught me the most valuable people management skills, and how to not only manage a team of people halfway across the world, but also do it while being calm and compassionate; something that I still follow to this day. It's very important to me that especially when people in other countries work for the same company as me, they are treated with the same amount of respect as those who I share an office (or timezone!) with.
Last but not least, Rachel Matchett, a previous boss of mine, was someone who recognized my potential, pushed me to always do better, and is a continuous resource for knowledge on the bigger picture. I call her whenever I have a big life decision to make, and she gives me great insight while never sugar-coating anything.
At the end of the day, a good mentor is someone who believes in you, but doesn't hand you anything. They allow you to see the best parts of yourself, which is vital to keep moving forward in the industry.
What are some of the biggest misconceptions about getting into the film and game industry?
That resumes don't matter, only portfolios. While a good portfolio is still important, most larger studios also want to be sure that you have other skills and can be a team player when working with other people.
Another misconception is that you have to go to film school or have experience on-set. While those things definitely help, I've met a lot of successful people who never worked on set, or went to less-traditional schools like CG Spectrum to take more specialized courses rather than writing essays about film theory.
When you're in the hiring seat, what 3 skills/traits do you look for?
Good communication skills
This is vital for any position in the industry, even ones that are super technical. If you can't communicate well with the team, then even as a really strong artist it will be really difficult to work with you.
Friendly and approachable
At the end of the day, most game studio or VFX jobs require you to work with a group of people for a really long time. Often you see your coworkers more than your family and friends, so if they don't get along with the team it can be frustrating in the long run - especially during stressful crunch times!
An openness and willingness to learn or do what it takes
People who act like they are above everyone else because they know how to do x, y & z are not helpful for productivity. Any good artist or successful professional will tell you that they are never done learning, and the best ones are always willing to roll up their sleeves and do any minor task to get the job done. I've seen two extremely successful Executive Producers literally roll up their sleeves to do the dishes in the company kitchen when the sink was full - and I try to follow that same attitude in my life.
Can you share an example of someone who impressed you by showing initiative and going above and beyond at work?
I worked with a production coordinator named Mary recently who was fairly new to the industry and our company. Shortly after, while we were in the middle of launching a new production software tool, the pandemic hit. Naturally it was a pretty chaotic time, especially considering that we still had project deadlines to hit!
Mary not only learned the new software and weekly processes quickly, but she also found time to create a super helpful "how-to" document for her peers to use as well. This is a great example of going above and beyond in a way that benefits not just one person, but many other people on the team!
How has the film & game job landscape changed due to COVID-19, and what new approach do those looking for work need to take?
While many countries are starting to "open back up" and go back to the office, many companies in the gaming and VFX industries are planning to change some key ways they work.
Whether you are working in an office or remotely from home, companies are now more mindful than ever of good communication skills. And I don't mean writing perfect English (so if you're ESL don't be scared) - it's more about keeping people updated on what you're working on, checking in often with leads and management, and having an up-beat personality whether in person or online.
Working from home for the past few months has also shown managers who is capable of being productive with little supervision. So if you can demonstrate that you have experience working independently, it will set you apart from the rest.
Luckily, students at CG Spectrum already have that right out of the gate, as we've been doing the online thing for quite some time!
Learn more about Maxine's experience in the VFX industry, check out her IMDB, or connect with her on LinkedIn.
More career resources and articles on finding a job in the entertainment industry:
---
Ready to kick-start your career in the film and games industry?
CG Spectrum courses are designed to help you become the best trained, best connected, and best prepared for life beyond school. Be personally taught by amazing industry mentors who have worked for top film and games studios around the world. Check out our beginner and advanced online courses and apply today!