IT'S YOUR CHANCE TO SHINE!
Join the 12-week mentor-led VFX project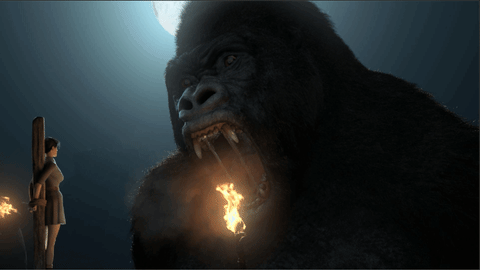 CG Spectrum's exciting new collaborative VFX project: KONG! is a chance for students to take everything they've learned in class to the next level!
Guided by VFX Department Head Daniel Hourigan, a select group of students (the cream of the crop!) will take part in a 12-week project, run like a mini production similar to what you would expect working in a studio.
Students will work to a brief to create a high quality visual effects shot which can be added to their professional portfolio to show future employers. (Psst! The gif above is an example only - you'll be working on a new project!)
We already have some awesome animation, we need YOU to make it AMAZING!
Who this is for:
This project is for CG Spectrum Houdini FX and Compositing students who have recently graduated or nearing completion of their course.
If you'd like to put your skills to the test, and produce a unique VFX shot for your portfolio, submit an application.
The mini production will begin the first week of July and run for 12 weeks.
Successful applicants will be required to commit 5-10 hours per week for this project. Each week you will be assigned a task and attend a live review with the team. Remember: your team will be counting on you! So please only apply if you are able to commit to the duration of the project.
As you progress through the weeks, you'll see your skills grow and your team's efforts coming together to create a really cool shot!
Application process:
The strongest candidates will be selected for this project. Follow the link below to submit your portfolio and a short statement telling us why you'd like to be part of this project and what skills you have to offer. The more information you give the better!
Your portfolio should show your strengths, if you're really good at pyro, show us! If it's particles, let's see them! Rigid bodies, Vellum? Yes please! Are you a Nuke Master?! We need you!
Whatever skills you have, they will be useful, but make sure you show your best work. This is exactly how it is when you apply for a job in the industry so it's a good time to practice editing your portfolio.
Note: Students must have had a minimum 80% attendance rate throughout their studies to be eligible to apply. This project does not replace course work: if you are still finishing your course you would need to be working on both.
Why you should apply:
Improve your skills with an additional 12 weeks of project time
Practice working to a brief and participating in a mini-production
Hone your problem solving and communication skills
Get the hang of working remotely with a team
Finish with an exceptional portfolio piece to show employers
Join the KONG! team
Submit your application and let us know why you'd be a valuable member of our VFX dream team!
Applications close at 11:59PM on July 6th EST.