Steph Pryor was one of our 2016 season scholarship students and completed our Advanced Diploma of 3D Modeling. During her time here with us, her work went from amazing to spectacular and it was always fun to see what she was working on.
Steph loves fantasy and you can really see that in her work. From beloved characters from Lord of the Rings and terrifying living-dead pirates to spear-wielding warriors and humongous out-of-this-world creatures, Steph's concepts and models are never dull.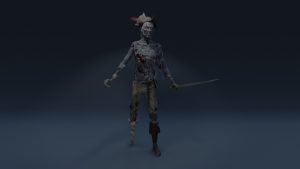 I asked 3D Modeling mentor Jeremy Chinn to reflect on his time teaching Steph over the past 12-months, and he confirmed my suspicions. Steph is awesome and has an extremely bright future ahead of her.
"Steph impressed me from the beginning with her ambition and her ability to see that ambition through. Many students and professionals alike tend to lose steam on ambitious personal projects but Steph was always willing to take on as much as she could and then to see it to completion. This is an attitude that will serve her well throughout what I can only imagine being a successful career and I can't wait to see her name in the credits."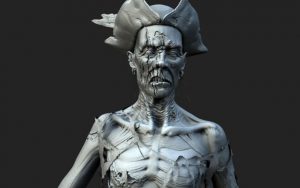 In between her shifts working at Method VFX and Animation Studio and the holiday break, I managed to find some time to talk to Steph about what she loves about the world of 3D modeling and her year here at CG Spectrum.
WHAT'S THE CHARACTER YOU LOVE MODELING THE MOST?
I really like making fantasy creatures from my own concepts, or realistic animals, birds, and reptiles.
WHAT MADE YOU WANT TO START STUDYING 3D MODELING?
I did a Bachelor of Fine Art in Sculpture when I left school, because I've always been interested in sculpture, but I started to find working in a digital format more interesting. I did another, more general 3D course, and then started with CG Spectrum so I could specialize in modeling.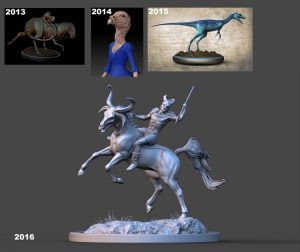 Steph's progression over the years
WHAT MADE YOU WANT TO STUDY WITH CG SPECTRUM?
I had done another course, which gave me a good foundation, but it wasn't specialized, and as I wanted to concentrate on 3D modeling, the Advanced Diploma of 3D Modeling at CG Spectrum was perfect.
HOW WAS CG SPECTRUM DIFFERENT FROM OTHER SCHOOLS?



The small class size and the mentoring from an industry professional makes it possible to get much more in-depth feedback on your work, as well as advice and direction that is specific and focused on your individual work, rather than on general principles. The mentoring is very valuable, you get really helpful feedback every week, and don't waste time and effort going in the wrong direction.
It was also a big advantage for me to be able to do the classes and work online because I could continue to work while I was studying.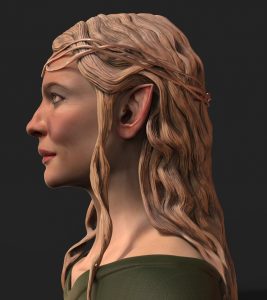 WHAT WOULD BE YOUR DREAM JOB IN THE INDUSTRY?
My dream job in the industry is working as a modeller. I'm actually working in my dream job at the moment, as I was lucky enough to get a job with Iloura. I started in December 2016, the week after I finished the course.
DEVELOPING A 3D MODELING PIECE
For the creature project, I wanted to make a camel-like creature. I wanted to make up the design as I went along rather than working from concept art.
I started by blocking out the main body shape: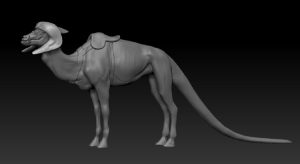 Steph's Initial Concept
It looked too bare and off balance at this stage so I added extra pieces like luggage and a little rider character.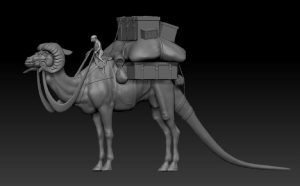 Finding a good shape for the creature's horns was challenging, I originally started with something like buffalo horns, but I ended up changing them into something more like ram's horns.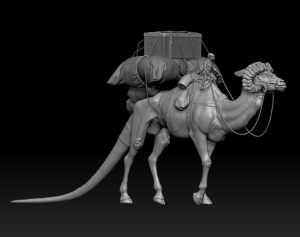 Steph's Detail Pass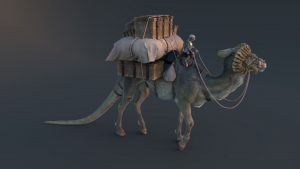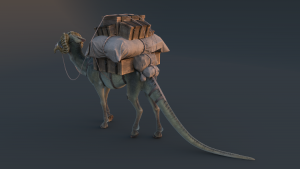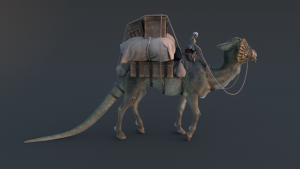 OVERCOMING PROBLEMS AND STRUGGLES
I wanted the fabric to look as realistic as possible, so for the bags, I used Marvelous Designer.
I found that wrapping the fabric around simple shapes was a good way to make the bags look like they had things inside.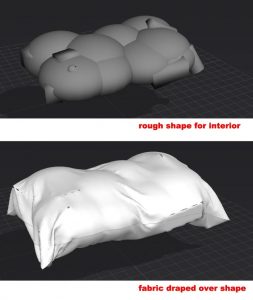 If you're interested in starting a career in the Animation and VFX industry check out our full offering of courses in the link below.
3D Modeling Courses