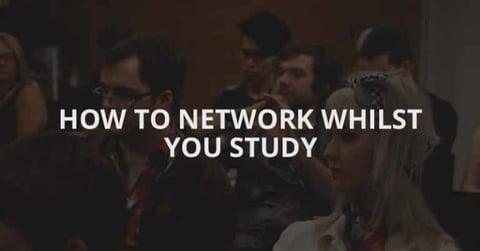 Networking is essential to finding new work. It's something we here at CG Spectrum have spoken about before. And it's so true.
The question is, how do we expand our professional network while we study?
We know how important it is to keep a healthy work/life/study balance. Too much of one can lead to the others falling by the wayside. You need to live your life whilst progressing academically and earning some money to pay for food... and coffee.
That is why we've put together five tips to keep networking fun and interesting without throwing out that balance.
NETWORK WITH YOUR FRIENDS
This one is easy. So easy, in fact, that you're probably doing it without even noticing you are. Networking with your friends is an amazing way to multiply your contacts and build potential partnerships.
Just like you, your friends have the potential to achieve great things. Most of your friends share similar interests with you. Some might even be studying the same course as you.
Don't forget about your friends. Take an interest in what they are doing and always offer to lend a hand. You never know what might come of a simple friendship.
NETWORK WITH YOUR TEACHERS
This tip might not seem so obvious as the first, but it can be so effective and incredibly easy. Your teachers have either worked in the field they teach to have studied it in great depth. So use that knowledge!
Here at CG Spectrum, we encourage our students to network with their teachers. It is why we require that all of our mentors be working in the industry. Our mentors are up to date with all the latest technology and techniques. They know how modern day studios operate. And they know what it takes to get a job.
Ask questions. Ask for advice. Stop thinking of your teachers as people who only hand out passes and fails. There is absolutely nothing wrong with being your teacher's friend.
ATTEND EVENTS
This is a big one, but might be a little tougher for those studying in rural areas. Going to events that relate to your area of study is an amazing way to extend your professional network.
Mingle. Go up and tell that person with the amazing cosplay that they look awesome. What better way to meet indie game developers than playing their game at an event like PAX? Sit in on panels and introduce yourself to those around you. They are probably at that panel for the same reasons you are.
Get out there and be yourself. This is where networking can be fun.
BE ACTIVE IN FORUMS
Being active in forums is an easy and fun way to meet new people, express your opinions, learn new things and become part of a like-minded community.
For those studying in rural areas, participating in forums can be a great substitute for classroom or event. Forums allow you to surround yourself with like-minded people from all around the globe from the comfort of your home.
Find sites or companies that interest you, look for their dedicated forums or social media avenues and get to chatting.
No trolling.
SHARE YOUR WORK
Sharing your work with strangers can be an exceptionally daunting prospect, especially for those who are just beginning their craft.
Once you push past those initial nerves, sharing your work can be incredibly rewarding and beneficial.
Encouragement. Learning new skills and honing the ones you already have through constructive criticism. Meeting new people with similar styles. Work. You never know what can come from sharing your work with others. And you'll never know if you don't.
Don't be shy.
From special events and workshops to meet-and-greets and open days, we're always trying to help our students network with industry professionals. Hit the link below to find out more.