Just prior to their humongous success at the 68th Emmy Awards in Los Angeles, we had the pleasure of visiting scholarship partner Iloura, one of Australia's leading animation and VFX houses and speaking to industry legend Glenn Melenhorst.
In 2015 we collaborated with Melbourne-based studio Iloura to offer up to $1 million worth of scholarships, and from October we'll be running exclusive folio reviews for students with Iloura supervisors. So it was our pleasure to speak to VFX Supervisor Glenn Melenhorst, who has certainly seen it all since he started in the digital art industry over 30 years ago.
Our full interview with Glenn
In a video interview, Glenn shared some useful tips, spoke about the state of the industry and told us just how massive an undertaking working on visual effects for something like Game of Thrones really is. And as you can imagine, it's an extremely daunting task.
110 artists. 130 shots. 30 weeks of painstaking work. Thousands of hours of hand-animated sequences. One rampaging giant. And over a million hairs per digitally crafted horse!
"We had two main armies facing off... but inside of those two armies we had different factions that had aligned for the battle... each had different armor, flags, saddlery, bridlery, and weaponry. Everything was unique to those armies."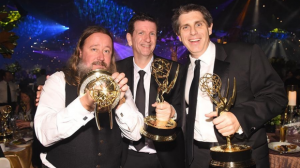 Glenn Melenhorst, Sam Conway and Eric Carney pose with their Emmys at the ceremony
It didn't stop there. Going to war is dirty business and snow white wolf hair and perfectly polished morning-stars won't stay clean long when things start getting serious.
"Not only did we have to build every single little piece. We had to build them in various stages of damage as the battle progressed. More mud. More blood splattered on them."
Such an amazing finished product could only be achieved with meticulous planning and a clear idea of how to get it all done.
"The first thing we did was gather a lot of visual references of horses because they're things you can't mo-cap easily... We then did a lot of research into steeplechase accidents and things like that so that we could be as faithful to the dynamic of horse movement as we could."
Iloura's work on the episode tested and stretched the skills of every artist in the studio. New techniques had to be mastered and old ones pushed.
"We were asked to do a lot of animation of varying complexity," Glenn said when asked about working on Battle of the Bastards extremely ambitious battle scene. "We did a lot of stuff that was very close to the camera. We did a lot of stuff for the larger crowd scenes."
What Iloura and the entire Game of Thrones production team have managed to achieve is nothing short of spectacular. That's why we're so excited to be working so closely with the studio and all of its artists.
From October, private folio and demo reel reviews will be offered to CG Spectrum students from Glenn and the team at Iloura. Selected local students can come into our Melbourne CBD studio and meet with the supervisors to get personalized feedback on their work. Video reviews will be organized for interstate and international students.
Interested in staying up to date with the latest industry news, resources, and events, or meeting professional studios and boosting your film & game career with a CG Spectrum course? Subscribe to our newsletter below or enquire to learn more about what we do!