In July, we hosted an action-packed studio day with our industry partners in Melbourne, Australia. Students met future employers, professional studio mentors, and alumni working in the heart of Australia's world-class VFX & gaming scene, including the artists behind titles like Game of Thrones, Doctor Strange and more. It was a career-making opportunity and an important part of the student experience at CG Spectrum.
"To have the opportunity to meet and chat with professionals of such high caliber within the industry, particularly those who share my discipline of compositing, was truly a gift!" - Lachlan Hooper, current CG Spectrum student
An Inside Look At A Thriving, Globally-Recognised Independent Games Scene
The day kicked off with a tour of The Arcade, home to Australia's vibrant independent games scene - and CG Spectrum's Melbourne base. A coworking space that hosts over thirty games studios, from tiny one-person startups to established award-winners, The Arcade is an incredibly unique place to network with game developers and get a taste for the true diversity of the modern games industry.
Tony Reed, CEO of the Game Developers' Association of Australia, also gave our students an inside look into the incredible potential of the local games industry - which grew 20% last year alone.
Being embedded with the Arcade enables CG Spectrum to stay closely connected to leading developers who often become mentors to students, and cultivate industry partnerships that give our students a leg up when they graduate.
What It Takes To Work At Australia's Game Studio of the Year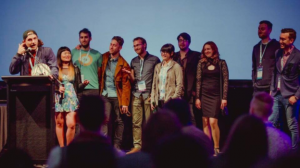 The League of Geeks team accepting the coveted Studio of the Year Award in 2016
Trent Kusters, Director and Founder of Studio of the year League of Geeks, also spoke to students about what his team look for when hiring.
League of Geeks produced the award-winning fantasy title Armello, and is a partner in CG Spectrum's scholarship program, offering paid internships to our best students. Trent said they looked out for candidates with multiple skill sets and an understanding of the entire production pipeline, but what hires really required was a strong area of specialization that they excel at.
"A tip that really stick with me from the day was when one of the pros said studios are looking for specialised artists instead of generalised ones. I was pretty stunned as I always thought being generalised gave you more of a chance to get a job." - Jenny Huang, current student
Trent also spoke about having the ability to work as a team and to step up when it comes to responsibility and ownership of tasks. For example, if team members are unable to complete a task on time, they let their supervisor know so that the team can accommodate and assist, as opposed to simply missing a deadline.
Trent also gave students valuable insight into what it takes to create a viable game - a huge challenge in the crowded games space.
Meeting an Emmy-Award-Winning Employer
Next, students met another CG Spectrum industry partner and winner of the VFX Emmy for their groundbreaking Battle of the Bastards sequence in last year's Game of Thrones.
Iloura is one of the world's leading VFX studios, winning acclaim for their work on the recent Ghostbusters reboot, Mad Max Fury Road and more. Last year, they hired CG Spectrum students even before graduation and named us their school of choice when it came to finding junior artists.
"When I first started studying animation I was under the assumption that more is better, the reel with a ton of great shots is always going to get the job. However as the folks at Iloura were saying, a 30 second reel with two or three shots that have been polished down to the finest detail is much more appealing than a 2 minute reel with a bunch of mediocre shots." - Ned Curwood-Hyde, student
Iloura supervisors Paul Buckley (FX) and Sam Jensen (Modeling) met our students and spoke to them about what it takes to work at a top studio, including what they look for in portfolio submissions. Iloura is already anticipating hiring in 2018 and gave students specific tips on how to make an impression at their exclusive portfolio review sessions with CG Spectrum later this year. Students also got to hear from CG alumni Andi Edirisinghe and Anne Palm who are already working on Iloura's biggest current projects.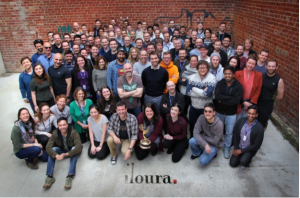 Watching An Action Packed Movie With The VFX Artists Behind It
The tour ended with a special screening of Spiderman: Homecoming by one of the star VFX teams behind the film. Luma Pictures (known for Avengers, Alien, and Antman among others) invited our students to join their studio in their private celebration of the completion of the Spiderman: Homecoming project.
The evening included a Q&A with a panel of Luma supervisors and networking drinks. CG Spectrum alumnus and current Luma artist Subhaan "Subi" Asif was also on hand to share his experience with students.
An accomplished artist who had never done FX prior to taking a year-long course with CG Spectrum, Subi now has numerous Hollywood film credits under his belt at the young age of 21. It was inspiring to hear his supervisors at Luma speak highly of his work on a very complex scene from the film. Students also got to meet Luma artists face to face, like Greg Ng who mentors several of our students and hear more about the ins and outs of working at a top studio.
To read more about Luma's work on Spiderman: Homecoming, visit their blog post here:
http://www.lumapictures.com/portfolio/spider-man/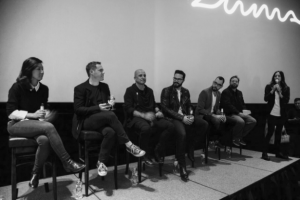 Say Hello To Your Dream Job - Join Our Next Studio Day!
"As a student with no outside ties to the industry, this was a rare opportunity to get first hand knowledge of what a career in VFX entails as well as sound advice on how to achieve it!" - Lachlan Hooper, current student
There's nothing like meeting potential employers yourselves and hearing tips directly from the industry's best developers and artists. Our students left inspired and incredibly motivated to make an impact as they continue working on their skills.
Want to join our next studio day and make an impression yourself? Enroll in a free trial of any of our courses! You'll see how it works, learn directly from mentors working at top studios and learn why the industry loves our grads.
See Full Course List